Reflecting on a meaningful career
For SPU English professor Doug Thorpe, the most memorable moments from his career have been the times the classroom became a sacred, special place.
"Moments when you feel like … you're in an academic environment and you're doing work that you're given to do, and yet something is moved, and it feels like at least some of the students are also aware that you're in a holy place," Thorpe explains. "Something sacred had just taken place. That's, for me, the goal."
Thorpe plans to retire at the end of this year, and said that he will most remember these more sacred times he has experienced as a professor. To Thorpe, these moments can be in a classroom or outside of it, such as his office on the second floor of Marston meeting one-on-one with students.
He remembers talking with a student after she had been disrupting class and not performing well.
"I basically called her into my office … this is a couple weeks into the first quarter of [her] freshman year," he recalls, "and within an hour it's like I've got the story of what the background is. It wasn't anything immediate like 'I was having a bad day,' there was this history. And she for some reason felt that this was a safe space to be able to share that"
An important example to Thorpe was, he said, almost exactly 10 years ago. He was grieving the death of his brother by a sudden stroke, and at the time his World Literature course was reading material that was almost too relevant to his life.
"We were in the middle of Dostoyevsky's 'The Brothers Karamazov' which I'm teaching again now to a couple of students as an independent study, it's one of my favorite things to teach," Thorpe said.
He explained that, the day after his brother passed away, he was to teach a section of the novel that covers the death of an important person to the main character, Illyusha. The character has a powerful scene of grieving the sudden death of someone that mattered a great deal to him, and the material hit too close to home for Thorpe on that day.
"I can vividly remember, my classes are often sitting in a circle when they aren't too big and I've got just to my right a student named Heather … she was a student I knew very well. At any rate, I'm trying to read that passage aloud, Illyusha's experience, and I just can't do it. So I turn to Heather and ask her if she would please just read. And it was just a powerful moment in a classroom," Thorpe said.
The compassion of that student, and the power of that emotional moment with literature in the classroom, has always stood out to Thorpe as one of the most meaningful of his career. He regards his time in the classroom studying literature as extremely important and knows that it can be an impactful experience for himself and his students.
In his many years of teaching, Thorpe has learned a great deal about the subject he loves so much. For one thing, he said his experience with literature and writing majors has definitively proven certain career-related myths wrong.
"I am convinced that a humanities major, a literature major, a creative writing major, is a good vocational move," Thorpe said.
He said that he knows English majors have "a million and one" options once they graduate, from law to medicine to publishing to education. He has seen students go on to do so many different things, he has come to know that a humanities major is not as useless as many say.
Besides the practical aspects, Thorpe said that he loves his subject because of how meaningful it can be to study art and writing.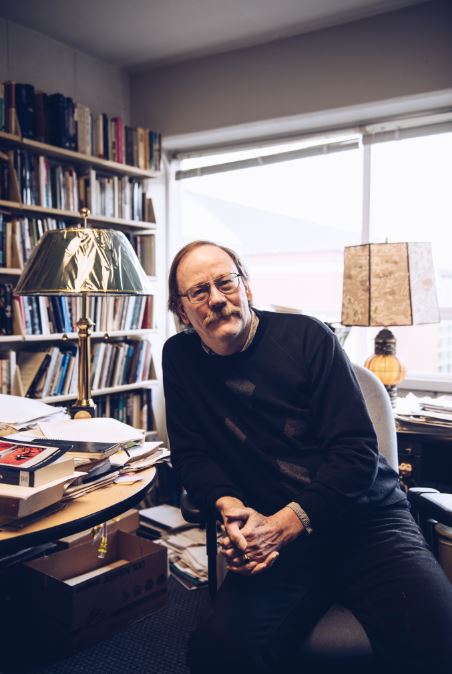 "You know, it enriches one's life. The experience of beauty, whether that's through literature or theatre or film or whatever else."
As much as he loves his career and his subject, and it is extremely evident that he does, he said he has plenty of exciting plans for his years after SPU.
Outside of the classroom, Thorpe is the the co-chair of a board called Friends of Sabeel North America, abbreviated FOSNA. He plans to do more work with them after he leaves SPU.
"It's an organization that is in support of Sabeel, which is a nonprofit in Jerusalem founded by a Palestinian Anglican Priest who more or less developed what you'd call Palestinian Liberation Theology based on Central American [and] South American Liberation Theology," he explained.
As the advisor for the Students for Middle East Peace club on campus, he has long had a passion for reconciliation in the Middle East. He carries this interest into his nonprofit work, which he plans to focus on more heavily after he finishes his last year at SPU.
However, his volunteer work does not stop at FOSNA. Thorpe also uses his literary skills and teaching abilities to help out kids who otherwise may not have access to his favorite subject.
"The other nonprofit is an organization called PONGO … that uses poetry workshops with incarcerated kids. I certainly expect to deepen my involvement in both of those," Thorpe said.
While his nonprofit work is important and certainly exciting for Thorpe, he looks fondly on his journey to SPU and his time since coming here.
When his wife Judy Andrews, a lawyer, got a job in the Seattle area, he came along with her. They moved into a house that was then where Arnett hall stands now, and that was when he decided to see about getting a job at the university. As a series of coincidences fell into place, such as an opening for someone to teach a literature class and Thorpe knowing several staff members at SPU despite coming from states away, he realized that this was a good place to be.
As for why he stayed, he said that this has been a wonderful environment to teach and learn literature, and interact with students and staff.
"There was some sense that there was a mission fit. I do not come from an evangelical background, but I do take my faith seriously, and I found that this was a really good place to teach literature and to do it holistically," Thorpe said.
He stayed, ultimately, because he could be himself in a classroom with students who cared about his subject in the same way he does.
"I could bring all of myself into a classroom, and there were students here that were interested in exploring literature even when that gets difficult."