Gymnastics second highest score
This past week, the Seattle Pacific University gymnastics squad nailed its second highest score of the season, 190.625, trailing only their scord of 192.625 registered at home on Jan. 18.
The Falcons were able to pull together their second highest scoring performance on the year partially due to Darian Burns earning two top-five performances on the vault and uneven bars exercise. Despite the Falcons landing in fourth out of four teams at the meet, SPU has been competing well.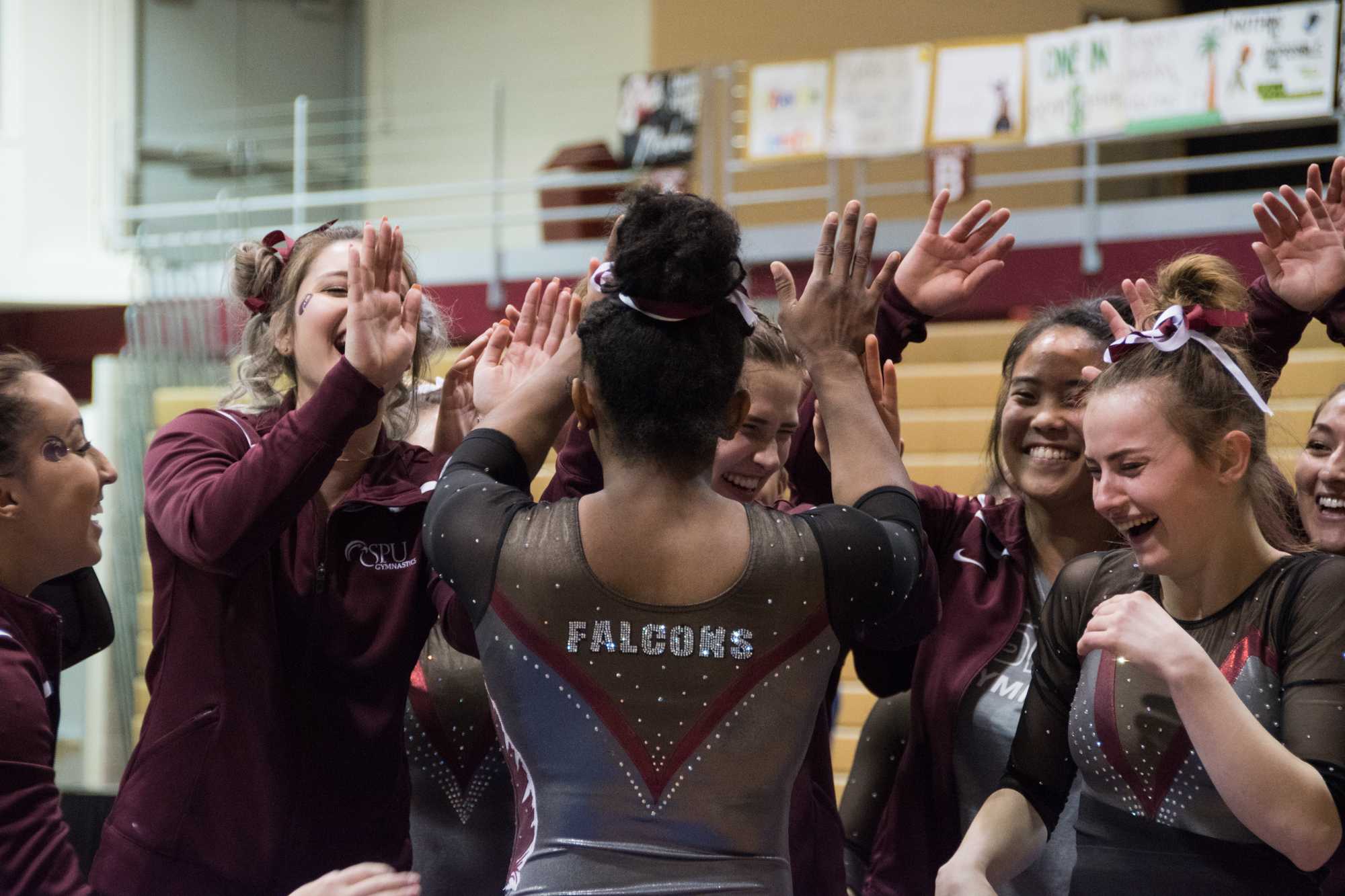 "It was a tough competition with the three other teams and many extremely talented gymnasts," said assistant gymnastics coach Sarah Marshall. "Our athletes hit some solid routines with plenty of room for improvement. You cannot control what scores the judges choose to give, so we are focusing on making our routines as clean and stand-out as possible. Senior, Itzia San Roman, performed one of her best vaults and floor routines. Sophomores Zimmermann and Durst are steady and reliable on their events."
Despite Burns' large contribution to the score and consistent scoring effort all throughout last season and this season she posted a meek 8.950 on the balance beam exercise. Marshall said competing on the road can create a more difficult experience than an exercise already is, possibly leading to Burns' fall.
"Competing on the road always has a bit of a different feel than being at home. You have to adjust to the equipment, lighting and facility," she said.
The Falcons have been experiencing a long road stretch since Jan. 25 and won't be back at a home match up until Feb. 15.
"The goals are to be so confident and consistent that you can perform under any circumstance," Marshall said. "We are working hard to put our athletes in those pressure situations in training, so that they can show their true potential in competition. We haven't quite gotten to that point as a team yet, but when we do this team will do big things. They are incredibly talented and have a lot of heart."
Marshall also mentioned that the team showed a lot of improvement this last meet. She mentioned there were great strides individually and as a team.
"The team showed tremendous fight throughout the meet at NIU. After a very rough start on beam, the gymnasts keep their energy up and stayed focused on finishing the meet on a strong note. The entire bar line-up successfully hit their routines in the final rotation which was a fantastic improvement from last week."
The teams next meet will be the last of their home stretch. The Falcons will fly to the Midwest to face off against Air Force, Brigham Young University and Springfield University.
After the final meet of the road stretch SPU will host two meets in the Royal Brougham Gymnasium. First, Air Force, University of Wisconsin Oshkosh and University of Wisconsin Whitewater will visit SPU and compete. Second, the Falcons will have a one-on-one matchup with Sacramento State.
According to Marshall, the Falcons have been improving on the road, but a meet in familiar territory will be a positive and advantage for the team.