Exploring overseas options
Study Abroad Fair presents range of opportunities 
Seattle Pacific University students expect Weter Hall to be quiet, full of whispering students studying over coffee. That atmosphere was gone on Friday afternoon. In place of the typical calm, the lobby was full of colorful tables, groups of wondering students and conversations were exclusively focused on international travel.
The Study Abroad Fair on Friday, Jan. 25, filled the Weter lobby with decorated tables manned by different international study programs, all discussing their trips and organizations with the students wandering through.
With so much to look at, some seemed unsure as to where to begin, and many organizers would grab the attention of a passing student by asking "Are you thinking about studying abroad?" or "Have you ever been to Paris?" This lead to discussions of major and study area, what classes the program offers, what activities could be done in the countries visited.
One such program is BestSemester, whose website claims that it, "Proudly offers 10 off-campus and study abroad programs around the world through the Council for Christian Colleges & Universities." Their representative at the Study Abroad Fair was Katie Heidengren, an admissions and academic services coordinator for the organization.
She enthusiastically relayed the details of the trips offered by BestSemester. She explained that they have three more professionally focused programs in the states: a public policy and communications focused trip to Washington D.C., a film trip to Los Angeles, and a music program in Nashville, Tennessee.
They also have seven overseas trips: Uganda, Northern Ireland, the Middle East, Costa Rica, Australia and two different Oxford programs.
"Something we're really passionate about is experiential learning," Heidengren said, "sort of asking 'What does it mean to be faithful Christians in every aspect of life and in a variety of different disciplines and careers?'"
She explained that the credits taken on their trips transfer neatly over to SPU, and the financial aid being used to attend here should apply with BestSemester as well.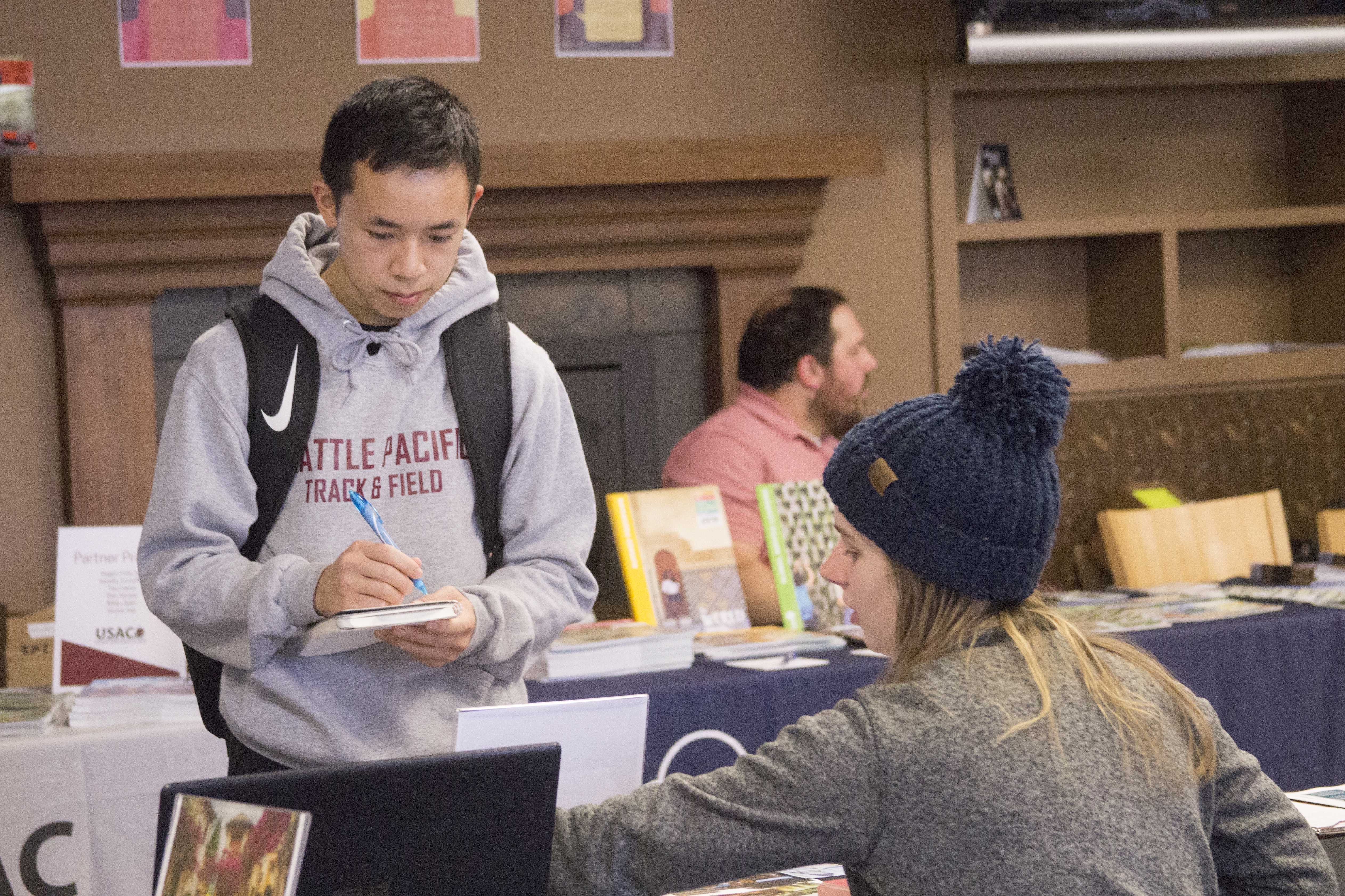 Just a couple steps to the right of the BestSemester table, in the corner of the room, Alberto Ferriero was waiting patiently for students to notice his tucked away table advertising a trip to Salamanca, Spain.
Ferriero explained excitedly that this is the 29th year of the trip, and that he remembers the very first trip vividly.
Instead of a photo or digital map, he showed the locations of the University of Salamanca and the places where students might stay in the city on a tiny, detailed model of the city sitting on his table. He traced the path students might walk to class with his finger by memory, showing the close distance of the inner city from the lodgings, describing how lovely the walk is.
He says that his trip is excellent for Spanish Language students, because Spain is the birthplace of the language. The University of Salamanca is also the best place for classes, he explains, as many European universities do not have conversational Spanish classes because their students do not need them. American students tend to master grammar first, while European students learn conversation.
"Salamanca is the main accredit[ed] university in the world for programs for Spanish, for people who write Spanish grammar books, Spanish learning books, to get the highest accreditation," Ferriero explained.
Students can come on the trip for four, six or eight weeks in the summer depending on what price and amount of time they are willing to commit to. The main events, classes and activities happen in the first four weeks, Ferriero reassures, so students who come for the shorter trip still get a great experience.
Besides Spanish, the trip also goes includes flamenco dancing, tapas tastings and other adventures.
For non-Spanish speakers interested in artistic history, there were two different French trips offered at the fair; one for film students, and another for more diversely interested students.
SPU Associate Professor of French Michelle Beauclair, visibly thrilled to see students showing interest, dove quickly and enthusiastically into her description of her trip she is involved with.
She offers a program through SPU that goes to Aix-En-Provence, France, as well as the more famous Paris.
"It's two weeks in Aix-En-Provence and two weeks in Paris, so students can get the experience of a provençal, a small town which is near the mediterranean."
She explained that, between the walking tours, the museum passes, and more activities, students are able to experience significant amounts of culture. Students can earn up to eight credits, depending on what they decide to study while in France.
Just one table over, offers four weeks in Paris, focusing more closely on studying French film history. The group visits the home of Marie Antoinette, and attends a film festival.
The table for the South Korean trip was unique because it was manned by a student as well as SPU Associate Professor of Psychology Dr. Paul Youngbin Kim, and the student seemed to be happy to do most of the talking.
Katie Wyatt, who has been on the trip and was enthusiastically informing students about its details, said that it was an unforgettable experience that she encourages everyone to see.
The trip is a three and a half week trip that counts for cross-cultural psychology credits, which Wyatt says is a required course for all psychology majors.
"It's so fun, it's so much easier to navigate than you might think it was: I was intimidated by the culture shock aspect of it, and then I never even felt that out of place. Dr. Kim is awesome, I just had a great time."
Other trips included Japan, Ecuador, Oxford and nonprofit programs such as University Studies Abroad Consortium (USAC) that offer several different trips, giving students of all majors many options to choose from.
USAC's information can be found at https://usac.edu/usac
BestSemester can be found at https://www.bestsemester.com
More information on trips through can be found at https://studyabroad.spu.edu