Falcons came within tenths of winning
A close loss gave the Falcons gymnastics team the opportunity to focus on team improvements, head coach Laurel Tindall said.
The Seattle Pacific University team flew to Sacramento, California for a three team meet against Sacramento State and Stanford University last Friday, Jan. 11. Unfortunately, the Falcons were unable to put together enough points to top either team involved in the meet. Stanford University finished on top with 194.650, Sacramento State ended with 189.950, and SPU finished close behind with 189.825.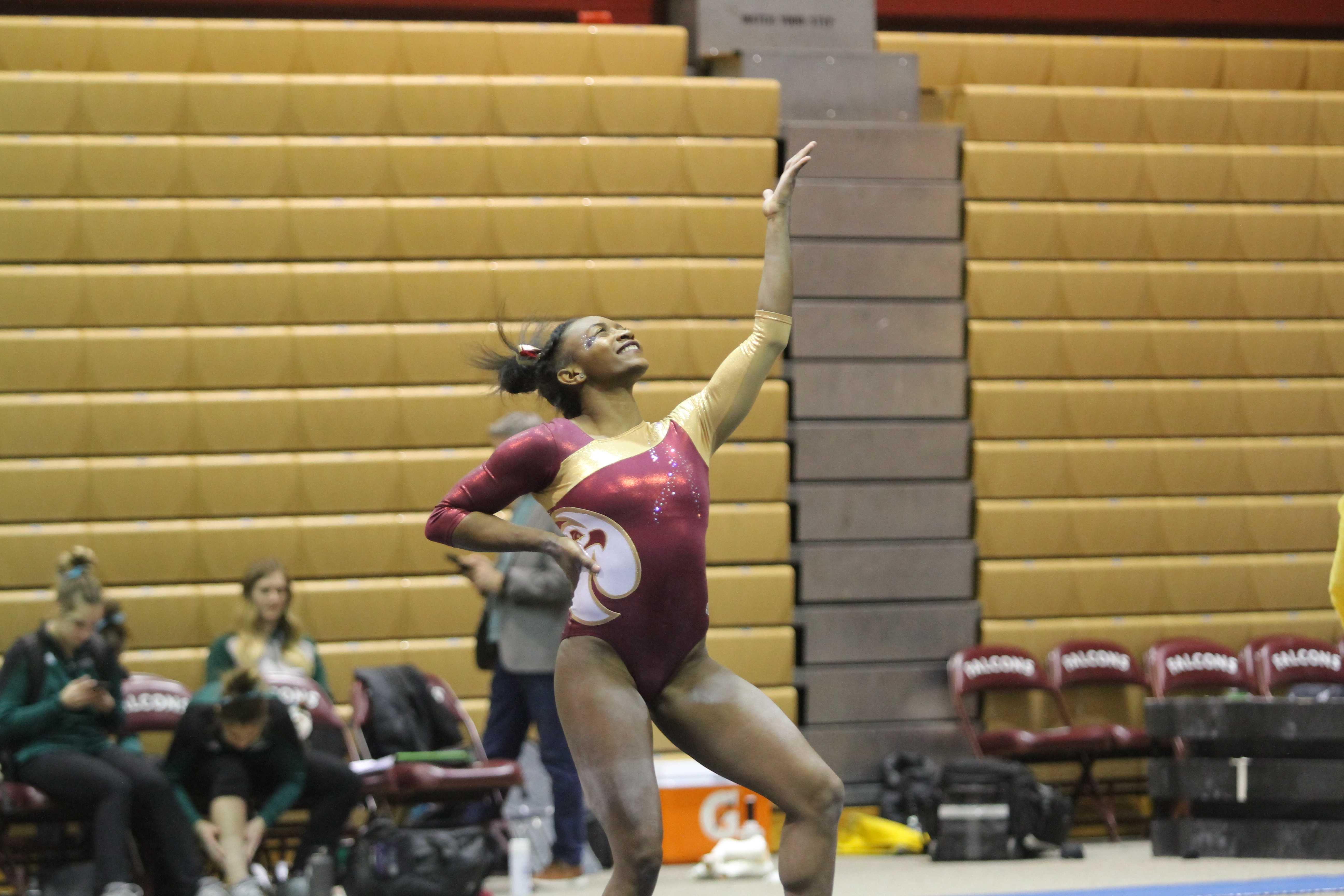 "It was very close between [Sacramento State] and us. It all comes down to tenths and it certainly did on Friday night. Neither of us had great meets and we both left the door open to make a lot of improvements," Tindall said.
She said the teams focus is to always improve and continue to look for ways to earn a higher score as a team.
"As a [Division II] program we compete again a lot of [Division I] programs and our expectation is not to win but to improve our performances and scores," Tindall said.
The Falcons had several bright spots on the mat, such as Itzia San Roman grabbing the No. 4 spot with her all-around score of 37.625 and Zahra Lawal finishing with the No. 4 vault performance with 9.750.
Tindall mentioned other bright spots that occurred throughout the meet.
"Jadacie Durst moved into both the vault and bar lineup after being a floor specialist last year. Zahra Lawal upgraded her vault and landed on her feet to gain our top vault score. Miyuki Matsune came back from her wrist injury last year to contribute on both bars and floor."
Along with the team's positive player performances, one gymnast, Darian Burns, placed top six in every category except for vault where she tied for seventh place out of 18 total competitors. Burns scored nothing below 9.600 in any category, which drove her all the way into the No. 2 spot for the all-around competition. She topped out at 38.850 and was only bested by Stanford's one and only all-around competitor Kayla Bryant with 39.175.
"As an [All-American], Darian is definitely our top person in several events," Tindall said.
She also mentioned many of the gymnasts specialize in a single or a few events, focusing in on specific skills. A perfect example of this is, Lawal funneled all her focus on her vault performance. She landed in the top-five and added a large sum to the Falcons overall score.
The Falcons expect to keep increasing their overall scores in the meets to come.
"For the second meet we should be a little more confident in our routines," Tindall said. "We had several people out due to injuries last week and we are hopeful that a few will be back in a couple events, that should help our score. The comfort of being in our home gym should also help our performance."
The Falcons face-off against UC Davis during this next head-to-head bout, the team will be at home, Friday, Jan. 18, at 7 p.m.
"UC Davis is a strong team and we always look forward to meeting them. We especially look forward to having our first home meet," Tindall said.