Senior finishes volleyball season with career highs
Breaking school records, receiving league honorable mentions and reaching career highs, senior Symone Tran has ended her volleyball career on a high note.
Closing this chapter in her life, Symone Tran ends her volleyball career having accomplished things many past Seattle Pacific University volleyball stars have not accomplished. With the season ending last week, Tran got the chance to reflect on this last season and the last 13 years of her volleyball career.
Tran began to play volleyball when she was in the fourth grade. At the time, her school's volleyball coach was also a coach for a local club team and invited Tran to come try out for the team.
"My school's volleyball coach invited my mom and I to come check out the club and had me try out," Tran said. "From then on volleyball became my life."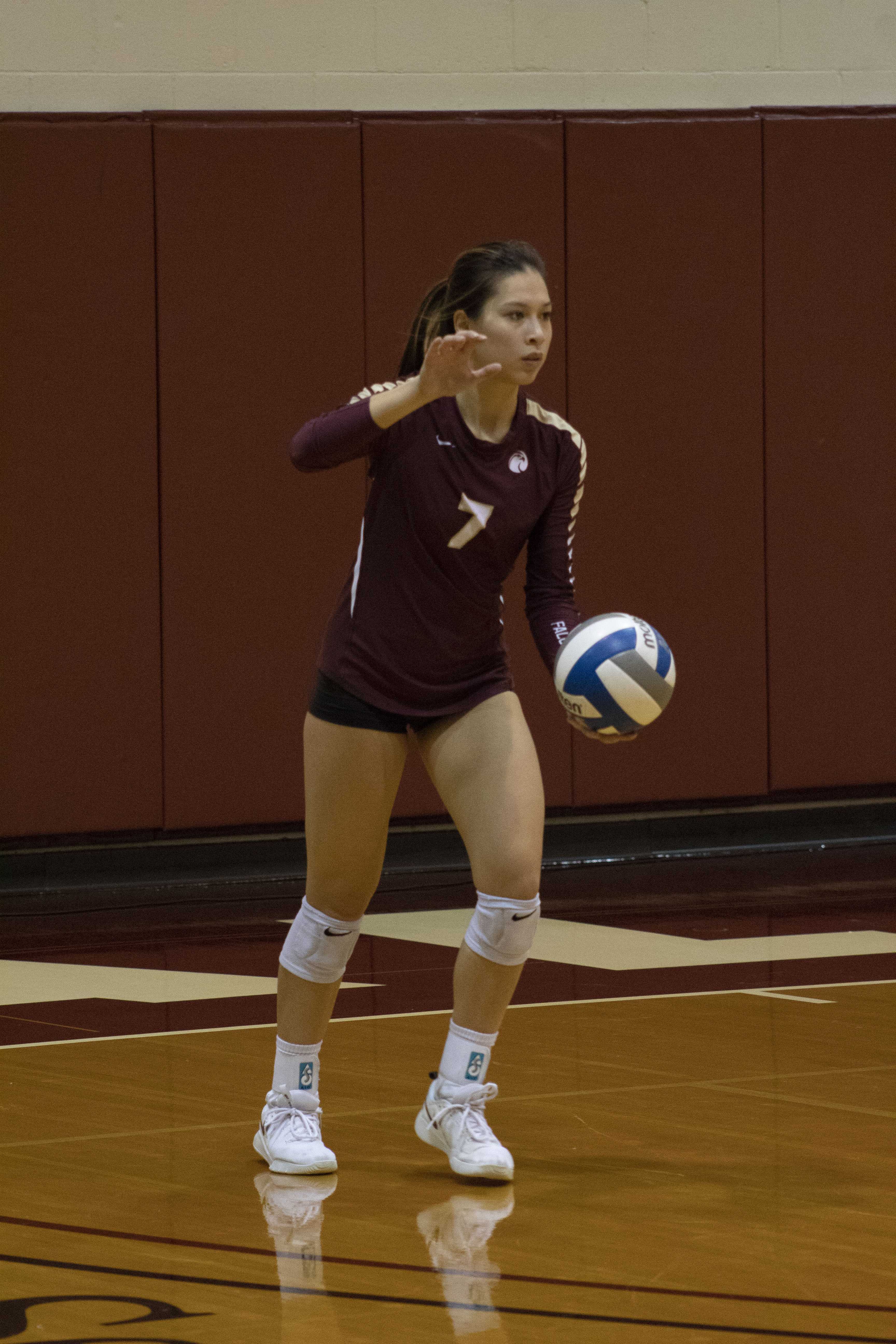 From that moment, Tran's love for volleyball and teamwork expanded. From the first time she stepped on the court she was trained to become a setter, which would groom her into the player she is today.
"I've always been a setter. There was one year I played right side, but setting has always been the most natural position for me," Tran said.
When it came time for Tran to start thinking about what universities she wanted to attend, she had not planned on continuing her volleyball career in college. Knowing that she wanted to study medicine, she wanted to focus all her time on academics and feared that if she played volleyball it would take away from her time to be the best student she could be.
SPU had been on her list of schools to apply to since the beginning. When focusing on the academic's side of things, Tran had heard that SPU had a great biology program and had a high number of students going on to medical school.
It wasn't until she found out that her longtime friend and teammate, senior libero Amanda Ganete, was offered a position on the SPU volleyball team that she thought about the possibility of continuing her volleyball career in college.
"I wanted to focus on academics because I had originally wanted to go to school for pre-med," Tran said. "But, as SPU started talking to me more about playing for them and my friend was also being approached, I decided to continue playing in college."
After much thought, Tran was also approached by SPU to play volleyball. Tran looked at other schools, but SPU had everything she was looking for great academics, a great volleyball program, and it wasn't too far away from her home in Portland, Oregon.
From the moment, she stepped onto SPU's volleyball court she played in almost every game from her freshman year to her senior year.
"When I took the job two seasons ago, I was excited to get to work with Symone," volleyball head coach Abbie Wright said. "I had heard a lot of great things about her, and all of those things were true. She can perform a game plan and it's fun to get to implement new things because she was always up for the challenge."
In her final year of volleyball at SPU, Tran achieved more than she expected. On Nov. 3, in their match against Alaska Fairbanks, Tran beat the record for the most career assists in SPU volleyball history.
After the season was over, Tran was also voted for the Great Northwest Athletic Conference Honorable Mentions. In the GNAC, at the end of each season all the coaches from the league get together and vote on a group of athletes who will be rewarded for first team, honorable mentions, and newcomer of the year.
"Beating the record for the most assists was a team accomplishment," Tran said. "This was not my accomplishment alone, it belonged more to the team then myself."
One thing that Tran believes in is team effort. When it came to relationships on and off the court, she said that the team were her sisters and every success of hers she felt like belonged to the team as well.
Tran treats every teammate with respect and stressed the importance of how each team member, whether on or off the court, was an important part of the team. Each player had a role to play that helped contributed to the team over all.
"She is very talented, but as a player she focused mainly on how her skills were to benefit those around her, rather than concentrating on what she was doing well," Wright commented. "She wanted to perform well for her teammates, and consistently strived to elevate the game of others around her."
As she prepares to graduate, Tran looks forward to focusing on her future higher education in applied human biology. She has also been asked to help coach local volleyball club teams and has been asked to come back to practice with SPU's volleyball team next season.
"If my future career allows me to continue to be involved with volleyball in some way, then I would love to play or coach younger teams, but for now I am excited for the next chapter in my life."