SEA NOW comes to SPU
Seattle Worship group provides space for fellowship, prayer
On a calm and breezy fall night, Hill Hall opened its doors to the Seattle Night of Worship, transforming the lobby into an intimate setting. String lights dimly illuminated the space while chairs were set in a semi-circle fashion to face the musicians providing the worship.
The lobby was open to anyone that wanted to join, and even provided drinks and snacks to add to the friendly atmosphere.
Every week, this group of students that make up the Seattle Night of Worship, or SEA NOW, traveled around to either Seattle Pacific University, Seattle University or the University of Washington to create a night of free and accessible worship for college students.
This week the group played in the Hill Hall lobby and invited all SPU students to join in worship and fellowship.
According to their website, the SEA NOW doubles in meaning. "NOW" stands for "Night of Worship," but also conveys the urgency of believers to come together in community and union in one body under Christ.
Bailey Sipes, a student from the University of Washington who plays violin for the musical group said, "This whole idea came from a heart of worship. We wanted to make it accessible to college students all over Seattle by coming to where they are. My favorite part of the whole thing is looking at everyone participating in the worship together. It creates community."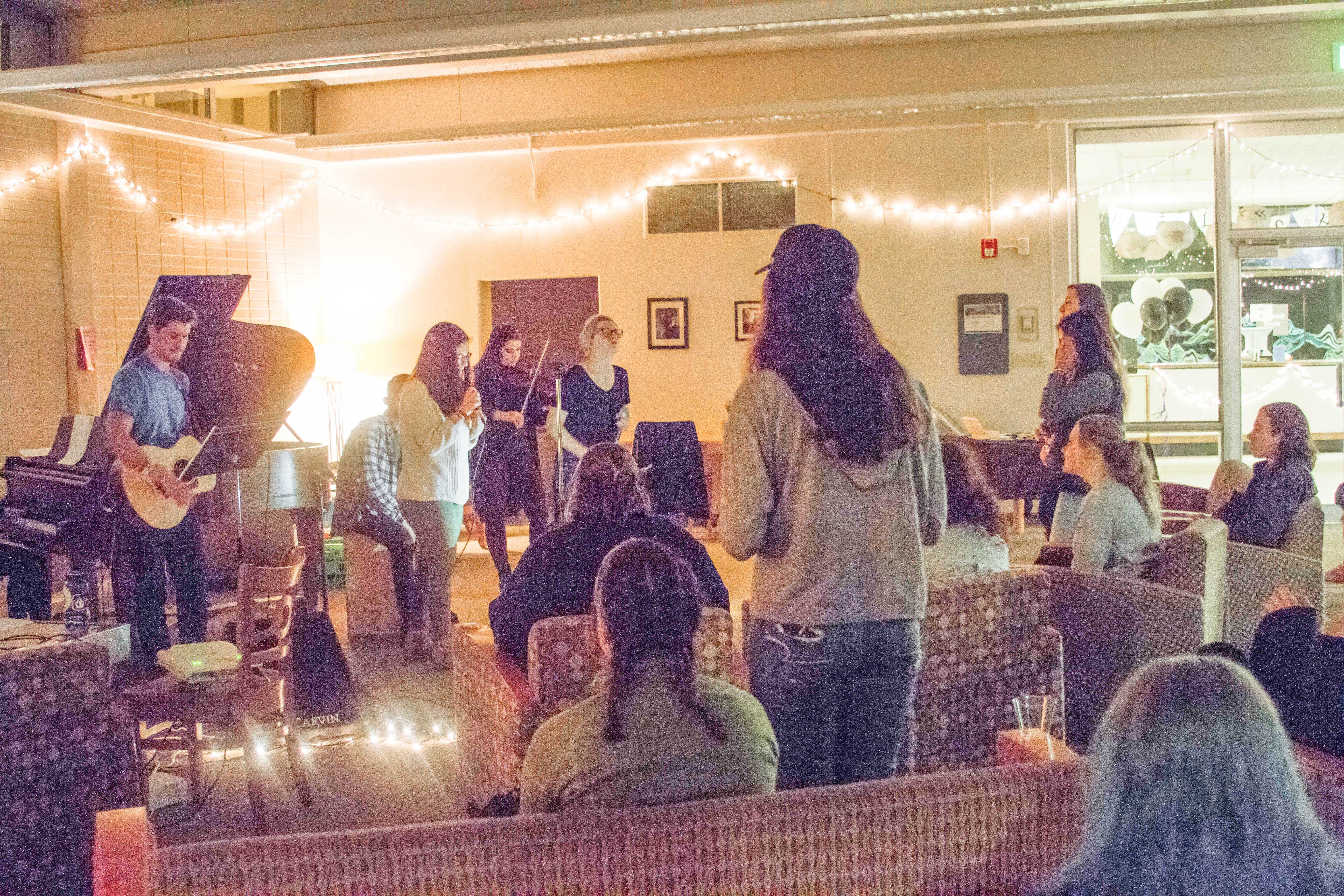 The musicians encouraged the audience to worship however they wanted, whether that be sitting and listening to the lyrics or standing to sing along with the songs.
Emily Geringer, a first-year student at SPU said, "I decided to come because I heard about it through my RA and it sounded like a nice place to worship and that I could connect with others."
Fellow first-year student Mercy Alsworth wanted to attend the evening as she believed it would provide a time of spiritual unity and worship with other SPU students.
The night was comprised mainly of songs, but also time that the musicians spent talking to the audience and explaining who they were and why they decided to do this night of worship. It seemed to come at a perfect time, right on the tail end of midterms and the beginning of a three-day weekend.
"My favorite part [of the night] was that I just had to basically step outside and it was there. With other worship things like this you'd usually have to travel to another part of Seattle, which is pretty inconvenient when you don't have a car," first-year Rebecca Amerino said.
The group aims to create a consistent place for people to come together and encourage one another in their faith through fellowship, prayer and worship.
"It was a great time because I got to take a break from studying and be in an uplifting, stress-free environment," second-year Makenna Okeson said.
SEA NOW will visit Seattle Pacific once a week every month, and can provide a great way to express faith and create community with fellow SPU students without having to search for it off campus.
For more information about the Seattle Night of Worship, visit their website at seanow.org. Follow their instagram account at seattle.now for weekly updates and locations.