SPU's Men's Basketball Looks to Improve from Last Year's Finish
Last season, Seattle Pacific University men's basketball team finished 17-12 overall and 11-9 in the Great Northwest Athletic Conference, which was good enough for a fourth-place finish in the conference. Last season was also Grant Leep's first official season as the head coach for the Falcons.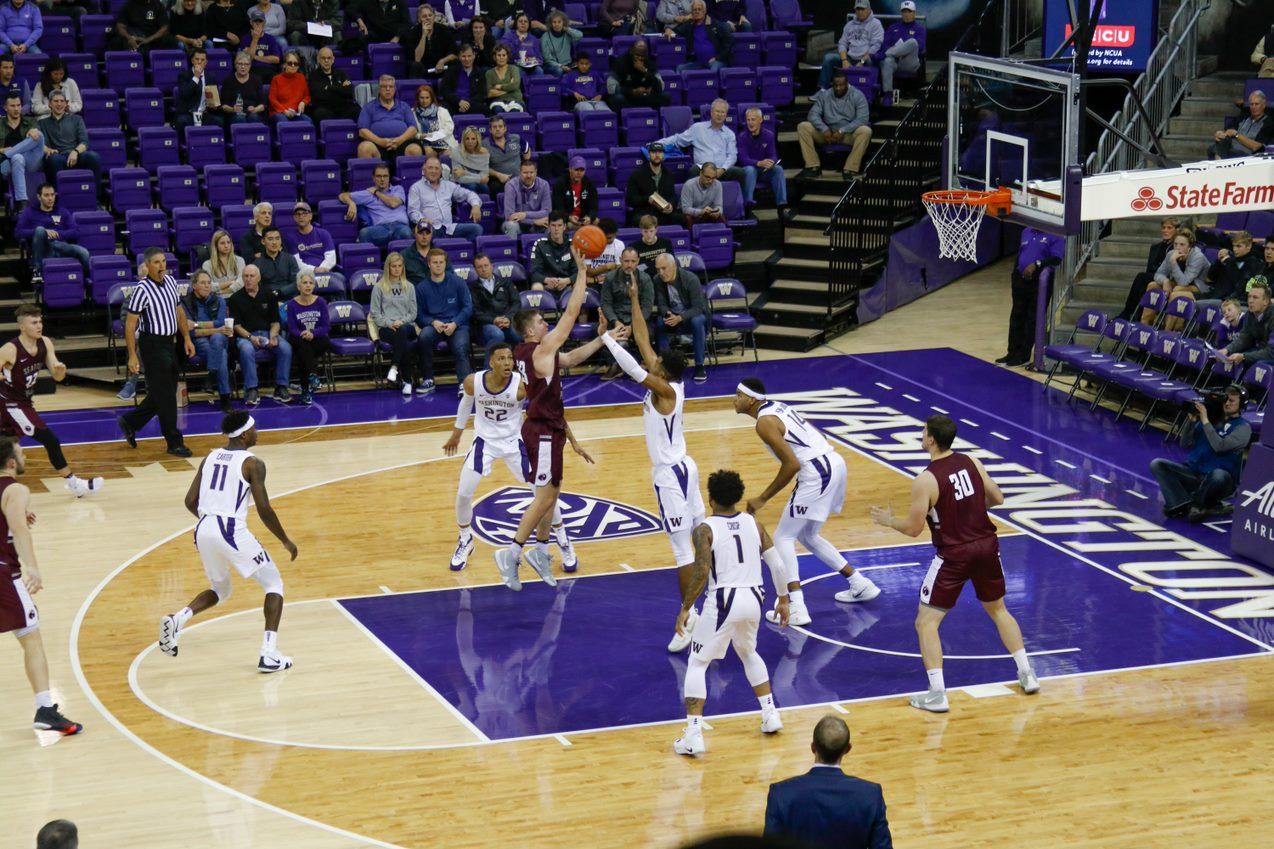 "We are very excited going in to this season," said the Falcon's Head Coach Grant Leep. "We showed some improvements both offensively and defensively as the year went on last year that we hope to continue with this years' team. We have 11 returning players who are growing in our system with three talented newcomers to our group."
Entering the year, the Falcons have lost three players from last year. Hunter Eisenhower and EJ Poulsen, who were seniors, and Tony Miller, who transferred to Montana University. All three players had a major role in the Falcons' game plans last year.
Miller led SPU in points per game until he was struck with injury difficulties. Eisenhower was a big presence down in the post, he led several games in rebounds and he also led a couple games in points scored. Poulsen, who was not a major contribution statistically, was another down low force SPU has now lost.
Six-foot seven-inch, 210-pound forward Sam Boone, who transferred from Lamar Community College, joined the team to fill one of the empty spots on the roster.
Divant'e Moffitt joined the team competing for a starting role as a guard. The final player to join the team this year is Jacob Medjo, who is not only the tallest player on the team at six-foot nine-inches, but is also the only first-year on the entire roster.
This year in the 2018-19 GNAC Preseasons Men's Basketball Coaches Poll, which ranks teams by where the coaches think they'll be at the end of the season, predicted that SPU will finish in second place behind Saint Martin's University, who received 9 out of the 11 first place votes from the coaches.
"Our group really gets along well," Leep said. "That translates to how we play in that we are a very balanced scoring team and the ball moves well. It is a great group of high achieving people that want to compete and play hard."
Before the regular season begins, SPU played the University of Washington who is ranked 25 in the National Collegiate Athletic Association men's basketball rankings.
The game did not count for much, only an exhibition match, but it would give a hint as to how the Falcons will perform this year. In the end of it all, UW would come out on top 70-61.
The Falcons led the majority of the way, but in the final stretch of the game it became to much for SPU.
Despite the Huskies' comeback in the last nine minutes, SPU forward Coleman Wooten earned a double-double, scoring 18 points and getting 10 rebounds. Gavin Long, who is a guard for the Falcons, also scored 15 points.
"We were very pleased at the ability our group showed to compete," Leep said. "We got off to a terrible start, but rather than let that start dictate how we would play the rest of the game, we stayed together, started to execute our game plan and were able to turn at 11 point deficit to a seven point lead. We also showed a great understanding of our defensive concepts and held UW scoreless for almost seven minutes."
Wooten and Long are honorable mentions when talking about men's basketball in the GNAC. Wooten, who averaged 11 points and seven rebounds per game with a shooting percentage of 54.4, was a Second Team All-GNAC choice and even a Preseason All-GNAC choice. Long, who is a junior this year, averaged 11.9 points per game last year with a shooting percentage of 52.4, and also earned a Preseason All-GNAC selection.
The Falcons will kick-off the season on Nov. 9, in Chico, California, where they will be facing Cal Poly Pomona, and on the following day Chico State.
They will come home the next week after that to host a tournament at home, and face Westminster College and Azusa Pacific University.