Creating more than a cup of joe
Top Pot provides complimentary coffee tasting in an effort to educate and serve its customers
It is customary to walk into a doughnut shop and be introduced with a pleasant sensory overload of fresh sensations, the scent of sweet dough lingering in the air, the hum milk steaming behind the counter and the constant chatter between those in line or sitting down together.
Top Pot has become a hit establishment in Seattle, perfectly pairing pastries with fresh brewed coffee.
Along with being a great place to get a sweet treat, it's also a place where the opinions of customers are valued and taken with great consideration.
On the morning of Sunday, Jan. 7, Top Pot hosted their second coffee tasting open to the public.
Word had circulated well enough since their first tasting, the event filling the upstairs part of their 5th avenue location.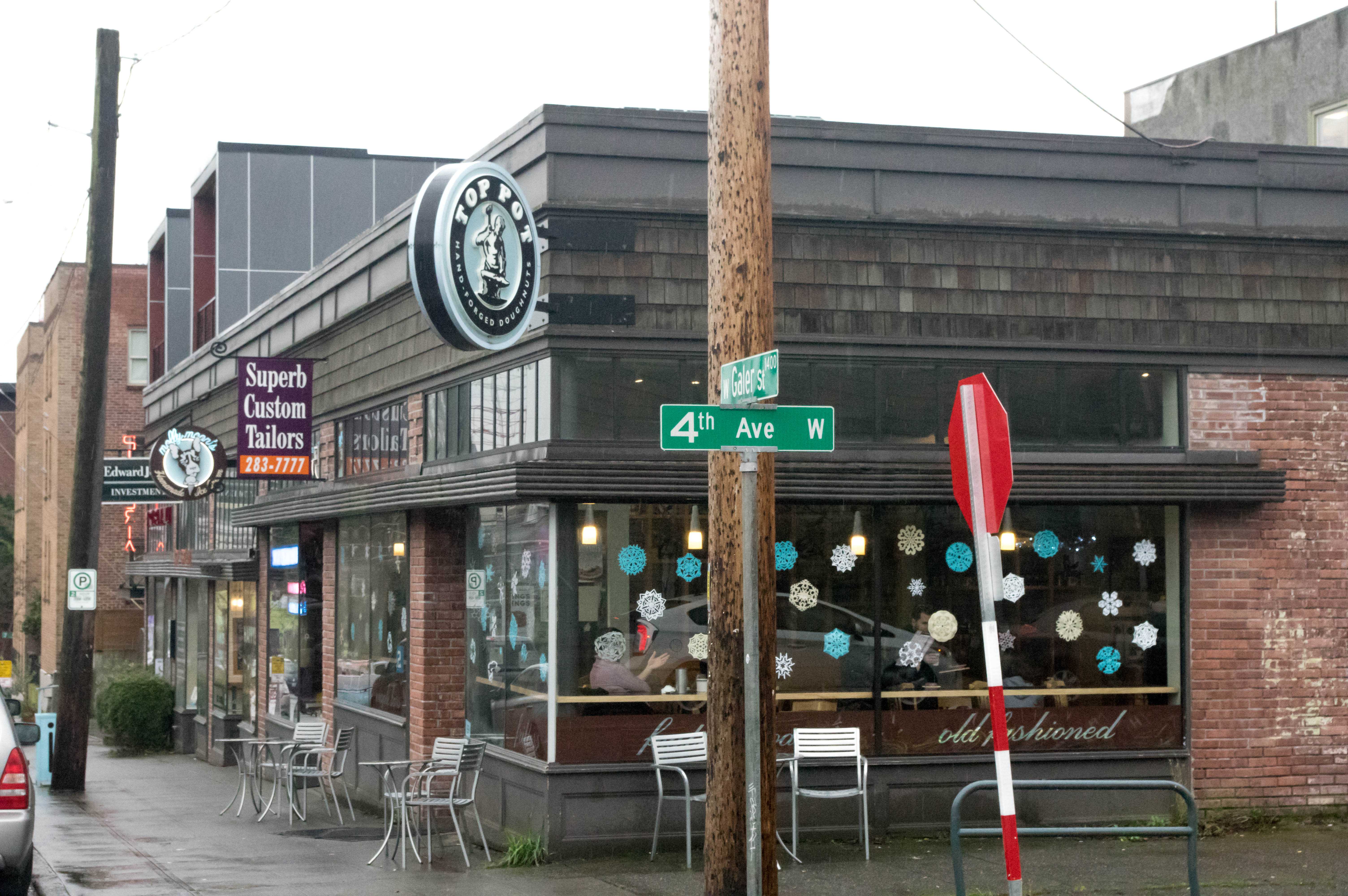 As the different blends were distributed and introduced around the room, Head Coffee Roaster Erich Rosenberg discussed how their customer's heightened interest in coffee helped Top Pot to explore more options and obtain "cooler" blends, this exploration being the main reason for the coffee tasting. "Coffee is like music. If you like it, it's good," Rosenberg said.
Another informative aspect about the coffee tasting was that Rosenberg educated the attendees about the correct temperatures and times to brew coffee.
For drip and french roast, brew the beans at 195-200 degrees, press for five minutes, and prepare the drinks accordingly.
The other types of brewing that Rosenberg taught his spectators were pour-overs and cold brew.
The proper way to prepare a pour-over is based highly on how one should be careful not to overflow the ground beans, but rather to saturate them in the warmed water in a circular motion.
Cold brew, however, is much more of a tedious and patient way to brew coffee.
Rosenberg suggested that one go through the same process for a pour over, but leave the brew for two and a half hours before serving.
Rosenberg compared coffee to wine in that the longer it brews or chills, the richer and more robust the taste becomes.
These lessons gave many spectators an "ah-ha" moment that they will carry into their own coffee creations.
One of the co-founders of Top Pot, Mark Kelbeck, said that he enjoys hosting coffee tastings because they help to inform the community in Seattle about the company's attention to their customer's wants and Top Pot's product.
Kelbeck also wants to teach the public and their returning customers about their coffee beans through their tastings — like how they roast their beans in house, sell wholesale and carry them in shops like Zeitgeist on Jackson.
For the future, Kelbeck hopes that they can host doughnut tastings so that the public can have more of a voice in new doughnut creations for the Seattle chain.
Kelbeck believes this would foster a new sense of community, a sense that their customers continually have a voice in what Top Pot makes and that the shop is centered around the tastes of those that enjoy to eat and visit there.
It was a pleasant surprise to see that the co-founder and head coffee roaster where the ones hosting the event, and not simply the company's employees.
This shows that Top Pot is focused on having a close relationship with their customers.
Kelbeck and Rosenberg displayed that they value their customers' opinions, and that they are worthy of their own time.
For many, it was a pleasant for the company to speak so directly and to consult with the general public.
Top Pot's top priority is to cater to the needs of their patrons, and it shows, making it a place that many customers return to again and again.