ASPIRE challenges young adults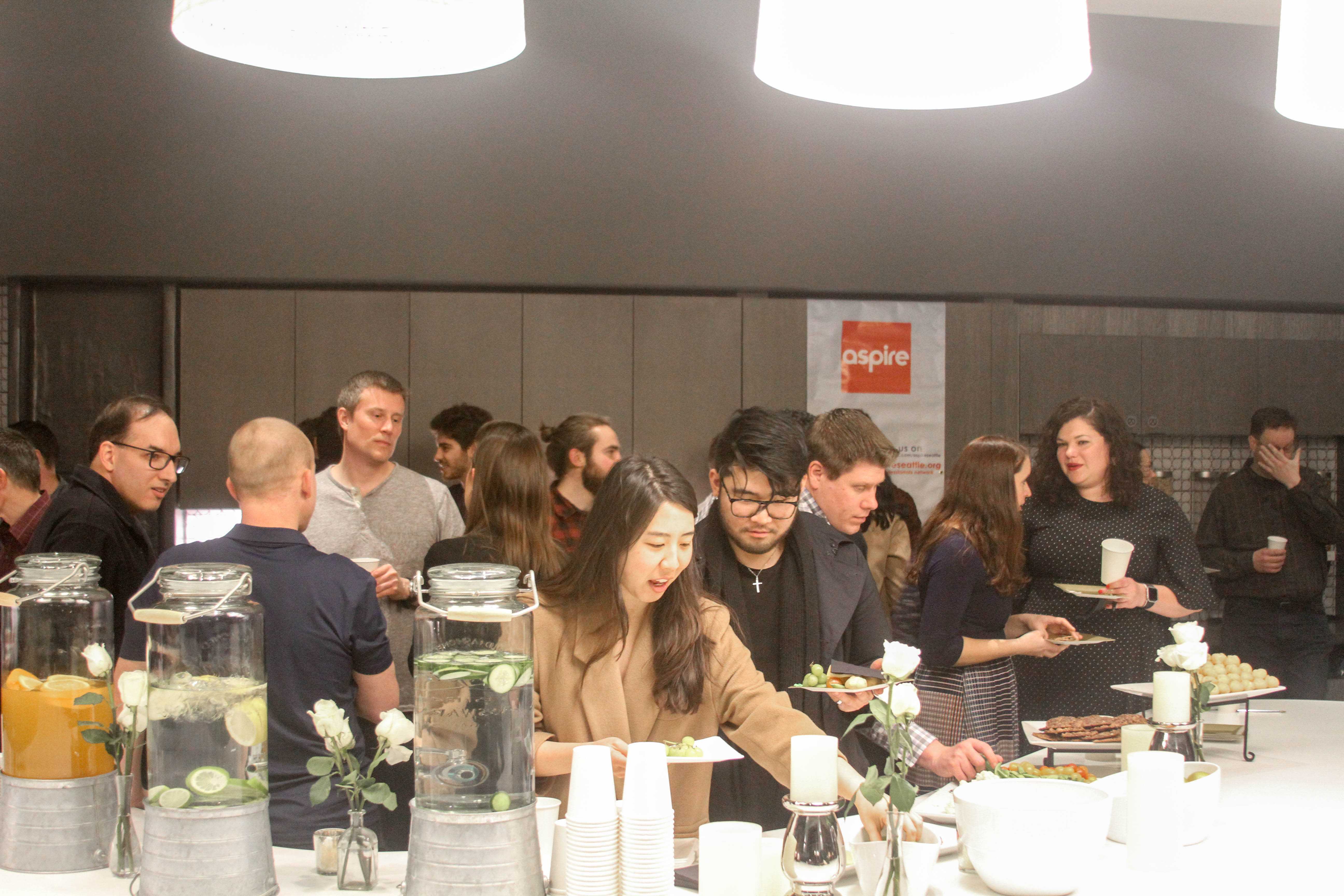 The word "vocation" can strike piercing fear into any college student. While many parents, professors and administrators will say a vocation comes following graduation, often that claim does little to calm the anxiety and question of one's calling.
This is the reason that ASPIRE, a faith-based networking group, has come to help. On Saturday, Jan. 20, ASPIRE hosted a discussion panel with young professionals from different backgrounds, with the purpose of speaking into the lives of about 50 college students and young adults who were in attendance.
The panelists included Maxwell Mooney, founder of the Everett-based company Narrative Coffee; Jean Lee of the Boston Consulting Group; Brian Spillman, better known as BLineDot, a professional artist and a leader of the non-profit organization Community Dinners; and Nancy Gianacopulos of Boeing.
Each panelist gave a brief introduction to share their story and describe what led them to their career field. For Gianacopulos and Lee, both took their jobs straight out of school.
"I was a psychology major who kind of just stumbled into this job. I took every open door that presented itself. If it seems like a good idea, take it," Lee noted. Gianacopulos was different. Working as an aerospace engineer was always her dream, and she believes that she has been fortunate enough to end up doing what she loves.
Even though she has held her dream job at her ideal company, there are times when she loses sight of her purpose. The advice she gave to the audience could be summarized as: when your work becomes difficult, do not give up.
"You may end up with your dream job, but that doesn't mean that there won't be times when that job becomes incredibly difficult. In those moments when you want to quit, don't. Those are the moments that make the job worth it."
While Lee and Gianacopulos appealed to the traditional post-college corporate position, for Mooney and Spillman, their professional lives were anything but traditional.
Mooney originally planned to enter the field of ministry upon graduating from Northwest University in Kirkland, WA. He would discover that God had different plans for his life.
Mooney was a youth pastor for several years, but as he recalled, like Jonah was called by God to Nineveh, Mooney felt called to Everett. The placement, however, didn't matter for Mooney: the mission was always to make great coffee and to love people.
This business model has worked for Mooney both personally and professionally. Since its opening, Narrative Coffee has won both local and national awards. Mooney, Lee and Gianacopulos came from backgrounds rooted in education. BLineDot, however, did not.
He is an artist who has started his own business, and his art is how he feeds his family.
"Obviously, success in art is part luck and part work. The greatest advice I've ever received and something I tell anyone is: You have to make it a job. You have to put in hours and hours of work just to get your foot in the door anywhere," BLineDot said.
The common thread of advice that all the panelists mentioned was the importance of community and passion. "Support networks of friends, relatives, and business partners that come together and help support your ideas are the reason any of us are sitting here," BLineDot said.
"Surrounding yourself with people who you care about, and who care about you, make hard work easy. You need something or someone other than yourself to remind [yourself] why you do anything," BLineDot said.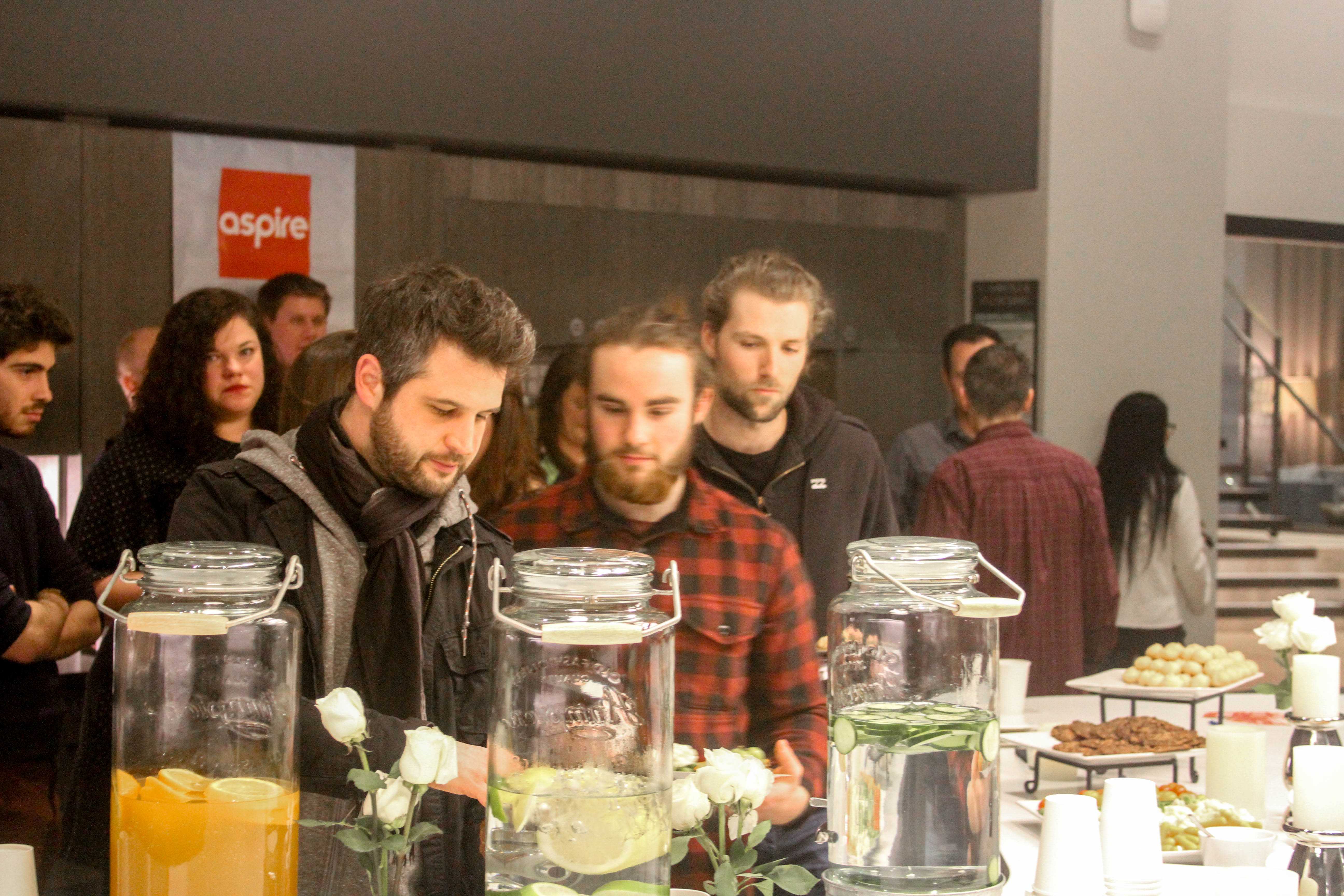 None of the speakers had a magic potion or map on how to be successful, but they all hoped to offer some form of encouragement to anyone in the audience about their purpose.
Before the evening broke for attendees to enjoy refreshments and to network, BLineDot offered the final piece of advice.
"Quitting isn't an option. You are going to crawl and scratch. You have to work harder than you ever thought you would need to, but you can't quit. It's not an option."
For more information on upcoming events and gatherings, follow ASPIRE on Facebook or visit their website at aspireseattle.org.