Rowing behind the No. 1 seed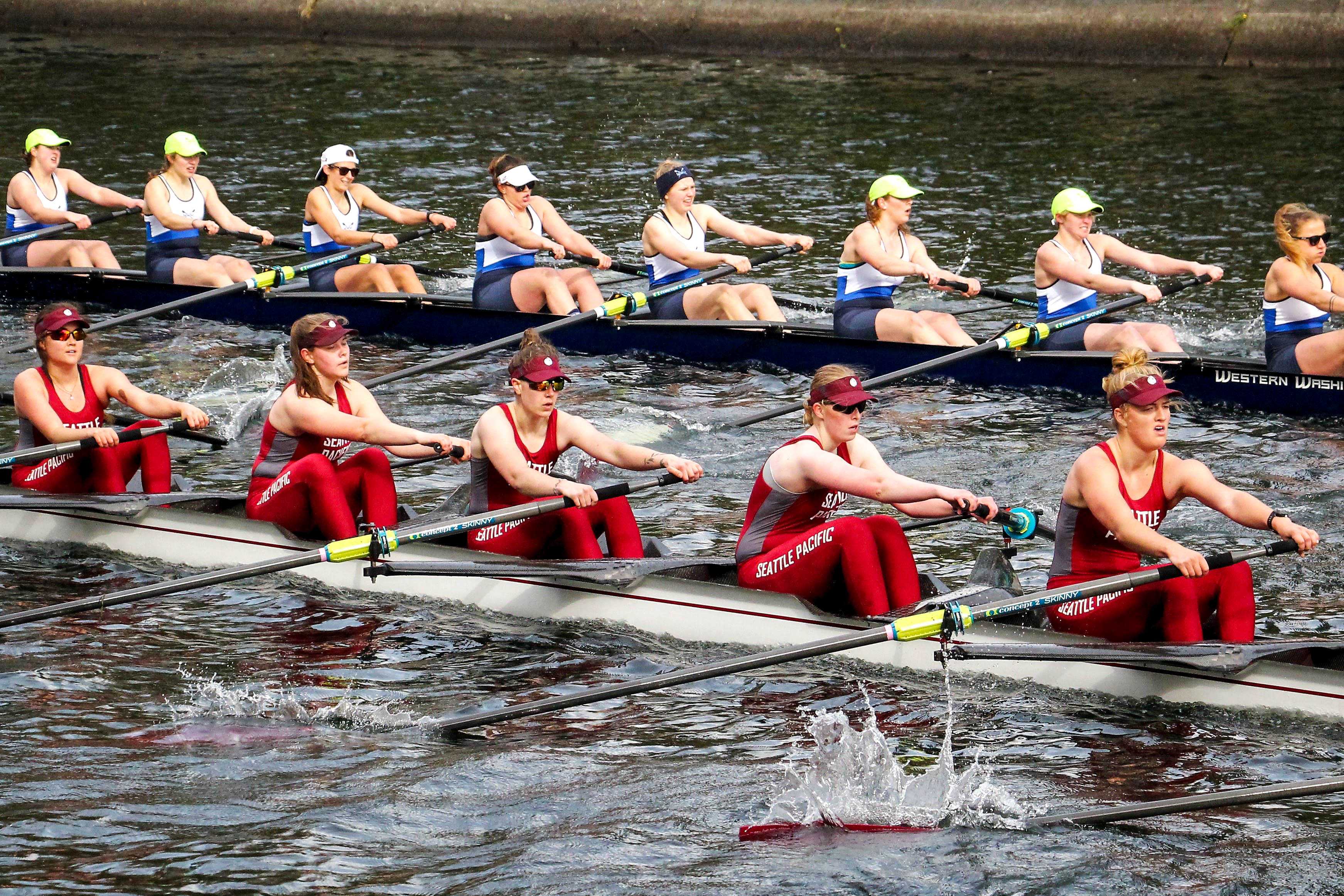 The Falcon's crew  team is paddling closer and closer to landing a spot in the NCAA Rowing Championships.During the Husky Open on March 31, the Seattle Pacific University rowing squad sailed past competitors in several events.
The Falcons finished one boat length behind No. 1-ranked Western Washington in the women's collegiate varsity eight race.
Along with that second-place result, SPU rowed to a third-place finish in the second varsity eight race and its open four crew was the runner-up in a varsity race.
Nearing the No. 1 spot and placing just behind Western Washington University is the kind of momentum the team needs to get them to the championship, said Andy Derrick, head coach of women's crew.
"I did suspect that we were capable of really going toe to toe with them," he said. "Western is a great team and historically very successful in Division II, but there are some really good things happening in our boathouse these days too so I knew if we focused on just putting down a good performance for ourselves we would be happy with the result. Obviously winning is the hope, but 4.1 seconds back from No. 1 WWU is a strong statement."
The varsity eight squad even held the lead for a bit during the race.
The first 350m were neck and neck between WWU and SPU, with SPU cruising in front before losing the lead and staying close behind WWU.
The Falcons' varsity eight features Chloe Remley in the stroke seat along with Kaitlin Dickinson, Gillian Edgar, Suzanne Stafford, Megan Chalfant, Samantha Kimmel, Natalie Beall and Amanda Larsen.
The Falcons are looking for their first NCAA Rowing Championship appearance since 2011. The most recent coaches poll has SPU jotted down at No. 7 ranked overall.
The team still has plenty to improve and plenty of time to do so, Derrick said.
"At this point our top eight is still leading the way and proving to be a little closer to their peers," Derrick said. "So the biggest area for improvement is building our depth by seeing the athletes not in the varsity eight continue to progress and improve as individuals in training, pushing everyone above them to be faster. Next year there is no more qualifying for NCAAs in just the varsity eight, and it will be a team qualification or nothing, so we will need the whole roster to step-up and get us there."
Crew's next meet is one of the teams farthest from home in Lowell, Oregon. SPU will face several different teams through the West Region, including Western Washington University.
"This will be our third weekend of competition in a row in a very tough four week back-to-back part of the season ending April 14, with our home race right here on campus," Derrick said.
"This is the last away race, so those can always be a bit more challenging than something just a couple miles away at UW, but I think our team is traveling well," he said.
The Coach said his top priorety is competing and besting the West Region.
"The hardest part will be the level of competition, as we continue to face our fellow West Region opponents, and there is no bad team in the West, with all of us very much in the hunt for spots at NCAAs," he said.