SPAC gallery opening "Drawn Out" as expression of nature
Campus art exhibit goes back to the basics of art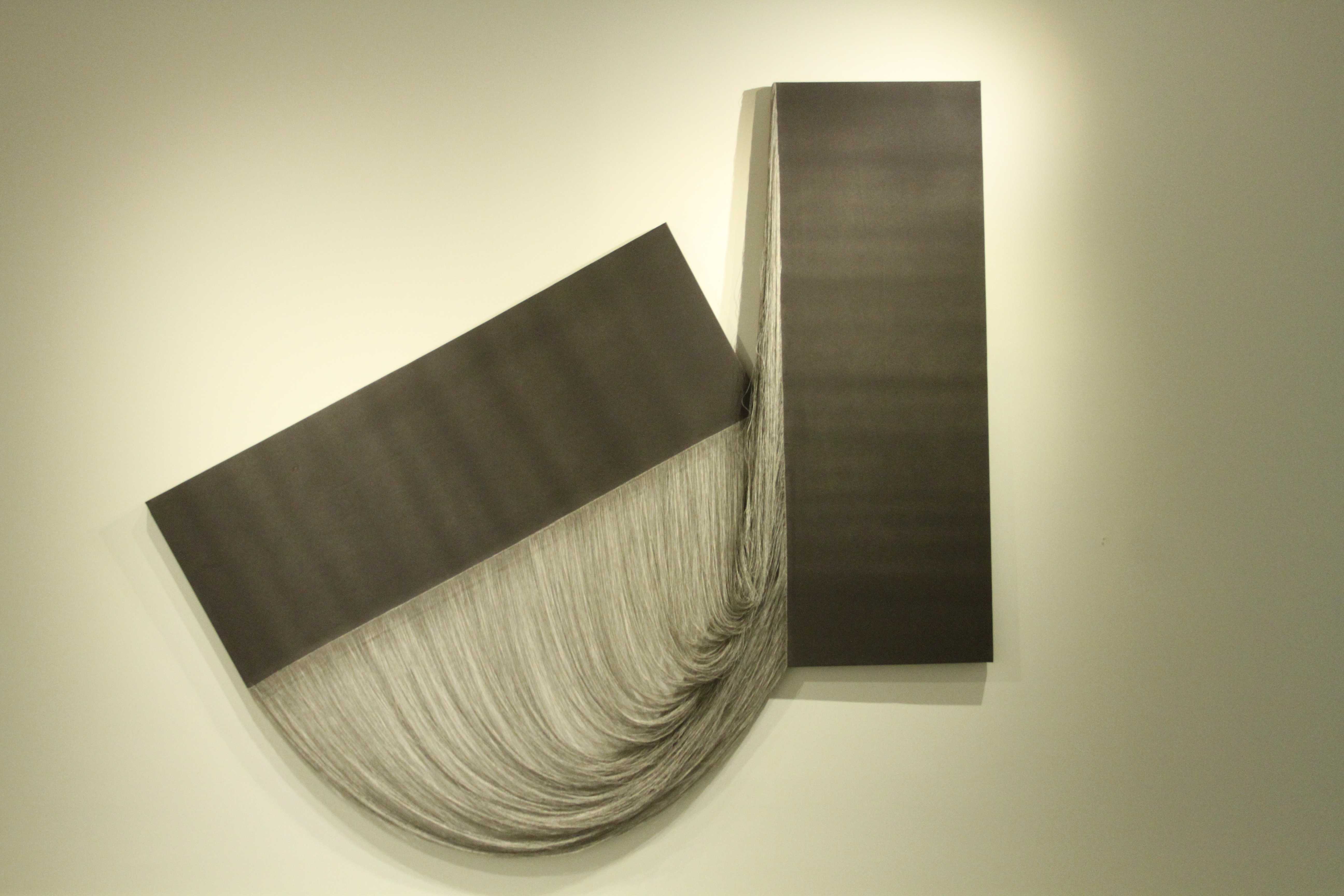 In his first curated show for the Seattle Pacific Art Center, Zack Bent, a professor of art and the new director of the Seattle Pacific art gallery, chose to return to the basics of creativity: drawing.
"In art education, we talk a lot about drawing as this foundational way of perceiving the world and understanding it through observation," Bent said. "I thought about how artists go beyond that."
Bent developed his show around the theme "Drawn Out." According to a handout given out at the show, drawing is used to "document or describe, to inform or entertain, to decorate or demarcate."
These principles represent essential components of life in the same way that drawing is an essential component of art. Bent chose artwork that exemplified these ideas through various methods ranging from sculpture to erasure.
To gather pieces for his first exhibit, Bent reached out to his friends and colleagues, trying to gather local artists to showcase pieces.
While Bent wished to highlight work that he appreciated, he also hoped to inspire students by presenting a gallery of work created by artists in the area. Most importantly, Bent needed to find works of art that related back to his overarching theme.
"Some of them have a really direct connection to drawing, but in some of them it is a little more loose," Bent said. "Maybe it's like, in the feel of the drawing."
Seven different artists have their work displayed in the gallery, and each piece of artwork presents its own unique story. No two pieces look alike, highlighting how broad the simplest of themes can be interpreted.
During the gallery opening on the evening of Oct. 19, a handful of the artists were present to talk about the inspiration behind their work.
Upon first entering the gallery, the work of Erin Elyse Burns, titled "Sandscape," can be seen projected on the back wall of the art center. In a large video playing on a loop in the corner of the room, Burns herself can be seen using large tools to trace her art into a sand dune located in Eastern Washington. Burns, who was raised in Reno, Nevada, used her background to inspire her desert-themed work.
"I'm really interested in the desert and the harshness of that environment," Burns said.
"It creates kind of an infinity space that is similar to the ocean. I'm originally from the desert and Seattle is very much about this ocean climate so I was curious about trying to equate those two things."
Near Burns's projection sits a peculiar sight for any gardener: a gourd mangled in a maze of steel. Rob Rhee created this sculpture, "Occupations of Uninhabited Space," as a reaction to a story about gene editing.
He worked to grow a plant into a contorted form to show the effects of human manipulation on nature over time. Rather than working to form a vegetable into a perfect shape, Rhee worked to create a more natural looking piece.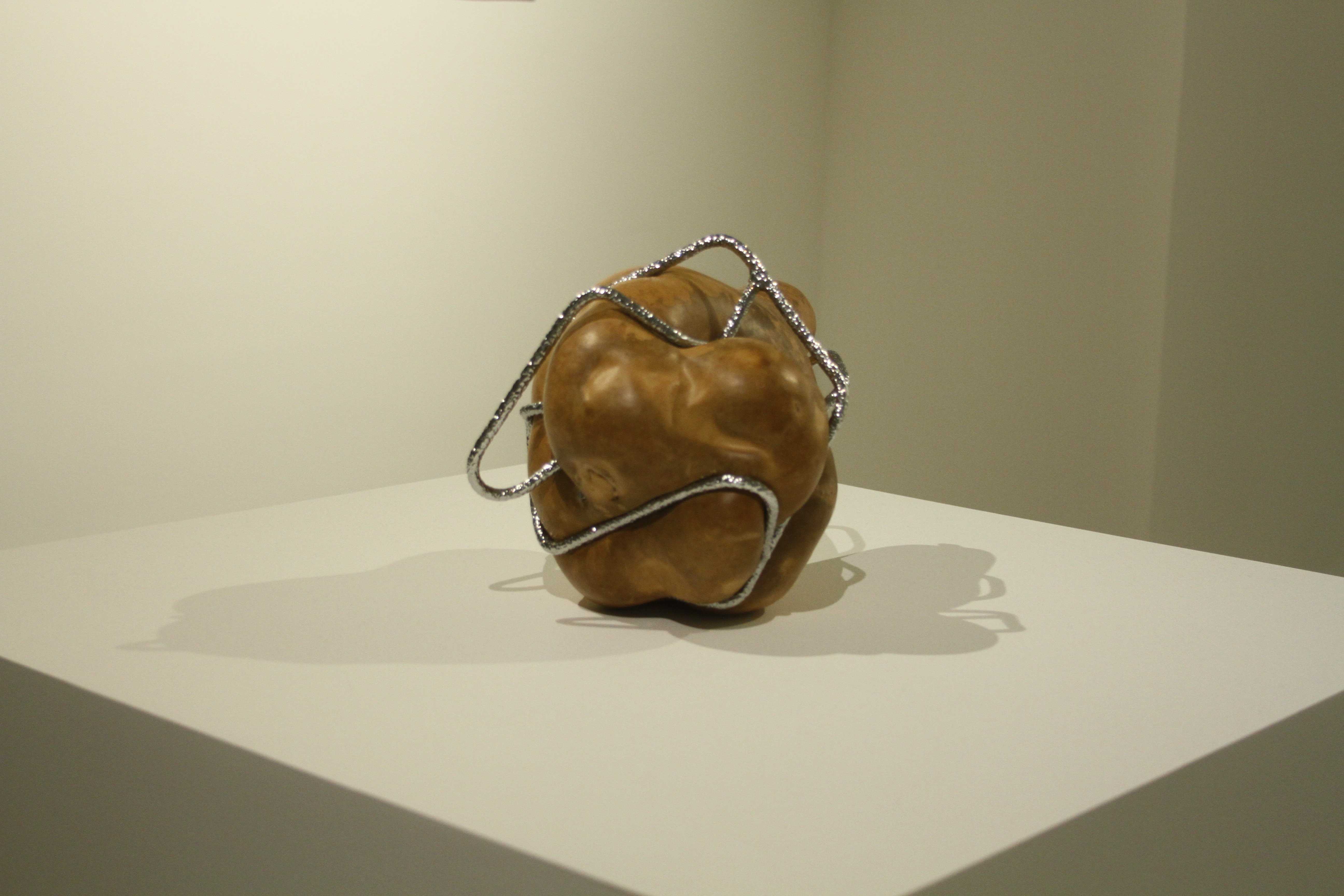 "If you take this and plant it in the ground, the thing you get is manipulated," Rhee said.
"It's been manipulated for 10,000 years to be this shape. In some ways, this manipulation of a manipulation is a way to get back to the primordial substance, or the formless thing, as opposed to working towards the specific image that I want the image to end up as."
Hanita Schwartz, an Israeli-born artist, displayed a piece from a collection of work that she has been creating over the past three years.
Schwartz has taken pages from an old textbook full of famous artwork and slowly began dissolving certain areas of the featured paintings. In this erasure of art Schwartz is hoping to revisit the images and urge viewers to think about what they represent.
"The idea behind it was to unlearn, conceptually, but also emotionally," Schwartz said.
"When you are learning how to make art, you don't notice how it's been synthesized for you to learn in a certain way and I'm very interested in questioning that."
Each piece of art in the gallery relates to the theme "Drawn Out," but the pieces also incorporate the basic foundations of art and nature.
Burns urges viewers to consider the beauty of a simple landscape, Rhee ponders the effects of humans on natural order and Schwartz erases parts of paintings in order to get back to the primary intentions of art.
Ben Hansen | The Falcon
Throughout the gallery, the idea of simplicity and nature can be seen repeated in almost every work of art.
Whether intentional or not, "Drawn Out" not only encourages viewers to think about drawing as an important element of art, it inspires viewers to consider what elements shape the natural world around us.
"Drawn Out" will be on display until Nov. 11.