Compassion for Kanye
Loving Kanye Even When He Is Wrong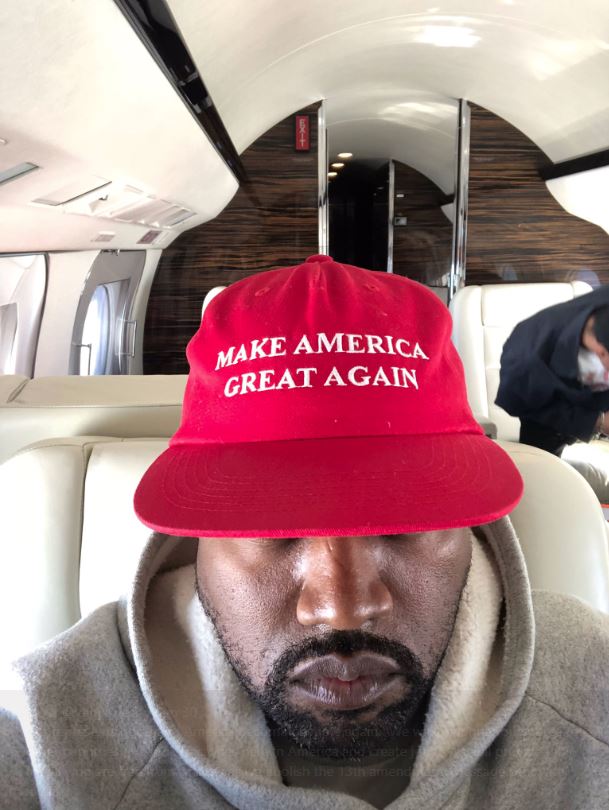 Courtesy of @kanyewest 
Kanye West is a man who wears many hats.
Beginning as a record producer with Roc-A-Fella records, he has evolved into a singer, songwriter, rapper and clothing designer.
His success in multiple arenas has turned many people into die hard fans, committed to defending his antics, wearing Yeezys and labeling him as a genius.
However, recently West, or Ye, as he now wants to be known, has been wearing a different hat.
If you are a fan of Kanye West, it has been a rough couple of years politically.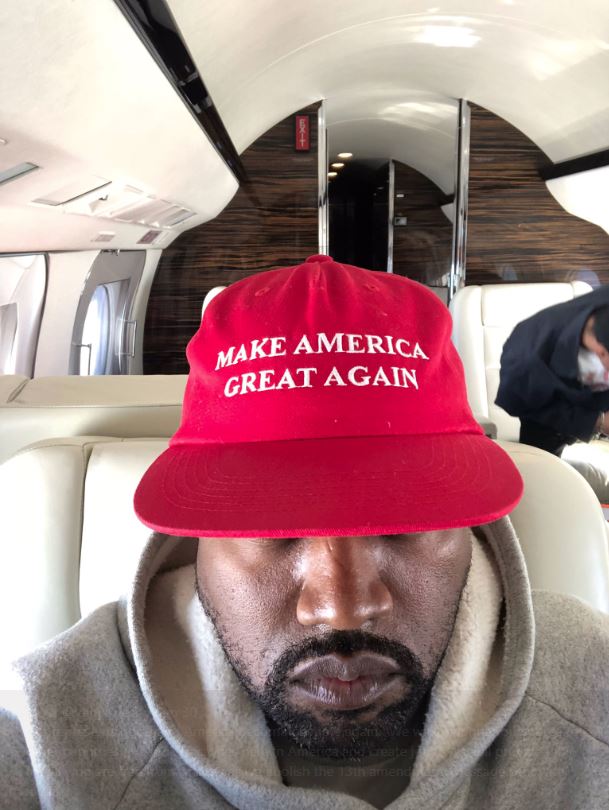 During the 2015 Video Music Awards he announced that he would be running for president in 2020 and in May of 2018 he famously told TMZ that "slavery was a choice."
Recently, however, things got even worse.
On Oct. 11, news broke that West visited President Donald Trump in the Oval Office to discuss everything from a pitch for a new Air Force 1 to West's Adidas collaboration.
Rather than being a productive, though, the meeting was more of a rant. West hopped from topic to topic, seemingly drawing energy from the circle of cameras that surrounded him.
It was one of the few times that Trump was not the most nonsensical person in the room.
"There's a lot of things affecting our mental health that makes us do crazy things that puts us back into that trap door called the 13th Amendment. I did say abolish, with the hat on, because why would you keep something around that's a trap door?" West said in regard to past statements about the 13th amendment.
At one point, to the dismay of millions of West fans, West even gave Trump a hug, saying "I love this guy right here."
Despite his recent antics, I believe that it's important for fans and non-fans alike to treat West with compassion.
Compassion is not pity. Pity is as insulting as naked hate. No one wants to be called a poor thing, to be diminished by misdirected sympathy.
Compassion is not just the effort to feel what someone else feels, you do not have to believe in abolishing the 13th amendment to have compassion for West (I sincerely hope that most of you don't believe that).
In this instance, given what Trump represents to West as a fellow egomaniac and West's history of mental illness, compassion is attempting to understand his position and wanting the best for him.
First, consider what West sees in Trump and what his presidency means to someone with a god complex. Regardless of policy, Trump has set a new low for qualifications to become the President of the United States.
Before becoming President in 2016, Trump was most famous for saying ridiculous things on the record, constantly berating former President Barack Obama to provide his birth certificate, and for touting himself as the best at everything he ever tried.
"It proves that anything is possible in America … the fact that that he was able to do it," West said about Trump's presidential election in a May interview with radio host Charlamagne Tha God.
As someone similar to Trump, with an ego the size of the moon and a love of being contrary for disagreement sake, it would make sense that Kanye sees opportunity in getting close to Trump.
Despite his denial of his diagnosis within the meeting, his mania is clear in his meeting with Trump.
"I'm gonna go ahead and drop some bombs for you. 98th percentile IQ test. I had a 75 percentile of all human beings counting eight numbers backwards, so I'm gonna work on that one. The other ones, 98 percent, Tesla, Freud," West said in regard to his mental health.
West has been diagnosed with bipolar disorder, a mental health condition where subjects shift from poles of manic and depressive states.
To clarify, I do not want to excuse any of his actions. We cannot allow ourselves to think that he can do whatever he wants because of his condition. But, his tweets and tirades must be put into the context; Kanye is more than his mania.
Looking through the incoherence in his public statements, it seems that Kanye West is trying to do the right thing. Being open about living with mental illness is a critical step to overcoming stigma.
This is something I have first hand experience with; I used to be frightened to talk about mental illness.
I didn't want to share my personal depression, I didn't want to be reduced to crazy. Yet my experience with being open to those close to me has been fruitful due to the care that others have had for me. I have benefited from the compassion of others.
So, please.
Have compassion for Kanye.