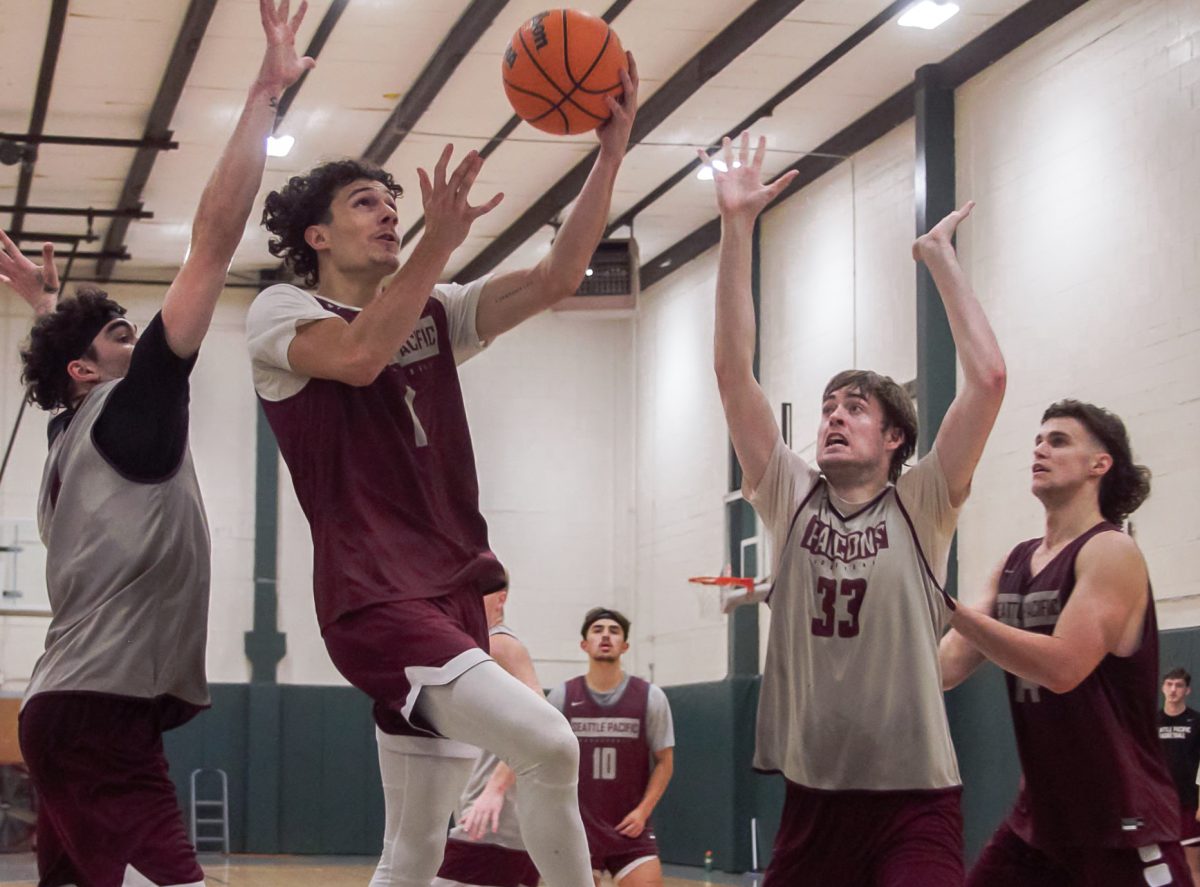 With fall sports wrapping up their seasons, the dawn is breaking for Seattle Pacific University's winter quarter sports: men's and women's basketball and men's and women's indoor cross country.
Ahead of the season, all any coach can do is prepare and develop the team for any anticipated challenges. Women's basketball head coach Mike Simonson is confident he has prepared the team for their season by giving them experience against strong opponents in exhibitions.
"We played UW and Pacific last week. UW is bigger, faster, stronger in every position [and between] the Pac-12 and Division II, there's a pretty big gap there. A lot of our fundamentals that we need to preach and be about got exposed in that [game against UW]," Simonson said. "Going against Pacific, we saw vast improvements in a lot of areas. We took care of the ball way better."
During these matches, Simonson gauged the team's strengths on offense and defense.
"Our defense is pretty solid [but] we need to shoot [three-pointers] better. We've seen a lot of improvement that's going to become an identity," Simonson said. "Our strength is passing [but] we need to improve in that area. We're going to be seeing a lot more full-court pressure now that we're getting into conference time, and we need to be able to handle that." 
As they approach conference play on Thursday, Nov. 30, Simonson hopes to iron out the team's passing strategy.
"Being a passing team, we're more susceptible to turnovers, so you got to get a good feel for when it's a safe pass, especially against teams that are longer and more athletic. We'll see everything take shape in the next couple of weeks, for sure." Simonson said.
On the side of men's basketball, interim head coach Kefferey Fazio believes the team has begun to develop a great identity and presence on the court that will only advance during the season.
"Our season officially started this past Friday up in Canada. We had three Division II non-conference games [against] really good teams, and we gained a lot of experience from those contests," Fazio said. "The early part of the season is really about finding your team's identity and who we want to be and what our standards are going to be, and then working harder every day to keep those standards."
During their experience at the Division II Canadian Tip-Off Classic, Fazio learned the team's capabilities and saw them moving in the right direction.
"Some guys that are inexperienced and needed some games, some minutes under their belts to become more seasoned, learned a lot. Those [experiences] are so valuable at this stage of the season, getting the opportunity to play, compete, learn, have success," Fazio said. "I think we found some things about ourselves [and we're] making it our own."
Fazio aims for the team to keep their efforts and goals consistent and attainable as they near the start of conference play. 
"We learned that we want to be tough, we want to compete, we want to respond to adversity. We want to play hard for each other, for our university, and now I think the goal is how to keep that consistent and sustainable throughout the season," Fazio said. 
With some time remaining in non-conference play, Fazio hopes to assist the team in grasping a more solid form of their identity.
"We're never done learning who we are. That's an ongoing process that never becomes finalized," Fazio said. "We look at basketball as an art, a project you're constantly molding. What we want sooner than later is to get a good grasp on what we're trying to accomplish and try to push our energy towards that."
Coming off of the cross-country season, track and field assistant coach Eric Hansen predicts a worthwhile start.
"I didn't have as much time as I would've liked to spend time with the team before we started [cross country]. Now that we've been through a season together, I have a better feel for them; they have a better idea of how I like to do things and what the expectations are," Hansen said. 
Less than a month from their first meet on Sunday, Dec. 10, Hansen will be more intentional with the team's training.
"Not [competing] as much during indoor, we'll be able to take our time with some bigger training blocks that'll set us up for a more successful season. Some people are going to be doing some higher mileage throughout the winter. We already figured out what some people's sweet spots were and what they could handle," Hansen said.
Uncertain of the challenges ahead, the best thing to prepare for is a team's ability to work together.
"You've got this group [made of] all different people and the fun part is having them all come together for a common goal and achieve it as best we can," Fazio said.