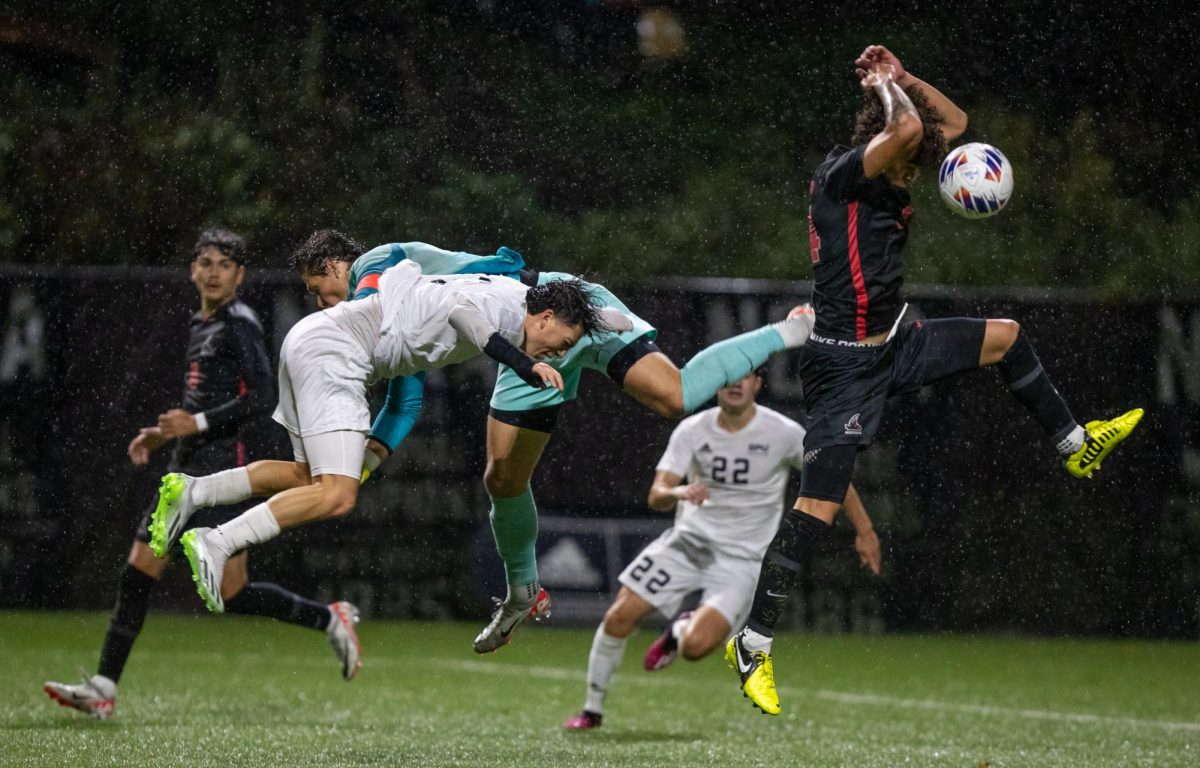 Seattle Pacific University men's soccer had its struggles in 2023. After winning the Great Northwest Athletic Conference in 2021 and playing well in 2022, the Falcons did not look as good in the 2023 season.
Men's soccer head coach Kevin Sakuda attributed these difficulties to various slip-ups in play but emphasized that the team performed better than their record.
"I think there were some games where we were up, [but] we weren't able to close out. There were other games where we were pretty dominant and had a lot of control, and you know, you make a mistake and get punished for it, so there were some moments like that, for sure," Sakuda observed. "We always try to learn from it, get better from it."
Isaac Ketcham, a sophomore business administration major who plays defense for the Falcons, noted how the team's worst performances came from losing track of strategy.
"Our first game against Western Washington, when we played them away, was probably our worst game because we went away from possessing the ball," Ketcham said. "And that's what our team is based around."
Sakuda noted that this year's team was younger and less experienced than previous years' squads.
"My first year here in '21, it was a very senior-heavy, senior-led group. Guys with experience. Last year, we also started four or five seniors that kind of played big roles, and this year, just the makeup of the team, we are on the younger end of things," Sakuda stated. "It's not an excuse; it's just kind of what it is, but it's also exciting for what we have going forward in the next couple years."
One key senior who graduated at the end of the previous year was veteran goalkeeper Lars Helleren, who tied for first in the GNAC in shutouts, with eight in 2022. This year, goalkeeper Cam Welty has only two shutouts and is last in the conference among starters. While the Falcons are third in goals scored with thirty-one, they have given up the second-most goals in the conference at thirty-four. 
In spite of these statistics, Ketcham still showed appreciation for Welty's performance.
"I think he's stepped up really well. He's been wanting the opportunity to step in, and he's been playing super well for us," Ketcham stated. "We're still able to play out of the back."
Despite circumstances, there were many positives to the year. Over the summer, the team added a new forward, junior education major, Raymundo Mendez, from Columbia Basin College. This year, Mendez finished second in the GNAC in goals with thirteen; however, he chose to focus on the team's record.
"It's always nice to get personal achievements," Mendez said. "But I like to win, you know."
Sakuda lauded Mendez's contributions to the squad.
"Ray was a huge addition up top for us. He's probably one of the best players in the league. His quality up front is pretty special," Sakuda noted. 
Sakuda mentioned sophomore midfielder Cameron Yriondo, who is a business administration major, as another key player.
"Cam Yriondo has had a great season for us. His ability in the midfield to cover ground, win balls, he's a big piece of how we do things," Sakuda said.
With the season over, the Falcons are looking ahead to 2024. Mendez noted how the team's tactics differ from their competitors, echoing Ketcham's earlier comments.
"We play a really different style than every team in the GNAC, and that's keeping the ball," Mendez said. "And I think that if a viewer just watches our game, they'll see that we have a very different style of play."
Time will tell whether the team will improve in 2024, but Mendez has his hopes up.
"We'll come back stronger next year, try to win the GNAC for SPU," Mendez said.