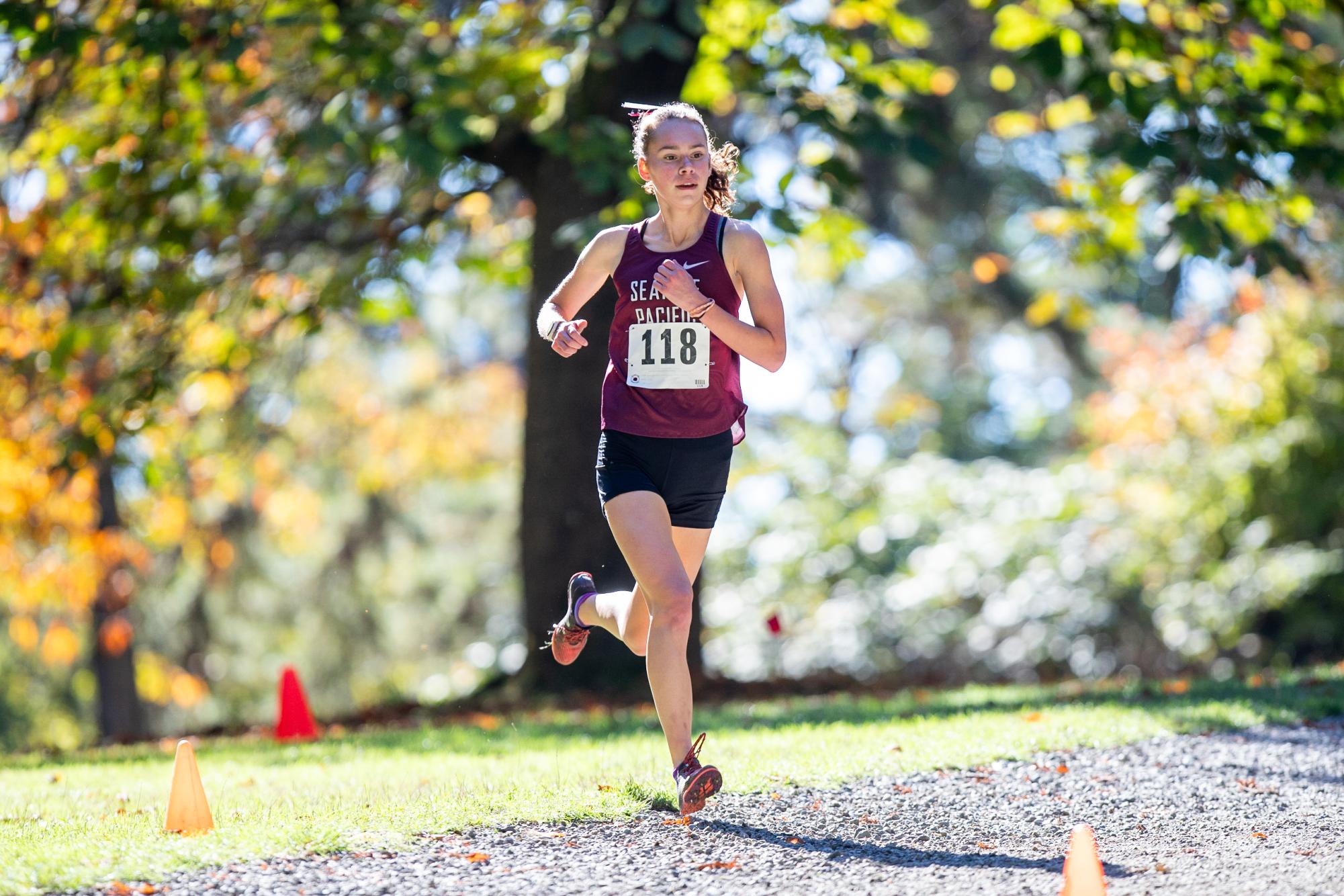 The Seattle Pacific University men's and women's cross country teams raced at the Northwest Collegiate Athletics Association West Regionals on Saturday, Nov. 4. This was the team's final outing and shot for the national championship, where they fell short of qualifying for nationals.
The men's team placed twenty-first overall with a team score of 515 points. Their top finishers were senior computer science major Brennan LeBlanc and freshman ecology major Silas Demmert, with respective times of 32:23.4 and 33:03.02.
The women's team placed fourteenth overall with a team score of 365 points, with senior Annika Esvelt, an applied human biology major, and sophomore Matise Mulch, a mechanical engineering major, as their top finishers. Esvelt and Mulch finished the six-kilometer course with times of 21:35.1 and 22:47.4, respectively.
"I wish the result were better than it was, but [we] could only do so much," Esvelt said. "I'm really happy with how the season as a whole turned out, even though [we're] disappointed in the outcome of regionals."
Cross country head coach Karl Lerum and assistant coach Eric Hansen reflected on the outcome of the West Regionals.
"Our team went out and gave it their best shot. Some of the kids probably don't think it was their best race of the year, but that's the way it goes. You [can only] go out and give it your best [and] I have no doubt everyone went out and did their best that day," Lerum said.
Hansen shares Lerum's sentiment, hoping to move the team a step up in 2024.
"We had a really close race, especially on the women's side, [but] it's hard not to look at that and not think we could have gotten one more somewhere. So hopefully, next time, we're on the opposite side of that," Hansen said.
With the cross-country season over, the team will shift focus to their winter season for indoor track and field.
"We'll have a race in December, an indoor meet where a lot of them will run a 5k, and we'll get to see where their cross-country fitness translates on the track. Indoor will for sure be a big training block for us since we're not racing as much," Hansen said.
Lerum aims for the coming indoor season to become an opportunity for returning cross country runners to build themselves up for next year.
"Everybody that runs cross country runs track, and it just keeps on going all year-round. Track and cross country are really more of a lifestyle than a season," Lerum said. "These kids are coming off cross country in healthy bodies. We'll give them a little time to recover, and then we'll head right into the indoor season."
Hansen hopes to be able to guide the team better going forward than he was able to when he first arrived.
"They didn't have as much guidance as they normally would this past summer, with the transition from Chris leaving and me getting here, so this coming summer, we'll definitely be more intentional about what we're doing," Hansen said. "We'll keep doing what we've been doing, bring the volume down a little bit, and make sure we're fresh and ready to go."
Esvelt recognizes Hansen's goals and is more confident in following him for the coming seasons.
"This was our coach's first season with us, so having more confidence in his training and in [ourselves] is probably the best thing [we] can bring to track and to do our best," Esvelt said.
Gabriel Endresen, a junior history major on the cross country team, sees the only direction the team can move from here is up and forward.
"Regionals was just another race. We [went] in with the mentality that we're here to run, and we want to try to get a good placing out of it," Endresen said. "We have a saying on the line: look out for your teammates. If you pass them on the course, give them encouragement, tell them to keep going."