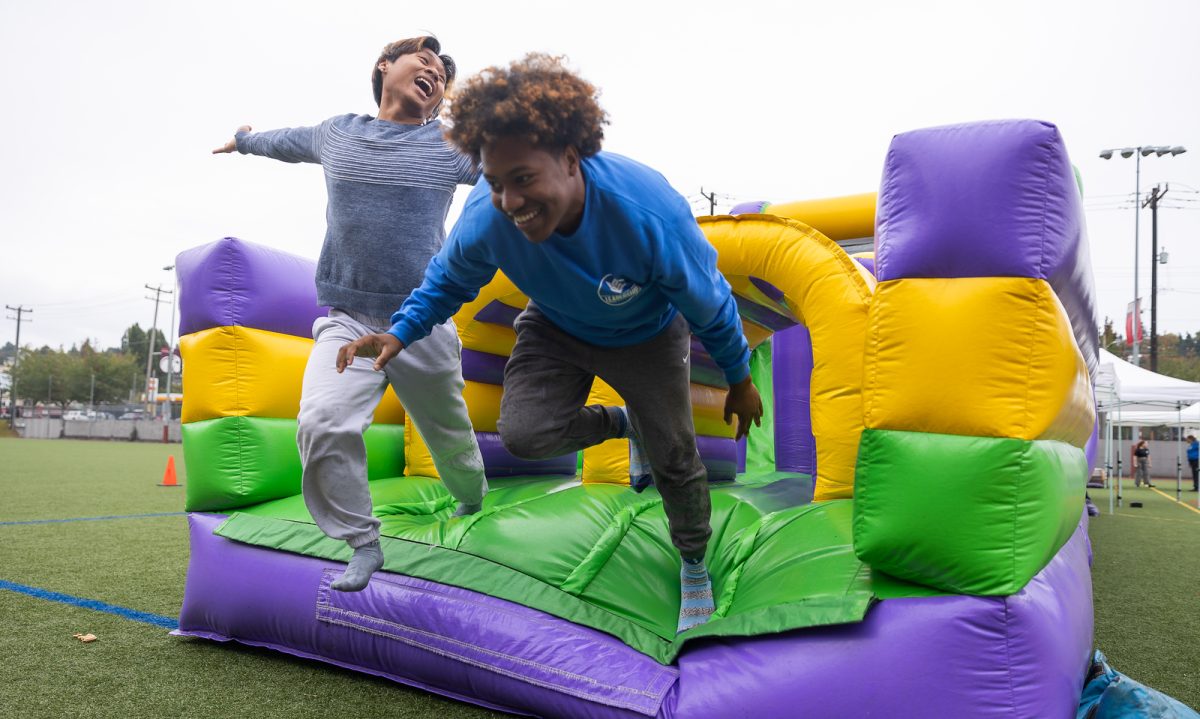 Bye First Friday, hello Second Saturday.
On Saturday, Sept. 23, after months of preparation, SPU students flocked to Wallace Field to partake in the biggest campus event of the quarter thus far: a celebratory kick-off to the new year known as Second Saturday, formerly First Friday.
Organized by the Student Programming and Outdoor Recreation Program, STORP, the event served as an opportunity for returning and brand-new students to enjoy themselves through an afternoon filled with fun and games.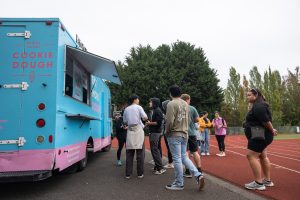 The event began at noon with a field full of activities, including bounce houses all across Wallace as far as the eye could see. Students who were not having fun on the field were getting some food at the Sugar + Spoon Cookie Dough Truck.
Alex Heller, a third-year ecology student attended Second Saturday, and pointed to the inflatables as being the highlight for him.
"My favorite part was probably the inflatables and the light rain since it made them more slippery, and fun," Heller said.
Throughout the day, students were also able to capture the moment by getting some pictures taken at a photo booth. For some, including Camila Cruz, a second-year international business student, that instance was the highlight of their day.
"My favorite part was probably the photo booth, since it was cute and it was just a lot of fun. I also felt like the photo me and my friends took went hard," Cruz said.
Unfortunately, with a downpour of hail and rain, the outside activities were cut short and students moved indoors to the Royal Brougham Pavilion.
There, students watched the SPU women's volleyball team face off against the Central Washington University Wildcats, an exciting game that saw the Falcons pull away with the victory.
Kaylee Cornejo, a second-year nursing student said that she enjoyed playing volleyball in the gym after the game.
"I really liked Second Saturday and my favorite part was getting to play volleyball with a bunch of my friends. We had a lot of fun getting to play and it was a great time," Cornejo said.
Creating and planning large-scale events at SPU is by no means an easy feat. Fifth-year apparel design and apparel merchandising student Katie Taggart, who served as one of the head coordinators for the event, discussed the long road to Second Saturday.
"The process for planning Second Saturday began in its very early stages last April," Taggart said. "After I was given my position on the STORP team for this year, I knew I would be planning this event so I tried to come up with a solid idea before leaving for the summer."
When it came to coming up with ideas for Second Saturday, Taggart took inspiration from events she enjoyed as a kid, hoping to translate the fun she remembered into a college experience.
"I took inspiration from when I was a kid because bouncy houses and obstacle courses were just so fun and felt summery and I felt like this event really is the last bit of summer we can hold on to until it's really actually fall," Taggart said.