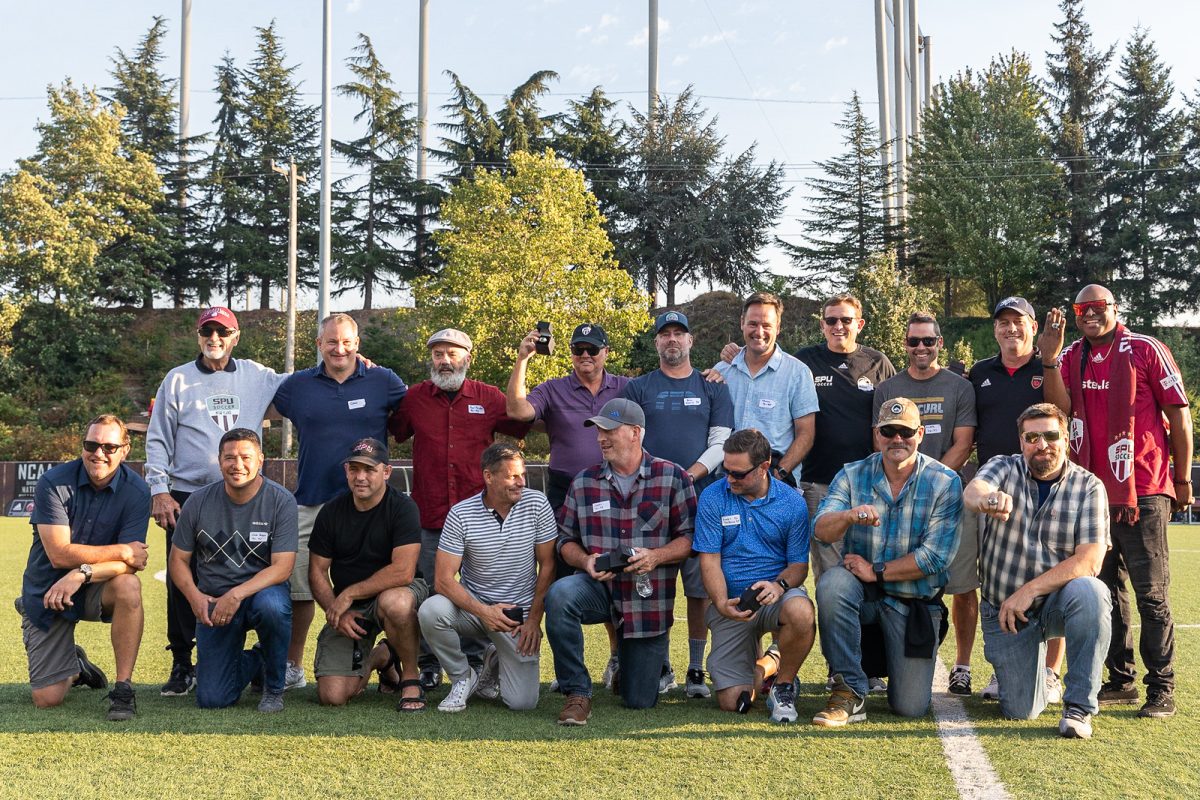 Players from the past and present gathered on Saturday, Sept. 16 to celebrate the 55th anniversary of Seattle Pacific University's men's soccer. The team has a long history of producing championship teams in 1978, 1983 and 1993.
Tyler Speer, a senior biochemistry major and midfielder for the Falcons, noted how great it was to interact with the history of SPU soccer in such an intimate way.
"Before we went out on the field, in our warm-up, we got to stop and take a picture with them and shake hands with some of the older guys that have been around," Speer said. "Just knowing all the history of the program is, honestly, part of why I came here. [It's] super special. It's been a winning mentality forever."
The game started out well for the Falcons, as they gained the lead in the first half. Thirty-six minutes into the game, freshman midfielder Diego Peña-Salgado knocked in a goal off a cross from fellow freshman midfielder Christopher Soto. This brought the score to 1-0 in the Falcons' favor.

Filmed and edited by Ethan Ortega

During halftime, the Falcons' 1993 championship-winning team went on the field to receive championship rings. Head coach Kevin Sakuda emphasized his excitement at being able to celebrate alumni from 1993 and many other years.
"It was a pretty good group of guys. Guys from all different times. Some played here in the '80s, some played in the '70s, some were more recent," Sakuda noted.
The team started off well enough after halftime, but the Falcons slipped late in the second half, allowing an equalizer in the seventy-sixth minute to Colorado School of Mines. The score remained tied for the rest of the game, bringing the Falcons to a 2-3-1 record for the season.
Speer had divided thoughts on the team's on-field performance, as players often do after matches end in draws.
"[It] definitely wasn't our best performance of the year," Speer stated. "I thought we played okay at times, a little sloppy at times. Always good effort; got a tie out of it. Not the best result, but not terrible."
Sakuda echoed Speer's feelings about the game, adding that despite the team's tie against Colorado School of Mines and a loss the game before, the players put together some very good performances.
"Saturday, I thought, overall, we were good," Sakuda said. "The way we gave up the goal late probably felt more like a loss than a tie. But we were pretty pleased with the overall performance of the week, and we try to judge that along with, obviously, results."
Sakuda mentioned the symbolic significance that the night had to himself and to the rest of the team.
"I think, more than anything, it was a reminder for the guys of what they represent. This program has a history of success, there is a ton of tradition." Sakuda said. "A lot of great players have put on the jersey, so I think [what we say] quite a bit is that when you wear the SPU men's soccer jersey, you represent more than yourself."