Learning Middle Eastern culture
Club invokes cultural change
SPU student "Mia," who has requested her name to be changed due to the nature of her personal history, still remembers the day her family left their home in Baghdad, seeking safety and asylum in Egypt from the conflict and very real threat of violence around them. They left everything from personal items to birth certificates in their home in Baghdad, taking only absolute essentials.
With keys to their home and passports in hand, they left for Egypt.
At the time, Mia says, her family believed that things would soon get better and that they would be able to return home, but instead they spent seven long years in Egypt waiting for the tension to ease.
After their seventh year, in 2013, they came to America where they have lived since. They have built a new life for themselves in Washington.
They still have family in the Middle East, however. Her uncle has been missing since 2006, which her family believes is due to a series of kidnappings where he was staying at the time.
Mia's life, and the life of her family, has been undeniably and irreversibly affected by the conflict and violence in the Middle East, she says, and she is not alone.
Sophomore Zena Halaweh's family had a similar journey, but their story began in a different place.
Yet, for these two young women, their experiences lead to the same city, at the same university, to the same classroom in Weter Memorial Hall, looking into each other's eyes and sharing their stories.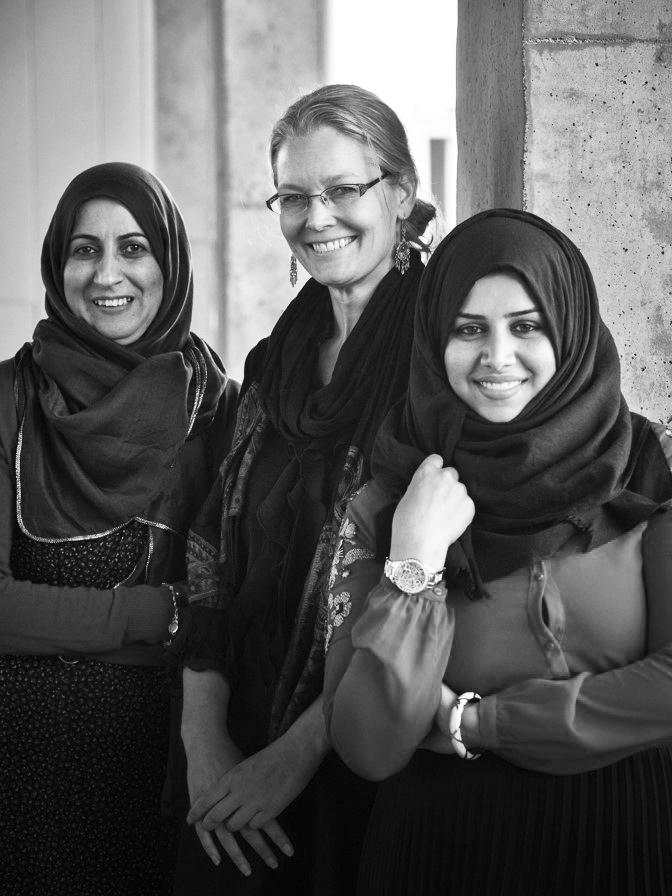 Halaweh's family traveled from the West Bank to Jordan in 1948, during the "Nakba" (the mass expulsion of Palestinians from Palestine), leaving everything behind because they held the same belief that they would return.
Her grandparents do not remember their own birthdays, having left their birth certificates in their home. Their ages are estimated, their birthdates registered as Jan. 1 of the years they think they were born.
Halaweh holds tightly to the label "Palestinian-Jordanian," refusing to erase her Palestinian heritage. She dreams to go back to Palestine someday and use her American passport as a natural-born citizen to return to her family's homeland.
These stories are more common than they seem. The conflict in the Middle East rages on, on both sides; it tears families apart, and sends children to jail for throwing rocks, or for simply for living near children who did, decimating homes.
Now, students like Zena, Mia, and others are using their experience to raise campus awareness about the Israeli-Palestinian conflict. The Students for Middle East Peace Club aims to educate the SPU community on the Israeli-Palestinian conflict.
"To me personally, the club is to bring in students from the Middle East and integrate them into [the campus]. It's for cultural opening, giving other people a chance to see Middle-Eastern culture," said Mariam Alkorashy, who describes herself as the 'mascot' for the club.
"I like giving people information and showing them something new because, you know, the world is so big. I like showing people a new piece of the world."
The club hosts events to raise awareness for the Israeli-Palestinian conflict, and its complex issues on both sides. Coming up, the club has organized for Miko Peled to come speak on campus.
Peled is an Israeli-American activist and the author of "General's Son." He is the son of Israel General Mattityahu Peled and is an international speaker.
Due to his life experiences, especially the death of his 13-years-old niece during a suicide attack in Jerusalem, Peled is passionate about raising awareness for the Israeli-Palestinian conflict, about letting people know about all the innocents that this conflict has wrongly placed in jail cells. He will be coming to speak on Thursday, Feb. 20.
"He'll be sharing about his experiences, he worked on a case about five American men who were sent to prison for 'suspected terrorism,' for reasons that were so unfounded …
I'm personally super excited to hear him speak, it's going to be great" said Melanie Campbell, the club's financial advisor.
"This community event is to bring people together, because we're such a small group on campus," Alkorashy said.
She went on to explain that on the SPU website, where it shows the size of all ethnic groups on campus, the Middle East does not even have a category. Luckily, they do have professors they can turn to who they know will understand.
"I love talking to Dr. Segall, because we don't have to explain ourselves to her. She just knows, she understands because she's lived there and studied the culture. She gets it," Alkorashy said.
Dr. Kimberly Segall, of SPU's English literature department and the director of study abroad programs, has spent over a year living in Iraq, and loves teaching classes about Middle-Eastern culture and history.
She is also very involved with raising awareness for Middle Eastern culture and issues on campus.
"I've done several all-campus events, and brought in two Iraqi Shiite women to speak, and they both have experienced displacement and have lived at refugee camps, and have felt challenges here as women who have selected to wear the hijab," Segall said. "I have tried to facilitate discussions and conversations here [on campus]."
Segall teaches Middle Eastern Literature courses, but she also loves to educate SPU students about the realities of the Middle East and its complex culture through all of her courses, including Writing 1000.
"I was teaching a [Writing 1000] course once, and I was talking about the hijab and veiling, and how its a form of protest to put on the veil or to take off the veil, and how it has religious political and social significance, and a student said, 'Why haven't we been taught this before! Where has this been?'" Segall said.
"I've also written a book on performing democracy, which looks at case studies of women and how they've protested and fought for democracy," she continued. "I think it's so critical that women's voices are heard and are on the table."
Segall went on to discuss the new Social Justice and Cultural Studies major, which she teaches courses for. She discussed it passionately as something she sees as highly important.
Students studying this major can do an emphasis on the Middle East, a topic near and dear to the heart of Segall and also of the Students for Middle East Peace club.
"Any student who wants to focus on the Middle East, on Muslim women, on Arab Spring, on Islamic Feminism, then this is the major for them. We're responding to the student's cry for more information and more knowledge," she explained.
This major pairs nicely as a double major for English literature majors, said Segall, as only 20 of its credits do not also work as dual credits for English.
The Students for Middle East Peace club is connected closely with Segall and her work for visibility and education about the Middle East on campus. She says she is very proud of the work the club is doing on it's own.
The club is currently small, but the hope for more members soon. Anyone interested in the Middle East, Middle Eastern culture, or the Israeli-Palestinian conflict is encouraged to join.
"This club is a response to making cultural changes across the campus. I really want to commend the work that the club is doing, and I also want to say that on a faculty level, there is a response that is happening," Segall explained. "That the call for social justice and hearing women's voices is being heard.