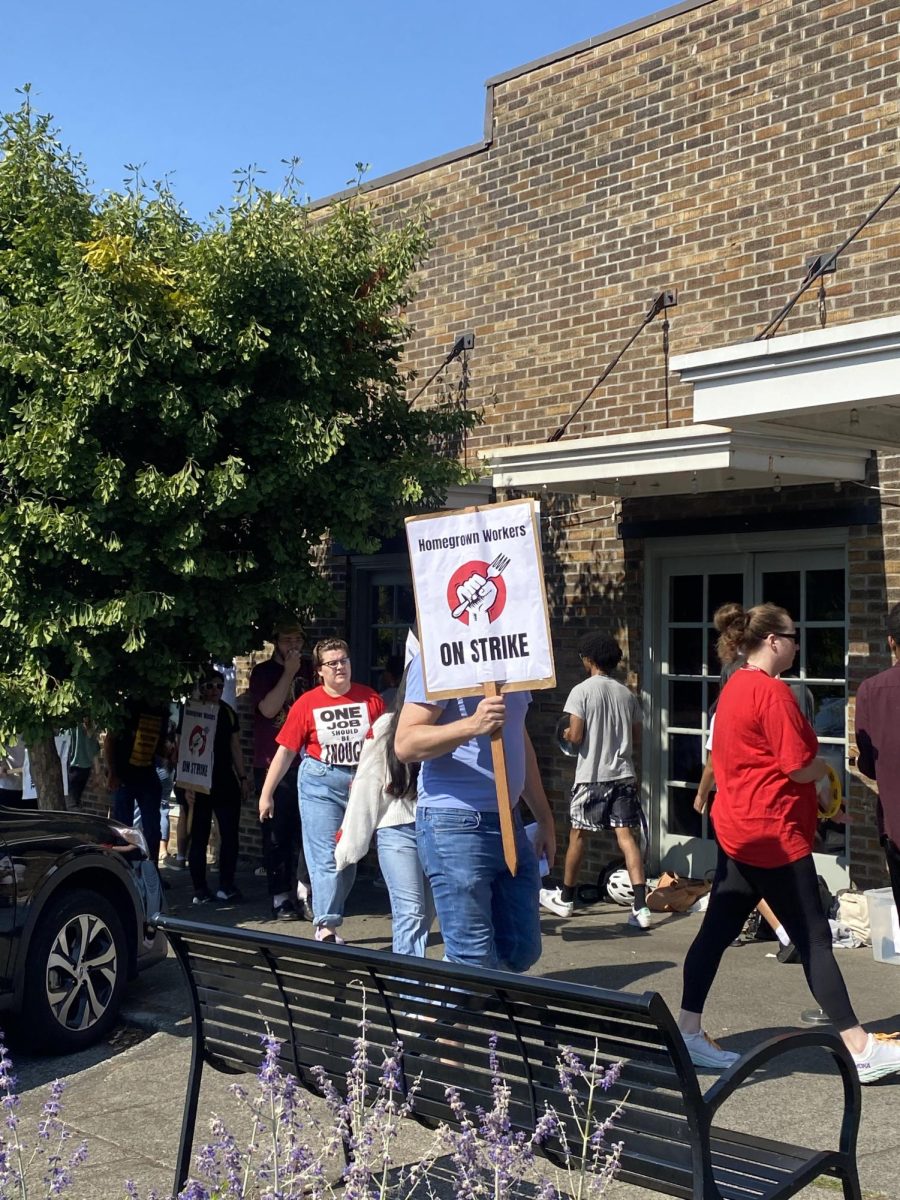 Employees at Homegrown, a Queen Anne sandwich shop, went on strike the morning of Sept. 14 and continued picketing through the weekend. Homegrown is a chain with 10 locations across Seattle, six of which had employees on strike.
Queen Anne workers organized the strike, made the signs and created the chants with the help of Unite Here Local 8, a union representing hospitality workers across Oregon and Washington. The goals of the employees include an affordable company healthcare plan and higher wages.
Picket signs with the image of a hand holding a fork dominated the street corner of Queen Anne Avenue, with statements on both sides.
The front of the picket sign stated, "Homegrown workers on strike."
The back of the sign demanded, "Fair contract now."
Emily Minkis has been a shift lead at the Homegrown in Queen Anne for five years and is on strike after nine months of negotiating contracts with Homegrown management to no avail.
"We are getting to a point where there are some things we don't see eye to eye on, so it's time to come out here and take action," Minkis said.
There were signs of progress during negotiations, according to Minkis, but management failed to agree on issues of healthcare, job security and successorship language, which ensures employees will have a contracted role in the event of a new successor.
"If our CEO decides to sell a portion of the company, our contract and union are just going to dissolve," Minkis said. "That is not something we will agree to."
Maddy Johnson, a senior nursing major at SPU, was also on strike. Johnson is currently a keyholder at Homegrown and has been working there for two years.
"The wage scale changed last year and all the workers were screwed over. These are people's livelihoods," Johnson said. "It felt like a slap in the face."
As of now, decisions are still up in the air. According to Minkis, it will all depend on when management will come to their employees and negotiate terms.
"We are waiting for the openness from corporate to come and meet with us at the table and see that we are willing to put in the work," Minkis said.
The conversations between management and employees have been frustrating, according to Johnson.
"They say they want to agree, but then they take it back, which is why we are on strike," Johnson said.
According to Unite Here Local 8's media advisory, workers at Homegrown went on initial strikes a year ago over various workplace issues, including heat, gender pay disparity and COVID-19 sick-day policies. In October of 2022, the employees filed for union elections with the National Labor Relations Board and won their union.
Employees have returned to work and are awaiting contract negotiation.