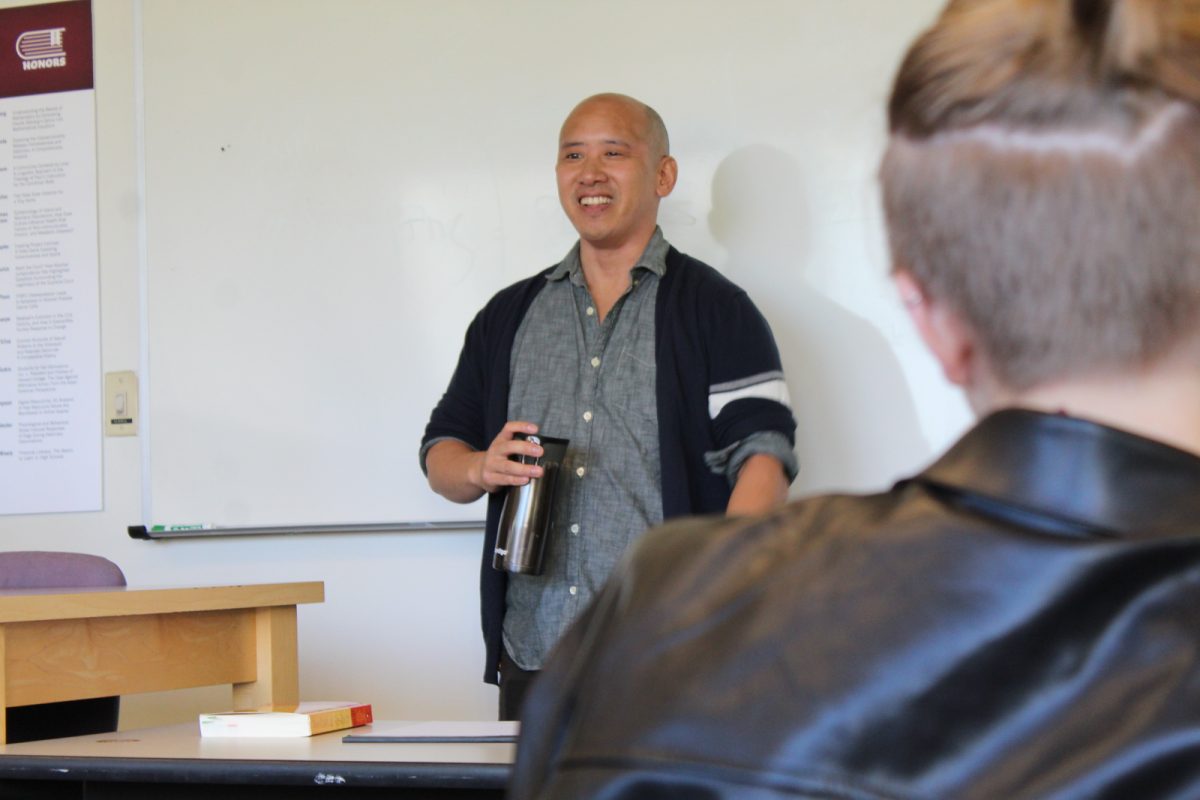 Seattle Pacific University's honors program is preparing for a shift in leadership. Come 2024, Assistant Professor of Sociology Joshua Tom will take on directorship following Christine Chaney's retirement.
Tom studied at the University of Washington and received his doctorate in sociology from Baylor University. Since joining SPU in 2017, Tom has taught a wide range of courses, including Sociology in Medicine, Race and Ethnicity and Sociology of Deviance.
Additionally, he teaches Honors Core: Culture and Social Systems in the fall. Separated into two or three classes, each taught by a different member of the honors faculty, this course introduces freshmen to the honors program with intensive reading, writing and in-class conversation focusing on social and cultural injustice.
Aubrey Ramsbottom, a second year politics, philosophy, & economics and honors liberal arts double major, took Tom's section of HON 2000 her freshman year.
"It's a class that for a lot of people, is really transformative," Ramsbottom said. "[Dr. Tom] was able to bring forward a lot of different perspectives, but also make it a safe space for people to learn in."
HON 2000 is part of the curriculum established by outgoing Director of Honors Christine Chaney. Students in the program take one honors class per quarter their first year, studying sociology, economics, philosophy and history.
They then enroll in a more personalized array of honors courses and electives until their junior and senior year, when they plan and execute their final project. Tom admires the program structured by Chaney and hopes to continue her work.
"Dr. Chaney spent so much time revising the curriculum and putting new structures in place," Tom said. "What she's been able to build as director is so admirable and has worked so well. There's a lot of space to keep building – that's probably the next step."
Although he will continue to teach HON2000, Tom's responsibilities as director will extend beyond the freshmen class of honors going forward. He will take on the role of teaching and guiding students in all cohorts through their courses and final projects.
"My previous role in the program was to be there at the beginning. Now I'll get to see these students, who I saw when they arrived here, reach this capstone part of their education," Tom said.
Tom's goals as incoming director include guiding students through all four years of honors, making personal connections with students and continuing the integration of honors into other programs across campus.
"I think SPU is distinct among other Christian schools; we do education in a particular way, we have a particular perspective. That culture is reflected in the Honors Program," Tom said.
Students fondly recall Tom's quirks in class — a tendency to share favorite pasta shapes, make connections between the assigned text and "Twilight" and end a hard class with pictures of kittens.
"He does a really good job of showing you the reality of the real world but also making sure that you are okay as a person," Ramsbottom said.
Eva Newkirk, second-year psychology and honors liberal arts double major is excited to see Tom take on the director's role.
"He has a sense of initiative and care for students that will help the honors program going the right way," she said. "I emailed him a question about a graduation requirement for the honors major and he found me the next day, remembered my face and talked to me about the problem in person."
The leadership transition is set to take place in 2024.
"Although I'm going to miss Dr. Chaney, I definitely feel like we're being left in good hands," Newkirk said. "I feel very, very cared for."