A goodbye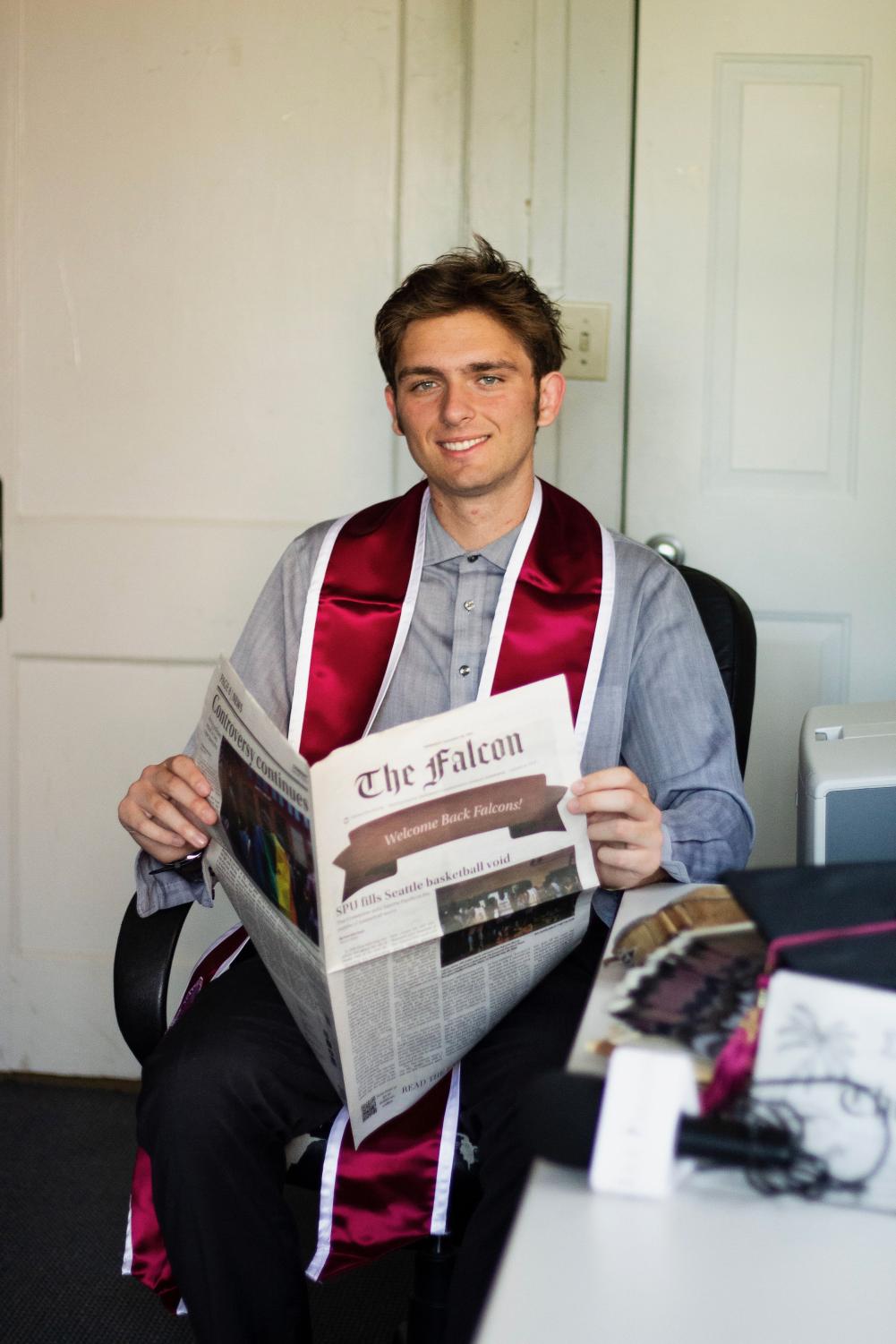 As a sports fan, I am fascinated by the concept of legacy. Sports are all about legacies and myths. A star athlete is remembered and defined by the moments when they either shined or withered under bright lights. It is a space where urban legends are born and facilitated. 
I understand I will leave quite a unique legacy at Seattle Pacific University. Whether it is good, bad or in between is not for me to decide. I am perfectly content with the impact I made and the actions I have taken over the last four years at this university. In this, my last of many Falcon articles, I intend to leave my final words and thoughts before I graduate and how my incredibly unique college education has shaped me. 
I take great pride in the fact that I have filled a bevy of roles at this university. I have been an athlete, a newspaper editor, a resident advisor and even a DJ. Over the course of my many roles, I have gotten lots of different angles of how this university operates.
I encountered great success and failure over these last four years. I broke arguably the most impactful story in The Falcon's history. I remember the day The Falcon released the breaking news that Professor Rinedahl was suing the school. SPU changed forever on that day. It was also the first time I felt like most people on campus started to know who I was. I became "Kyle the journalist."
As far as failures, I do not think anyone present on campus at the time can forget the great chocolate scandal of 2021. Of course, this is when I got fired as an RA for passing out chocolate while on rounds during the trenches of COVID restrictions in the dorms. If people did not know who I was on campus before, they sure did after I posted dozens of videos on social media rallying campus to my cause against Residence Life. I look back on those videos and cringe now because they were honestly overbearing and cringe-worthy, but I do not regret passing out the chocolate whatsoever. 
Through these events and the countless other adventures I have been through at this university, I have come to realize the true value of my education, an education I do not believe I could have received anywhere else. SPU forced me to deal with real-world problems and situations. It gave me the resources I needed to succeed and stand out. It grew me as an individual and as a student.
The two biggest assets this university has are its student body and its professors. I truly believe that the students here are incredibly diverse, kind and accepting. The friends I made at this place will be my friends for the rest of my life. They are intelligent, bold and genuinely gracious.
The faculty at SPU are the greatest collection of human beings I have ever interacted with. Almost every professor at this institution takes personal care in making sure that each and every one of their students has the best possible chance to succeed. They are devoted to loving the young people under their tutelage and showing them the beauty in themselves and in the world. In an era where college has become an impersonal financial burden, SPU truly stands out with excellence.
This is why it is so frustrating to me to see how the Board of Trustees has treated its two greatest assets. As a journalist, it is very obvious when covering a story whether someone's intentions are genuine or not. 
The students and faculty at this university have been forthright in driving positive change that they believe will make this university a better and more accepting place. They, in my opinion, have acted with love and grace. The board has acted in secret, with zero care for how their discriminatory policies continue to destroy this institution and harm the students that this university has been designed to nurture. It is the board's lack of care and, frankly, their ignorance that has begun to drive away these two incredible assets. For this, I hope they are filled with shame.
This beautiful institution that has nurtured me and matured me over the last four years may no longer exist at some point in the coming years. Whether that means through literal bankruptcy or the mass exodus of the students and faculty that make SPU the beautiful place it is, I believe this end is unfortunately inevitable unless something changes in the hearts of the men and women who continue to sink it into the ground. 
This is a journey that SPU will have to continue to fight without me. As my SPU journey comes to an end, I am left with extreme gratitude that I might have played some part in making a semblance of positive change on this campus. I am also extremely grateful for the people who have accompanied me over the last four years. Four years marred by a pandemic, protests and institutional instability but also marked by love.
As I close out this article, I would like to thank The Falcon. In college, some people find true love in a person- I found it in a publication.  I love The Falcon so much and care so deeply about its success that I can not even attempt to articulate my feelings in words. It broke my heart when I was not chosen to be Editor in Chief last year, and I honestly thought about transferring. I am so happy I did not. Growing the Sports section this year has been an incredible experience and a venture that I believe I pursued with excellence. 
Thank you to Peg Achterman, Sara Shaban, Matthew Bellinger, Bill Purcell and Ruth Ediger. They are the best professors in the world and a huge foundation for the man I am today and will continue to be in the future.
Goodbye, SPU. Peace out!