3rd annual Honors Research Symposium
Honors seniors present independent research projects in Otto Miller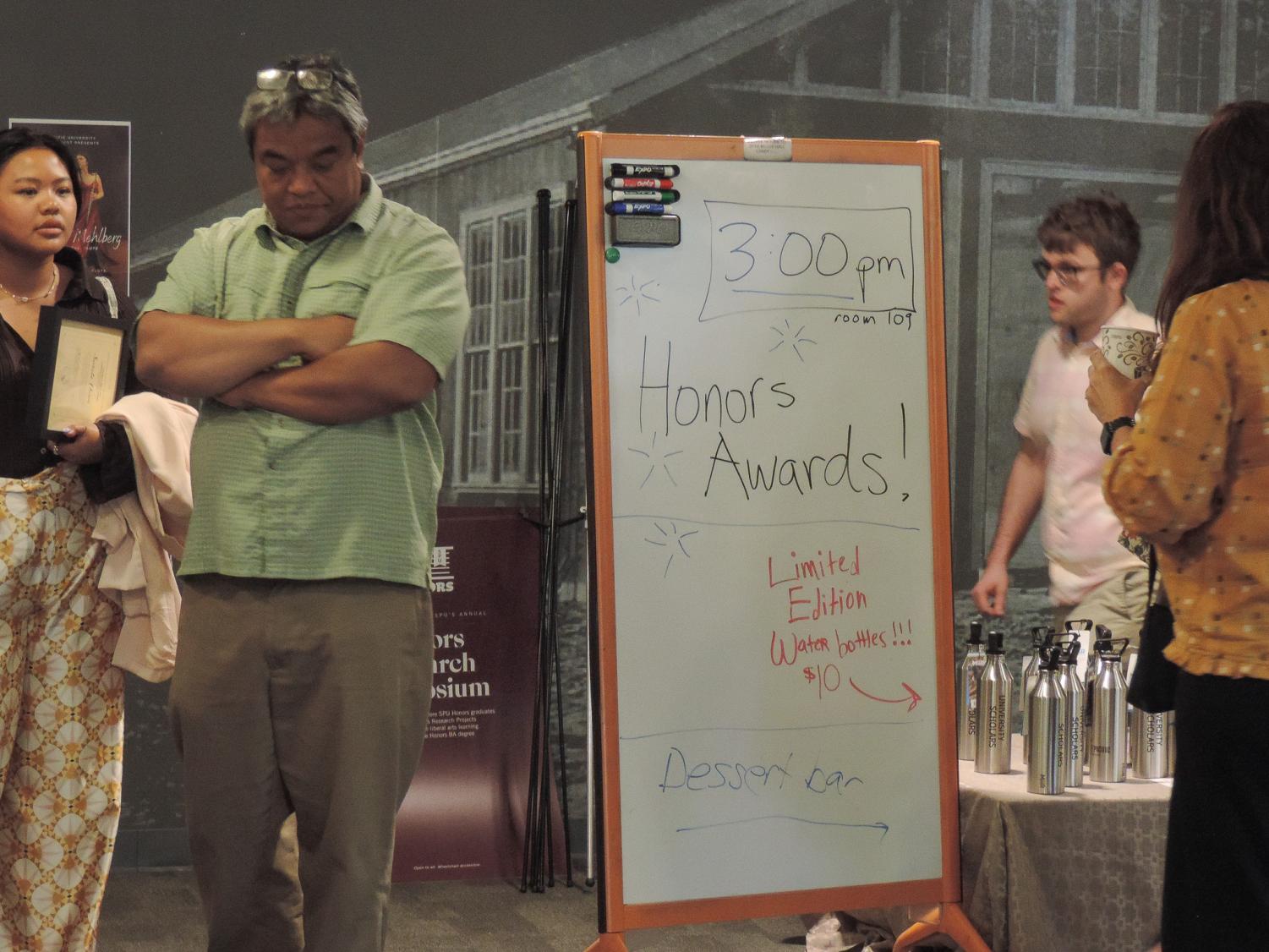 Seattle Pacific University's Honors program put on 2023's Honors Symposium on May 20 in Otto Miller. Students, staff and faculty gathered to support graduating seniors as they presented their year-in-the-making honors research projects. The project topics flowed in and out of countless disciplines, majors and interests – animal relationships, literature, knowledge recovery, and more were represented in well-developed projects.
Matthew Benton, associate professor of philosophy and faculty member in the honors program, attended the symposium and moderated a panel titled "How Does Truth Grow?: Evolutions and Adaptations of Knowledge."
"The panel had everything from classification of astronomical images to embodied pedagogy in high school English and drama to financial literacy to changes in baseball. That's a cool mixture of projects in one session," he said.
A completed and well-developed independent research project is a requirement to graduate with a major in honors liberal arts at SPU. Patricia Fong, a senior graduating with majors in studio art, English and honors, presented her research project titled "Grief Web." The project drew on art, philosophy, biology and more to portray multispecies mourning.
"With research, you start a web of scholars and artists and all kinds of thinkers, all connected. Then you're expanding out through footnotes to other footnotes," Fong said. "It was a lot of reading that web so I could be a voice within that little space – art and climate change and animal ethics and postcolonial theory and liberation theology … I got to go in all kinds of directions."
Junia Paulus, a senior graduating with majors in policies, philosophy and economics, political science and honors, examined the Supreme Court in her research project, focusing on logical argumentation and motivation especially behind abortion-related cases.
"It took many steps for this project to get where it is, but it was all foundational and informed how I approached my questions," Paulus said. "It's really fun to get to present something you've been working on for so long and feel appreciated."
Many projects were interdisciplinary – students combined math and music, biology and philosophy, and countless ideas with the ideals of liberal arts.
"The way the honors program is designed lends itself to students getting a liberal arts major and also having at least one other major," Benton said. "They're synthesizing a bunch of things they've learned plus the honors material. They can get a philosopher's, historian's, computer science faculty's eyes on things."
Part of the honors major requirement is HON 4899, a research capstone class with the current honors director, Dr. Christine Chaney. Before the due date for the completion of research projects, May 1, students often discussed research methods, individual needs and independent study questions. After May 1, students turned their attention to how they wanted to organize the Honors Symposium – who presented when and with who.
Rebecca Cavanaugh, a senior graduating with majors in history, philosophy and honors, presented a project connected to her two-year long research on SPU's queer history. She and three other history majors knew they wanted to put their projects into a panel together but worked with the rest of the cohort to divy up projects into panels that fully represented the nuance and connection within the independent presentations.
"We asked, 'What are the themes that each of our projects are engaging in and how do we get those to relate to one another?' In my panel, we structured it in stages of knowledge recovery and proposed that each stage you interact with is necessary to the next," Cavanaugh said. 
Each panel, made up of three or four presentations, lasted around one and a half hours. One focused on animal communication, another on evolving knowledge, and another on the complexity of healthcare. With a total of eight panels and 26 presenting seniors, the symposium reached well into the afternoon.
"It all works with itself," Cavanaugh said. "We created projects from our own disciplines, our own interests, so it could be really confusing how they might work together, but it's a valuable opportunity to see how academia functions and to understand that it's really so much more nuanced and productive than you would expect."
Following project presentations and an honors luncheon, Dr. Chaney led the closing remarks and award celebration. The first award announced was the Erin Kimminau award, whose namesake passed away in a car accident while attending SPU. The award goes to an SPU honors student who exemplifies the justice-seeking and faithful character of Erin Kimminau. This year, it went to Patricia Fong. 
"Her parents made that award to keep her story alive – for honors, because that was her community here. I was nominated by my classmates for that, which is super meaningful," Fong said.
The Wesley E. Lingren Award, which goes to the graduating senior who best exemplified the academic excellence and service standards of SPU's university scholars (honors) program, was awarded to Junia Paulus.
"The Lingren award is given to the most outstanding undergraduate or graduating honors student, which is a huge honor," Paulus said. "A year ago, I would not never have imagined that I could have made it to this point, but here we are."
When choosing the 2023 Lingren winner, the decision was made to extend the award to three others. This year, the additional winners of Lingren Accommodations were Rebecca Cavanaugh, Saña Dawa and Patti Fong.
"Dr. Chaney was saying that it was obvious that a couple other people also deserved it – I was really surprised that I was one of those people," Cavanaugh said. "All the people that won – there's four of us, and we're really good friends – we all have such different strengths."
The Honors Symposium and the quick advance of graduation means the senior cohort of SPU honors will soon be disbanded and make their way into the world.
"This cohort has a really strong bond," Fong said. "We formed a community beyond scholarship. It's really great and a little bit bittersweet to have your final moment together as a class."