Storm with rough start to learn from
Seattle Storm opens 2023 season with two losses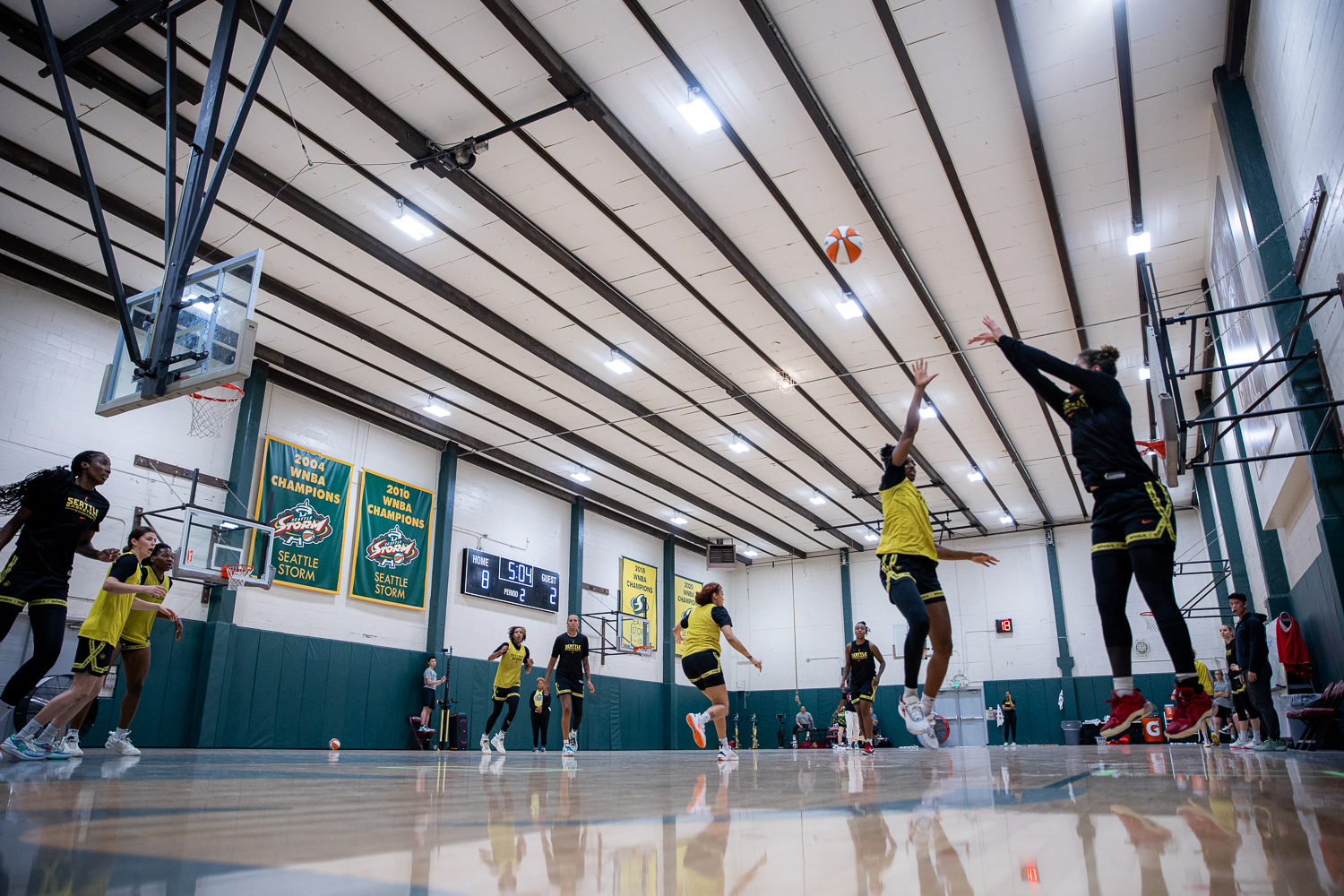 The Seattle Storm is a professional women's basketball team that has used Seattle Pacific University's Royal Brougham Pavillion to host and conduct their team's practices and training since 2009. In recent years, the team has managed to reach the finals and semi-finals of the respective 2021 and 2022 seasons, and took home the championship in 2020. 
With the Women's National Basketball Association's 2023 season now underway and the team's new training facility beginning construction, the Storm is setting off for another journey to the championship in their last season hosting their practices at SPU. 
The season started off with a 105-64 loss against the Las Vegas Aces on Saturday, May 20. In their second game of the season, the Storm suffered another loss 95-91 against the Dallas Wings on Friday, May 26.
Prior to their game against the Wings, head coach Noelle Quinn spoke on the Storm's defensive strengths and offensive weaknesses from their loss against the Aces.
"First and foremost, our defense: our boxing and our rebounding … on the offensive end: screening and moving the ball." Quinn said. "We took quick shots and didn't allow our opponents to defend. We want to play with pace, but we don't want to sacrifice pace for bad shots. We want to make sure we set screens and take efficient shots." 
Reflecting on their fresh loss against the Wings, Quinn plans to develop the team's defense.
"When we start on the defensive end, [we need] to be more disruptive, get in those deflections and steals. I think we can be super effective [when] utilizing our abilities," Quinn said. "We will start on defense and continue to grow our defense and develop on that side of the ball."
Offensively, Quinn will focus team training on shot selection and pacing.
"I think the biggest thing this group has to learn is shot selection [and] making sure we play with some pace. Pace doesn't always indicate how fast you run. It's the cuts, the timing, how you're moving the ball and reversing the ball," Quinn said. "It would help our offense a lot if we could play with [more] athleticism. 95 is still a lot of points to give up, [but] the 91 shows what we're capable of on the offensive end [when we're] getting stops and getting easier looks."
Starters Kia Nurse and Jewell Lloyd spoke about the team's outlook going forward and what they hope to apply from these losses.
"We were here, we were present, we fought. I think that was a big difference. We weren't just taking punches, we threw some. We had some fight in us," Lloyd said. "We were in the game, [and] every possession is confidence-building. [From] every game, we take away something, but for us, it's just about confidence. It's us who's getting better. No matter what anyone else thinks outside the locker room, we know who we are, and we can build on that."
Nurse expanded on Lloyd's emphasis on confidence.
"I thought our pace was better," Nurse said. "We want to play with pace, but there's a balance between playing with pace super, super fast and playing with pace and getting to a half-court setting and executing that. I thought we executed [everything] really well today, [and] we're going to keep that energy."
The Storm's next game will be against the New York Liberty on Tuesday, May 30, at Climate Pledge Arena.
"The big thing Jewell mentioned is about being comfortable, and every time you play a game in this league, you get a little more comfortable," Nurse said. "Even if that game is a little bit uncomfortable for you personally, you can build off of that and get to the next level, and I think that's something that we have to take with us."