Denim Day discussions
Seattle Pacific's Office of Safety and Security holds Denim Day event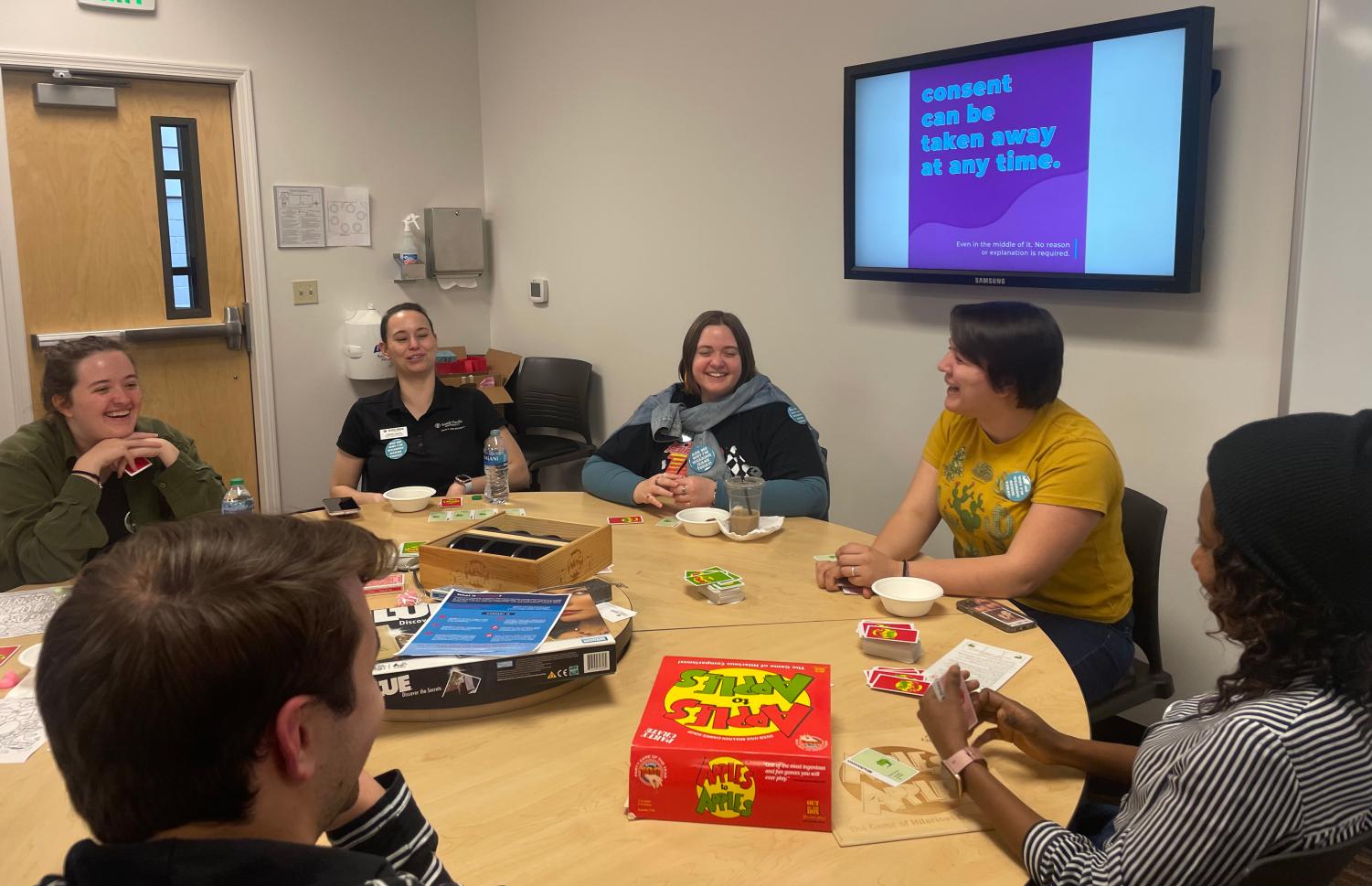 Denim Day originated in 1992, following an Italian Supreme Court case in which a rape conviction was overturned on the basis of the victim's clothing. The justices felt that because the victim's jeans were tight, she must have helped her attacker in removing her jeans, suggesting that she consented. 
The following day, women working in the Italian Parliament arrived to work wearing jeans in solidarity with the victim and in protest of the court's decision. Soon the movement spread worldwide, and California's senate joined in to support the women. 
Patrica Giggans, the executive director of the organization now known as Peace Over Violence, which serves as a national rape prevention and education campaign, officially established Denim Day in Los Angeles in 1999. Now at least 20 U.S. states recognize Denim Day at the end of each April. 
In 2008, the Italian Supreme Court overruled their previous decision, marking that clothing cannot act as defense in a rape case. Although the case has been overturned and the type of clothing worn is no longer a symbol of alleged consent, the day is still commemorated worldwide as a symbol of solidarity toward victims and a reminder that they are not to blame. 
During the month of April, Seattle Pacific University recognized Sexual Assault Awareness Month by hosting a number of educational events and hosting multiple demonstrations around campus. 
Martin Square represented the Clothesline Project, which presents an idea similar to that of Denim Day, clothing can not give consent. Shirts made by students were hung around the square to educate passers by on sexual assault.  
The Ames Library also participated by displaying a guide to books focused on gender-based violence. A webinar on the "Neurobiology of Sexual Assault" presented by a professor of psychology at Michigan State University, Rebecca Campbell, was also held and is still available for viewing on the school's website. 
To conclude the month, on April 26, SPU's Office of Safety and Security hosted an event to commemorate Denim Day. 
The event had games, coloring pages with consent reminders, cookies and an encouraging environment. The evening concluded with a lesson on consent and sexual assault safety. 
Demonstrating a proper way of asking for consent by using a scene from "The Office," the event gave students the opportunity to discuss consent in a more in-depth way than they may previously have been able to in an educational setting. Currently, only 24 states require sex education in schools, and even fewer require consent education. 
Christina Traverso, an OSS worker was driven to put on this event because of the lack of consent education in many schools. 
 "Consent education is something that everyone needs but very few people get it, even though there's no reason why high-quality consent education shouldn't be mandatory in all schools. We will all run into situations in our lives where we will need to ask for consent or we will find ourselves in a situation where someone else isn't asking for consent," Traverso said. 
Traverso reminded attendees of the services OSS provides victims of sexual assault and that OSS is there to take any reports of sexual assault and guide victims through the healing process.
"I would encourage anyone who is thinking about reporting sexual harassment, sexual assault, stalking, dating violence or domestic violence to the University that there are several reporting options available, including reporting anonymously through our Report a Concern form," Traverso said. "Meetings are kept private and reporting to the University does not necessarily mean that a big formal investigation is launched immediately. We first start by hearing about the person's experiences and then going through their options for moving forward, such as free safety planning."
While Sexual Assault Awareness Month has come to an end, the importance of recognizing and preventing inappropriate behavior is not. 
"Since we don't have mandatory nationwide consent education these situations are practically guaranteed to happen to all of us, so it's important for us to know the basics: consent cannot be forced, intimidated, persuaded or coerced. Anything but a 'yes' is a 'no,' and if you're not sure if someone else is consenting, stop and ask."'