Attitude of resilience
Solomon Witrell returns to track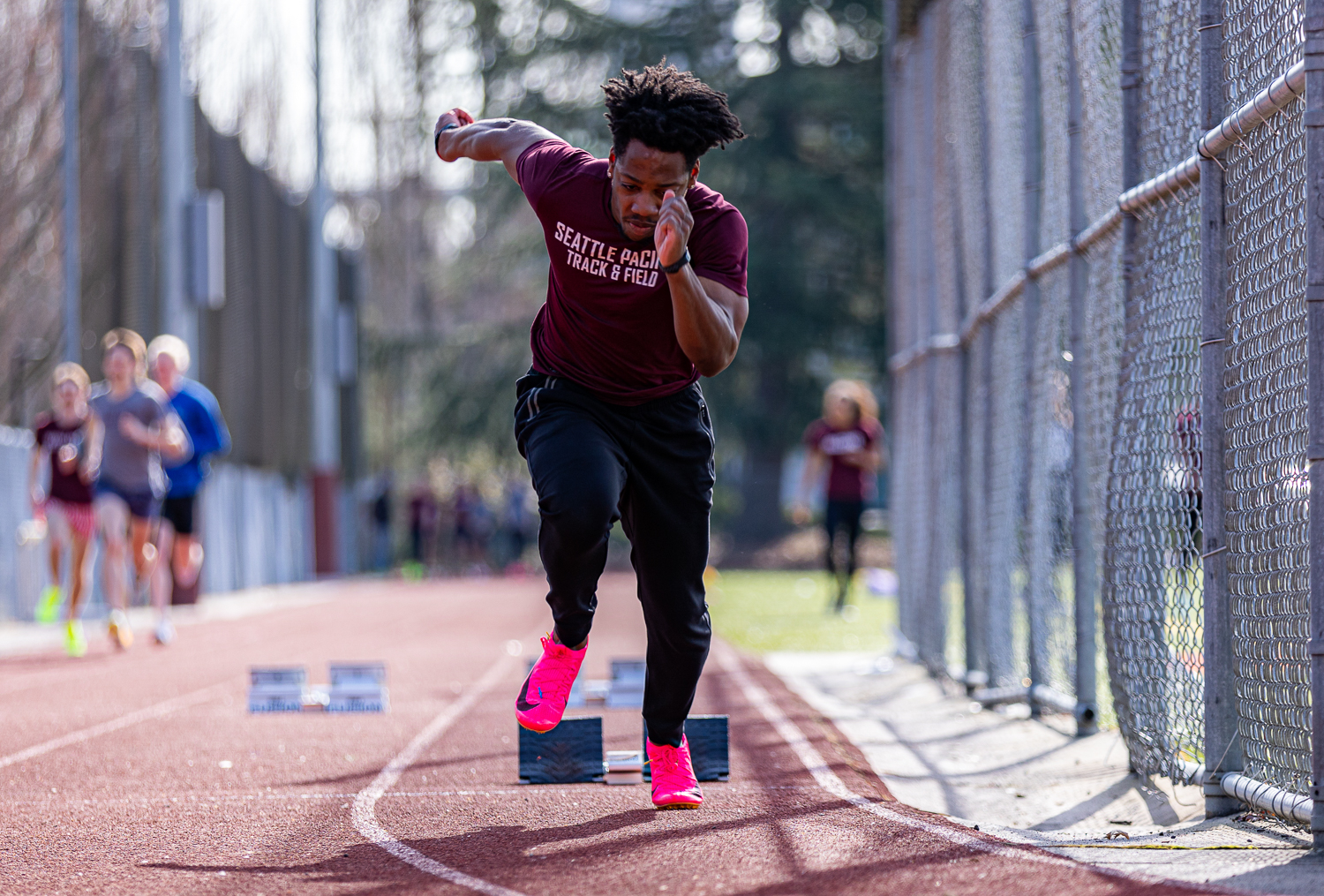 On Dec. 27, 2022, Seattle Pacific University track and field athlete Solomon Witrell was stabbed by an unknown assailant while out on a run. Despite this harrowing injury, he has quickly returned to his sport, having his first meet on March 18, 2023, at the Doris Heritage Track Festival.
Despite what many may have assumed, Witrell made no plans to postpone his athletics career due to his injury.
"As soon as I got injured, I wanted to get back to running," Witrell said. "So it was kind of just taking the process day by day."
SPU's coaches felt some surprise at his swift comeback. Chris Reed, the track and field associate head coach, noted the speed of his return. But he also noted that Witrell had the will to return to competition.
"[I was] surprised just knowing what he went through and thinking about how remarkable it is to get to the point he's at now," Reed said about the comeback. "But in many ways, [I was] not surprised because we know Solomon, and he's a determined young man, and he's very goal-oriented, and with that standpoint, it fits right in line with who we know Solomon to be."
Witrell also shows this competitive determination in the way he talks about his performance. Although he recognizes that his return is impressive in and of itself due to his circumstances, he still strives to run faster.
"I feel like I've been performing alright, but considering all I've been through, I guess you could say I've been performing well," Witrell said. "The times I'm running aren't the fastest, but considering four months ago I was stabbed, I would say they are good."
Reed notes that although he feels Witrell's competitive spirit sometimes blinds him to the astounding feat of resilience he has achieved, he also says that it is that same spirit that drives him to rebound and improve.
"Solomon is still very driven toward his athletic goals. He's not letting the emotions overcome him. Interestingly, I think there are times where I feel like Solomon might be disappointed with his times and things, but from my standpoint, I say, 'Solomon, you gotta take it into perspective!' but again, I don't want to change who he is. He is the kind of person who wants to get better at every possible moment," Reed said.
Witrell's incredible comeback has not all been smooth sailing after the terrible storm. He has struggled to regain his rhythm with training and competing.  
"Before, I was in a rhythm, I guess you would say. I trained on my own for three years, and then I walked on this year, and so I just continued on a path I already was on, and then that [the attack] happened, so I had to start fresh," Witrell explained. "The hardest thing has been the motivation because I'll be at every practice, I'll be at workouts, just knowing that sometimes my body can't run like it used to."
But he also points out that being around the team and their performances gives him more motivation to improve. 
"Seeing my teammates every day in practice, seeing the work they're putting in, and then seeing their final results they get out of it, motivates me to do better," he said.
Head coach Karl Lerum credits Witrell with putting in the hard work to come back from his near-deadly injury.  
"I think Solomon has been able to train and get himself into a racing shape that is pretty close to where he was prior to being injured," he said. "That's incredible."
Witrell has now competed in eight meets since his return. Of these meets, he feels that his best performance remains his first one back.
"My best performance is probably the first meet, the Doris Heritage meet, not only because I had my friends and family there but also my high school coach, so it was nice having all that support," he explained. "The weather was nice as well so that also I think gave me a boost in my performance. I loved every minute of it."
Coach Lerum notes that Witrell's return has been a strong note of inspiration for a team and a campus that reacted to the news of the attack with fear and uncertainty.
"We were scared like anybody who knew Solomon [was]. We didn't know what had happened; we still don't understand why it happened," he said. "For him to overcome those tremendous obstacles and be able to put on a uniform and race in collegiate track is inspiring to everybody around him."
Although he has leapt over many great hurdles as he has returned to competition, there is still a long road to full recovery. 
"If I'm telling the truth, I think I'm still recovering. Physically, I would say I'm basically 100%, but certain things I do still kind of hurt from time to time, but I would say the hardest thing is mental," Witrell said. "I know I'm capable of running faster times than I have been running, but I haven't, and so trying to get over that mental block has been the hardest part."
Even though his recovery is not yet complete, both of his coaches emphasize how much of a positive effect his comeback has had on all of his teammates.
"I find it pretty inspiring," Reed said. "It was a really tough day hearing the news on Dec. 27 of what had happened. The first thought at that moment was just thinking about him and his life and just his overall ability to function as a human. And now, for him to have turned it around as quickly as he has just shows a lot about his determination. He worked really hard just to be on this team the first time and he showed that same resolve coming back. And it's been a treat to see him race a few times this spring."
Coach Lerum echoes this sentiment.
"My sense is that he has inspired those around him. Everybody goes through trauma and obstacles in some way, but none quite like Solomon had to face this winter," he said. "And for him to come and bring an attitude of resilience and gratitude, it's inspiring for those who get to be around him."