'Bet u wanna' scream with Sabrina Carpenter
Sabrina Carpenter's performance at Paramount Theatre shows emotional versatility, builds intimate artist-to-fan connections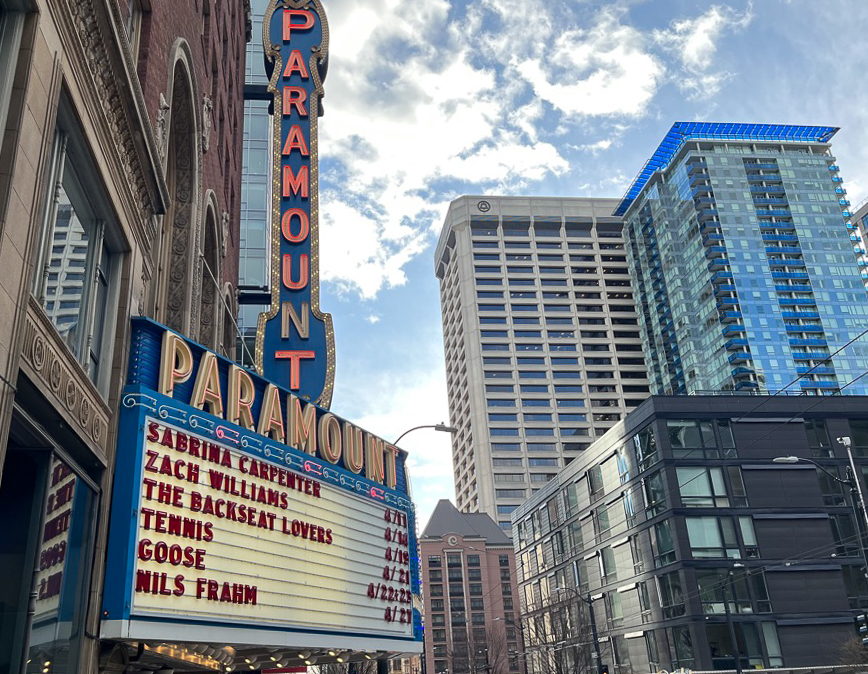 Sometimes the power of a person's influence can be severely underestimated. When Sabrina Carpenter announced that her "Emails I Can't Send Tour" would stop at the Showbox SODO in Seattle, Washington on April 11, the desire of fans to attend the show exceeded Carpenter and her team's expectations.
Consequently, they realized that they would need somewhere much larger than the Showbox SODO to fit the massive number of fans expected to attend the event. Consequently, Carpenter's show was moved to the historic Paramount Theatre. 
Despite the unexpected nature of the change, it was the perfect call for accommodating the large fanbase. The lines, as expected by the sheer number of people going to the concert, were very long. They went down the remaining block of Pine Street and flowed over the hill and into the cross street of Boren Avenue. 
Even though the lines were long, changing the venue was a necessity for fans.
It was also beneficial for Carpenter and the impact of her performance. The elegant aesthetics of the venue including the massive chandeliers and sweeping staircases in the lobby and near the stage fit the dreamlike quality of Carpenter's vocals as they flowed from the microphone to the speakers, even for songs that were more upbeat or sexual. 
Although Carpenter is known for embracing her natural sex appeal in performances of songs like "bet you wanna," where she slowly and seductively dances in front of a massive heart-shaped mirror lit up by red lights, she also expresses a delicate, vulnerable and soft nature in songs like "things i wish you said." 
In her performance of this song, Sabrina sat on a small bench illuminated by a single spotlight alongside a sole member of her band playing an acoustic guitar. The isolation of the spotlight and separation from the rest of the elaborate set, complete with the heart mirror and elevated balcony near stage left, fostered a more intimate moment between the artist and fans. 
This song was one of the most heartbreaking and genuine performances of the night. No other song came close to competing with the intimacy of this performance except the opening song of the tour, "emails i can't send," in which Carpenter sat alone on the balcony with a keyboard, again with a single spotlight focused on her. The balcony itself resembled one that might be found in a reenacted scene from Romeo and Juliet, except no Romeo was waiting for Carpenter. 
"things i wish you said" and "emails i can't send," which could bring any person who has lost trust in a parent or adult figure to tears, were expertly executed by Carpenter and her team as they produced a feeling of pure emotion and true intimacy.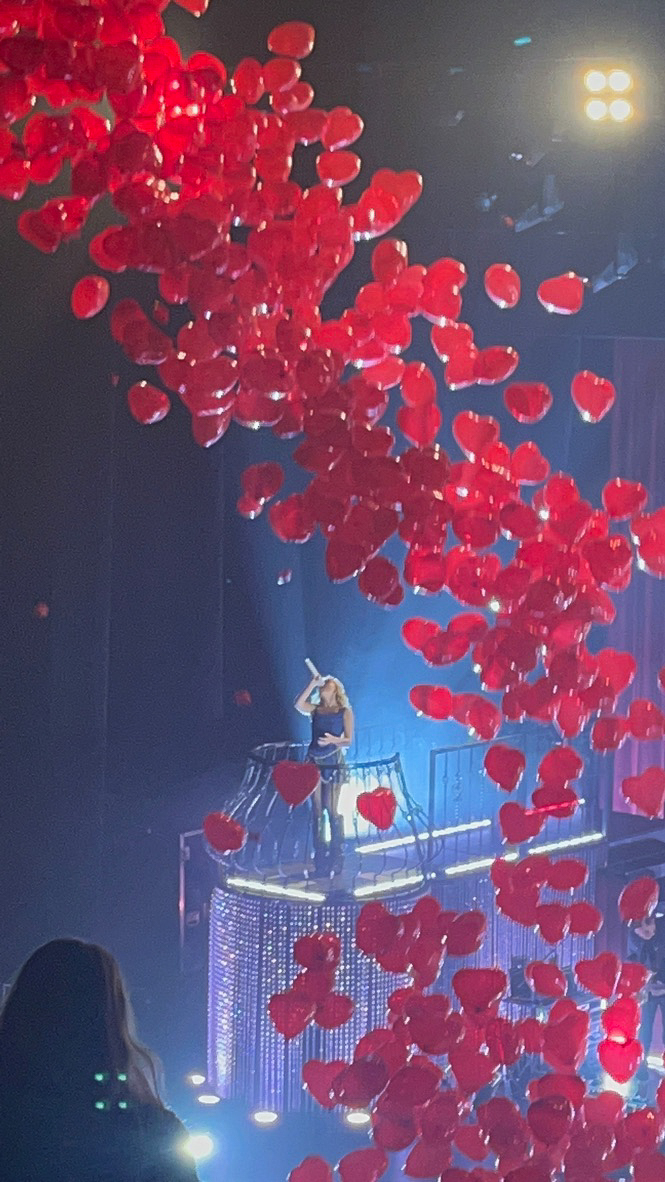 Due to her ability to swiftly switch between emotional and more flirtatious performances, Carpenter presents herself as an artist who is not afraid of showing the range of her vulnerability. Whether she expresses rage, love, lust, sorrow, devastation, inadequacy or confidence, Carpenter ensures that her audience thoroughly connects with her and feels her emotions deep in their souls.
By being so openly vulnerable with all aspects of herself and allowing fans to feel the full and honest range of her emotions, Carpenter constructs an environment where she can teach valuable lessons through her music and experiences. 
While performing her music is the top priority of her concert, Carpenter devotes short intermissions to talking with fans in the crowd and sharing personal wisdom that she has gained from life. Carpenter, now 23 years old, attested during one of these breaks that even though she has grown tremendously since being a teenager, she does not have everything figured out yet. 
This message was impactful and provided an extra element to the concert, especially since most of Carpenter's fans are either becoming adults or are in the first few years of their adulthood.
After this break in the show, Carpenter ended with two of her most known singles, "Nonsense" and "because i liked a boy." These songs led to the most energetic performances of the night as they had fans passionately screaming the words back to Carpenter. The sound of their collective shouting was deafening. Nothing compared to the shared emotions felt by Carpenter and the fans at this moment. 
"because i liked a boy" allowed fans to release their rage at failed relationships and being labeled as the "homewrecker" just because they "liked a boy" that they did not know was already claimed. 
This song may have been the song that closed out the show, but "Nonsense" was the highlight of the night as fans awaited Carpenter's improvised lyrics at the end of the music that would directly connect to Seattle. 
It is common for Carpenter to put a sexual spin on the lyrics directed toward the specific city she is performing in, and she did not disappoint as she told them that they all, "look like somebody I would straddle." 
As these two songs ended and red heart-shaped balloons fell from the ceiling, a couple of things were made clear. Carpenter's biggest strengths as an artist are her vulnerability and her ability to create community between herself and her fans. Another abundantly clear thing is that she does an incredible job at closing out her shows. She had everyone thinking "Nonsense" as they left the Paramount Theatre.