Another year in the books
SPU basketball teams wrap up their seasons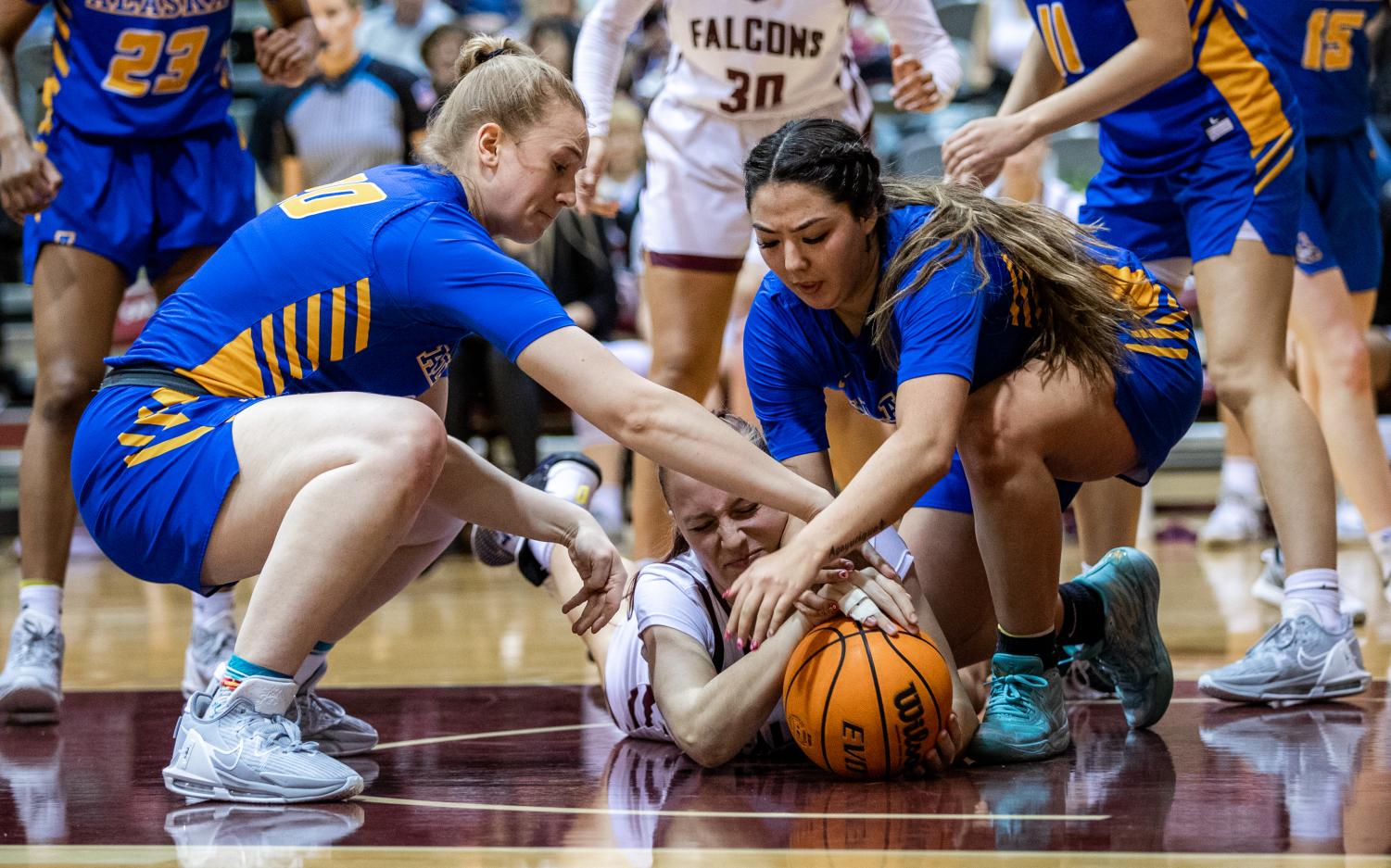 The Seattle Pacific University men's and women's basketball teams both entered the week with legitimate shots at making the NCAA Division II tournament. The women needed to win the Great Northwest Athletic Conference tournament, while the men had a shot at an at-large berth even if they did not win the conference.
Unfortunately for the Falcons, the men's team was upset in the first round of the tournament by sixth-seed Northwest Nazarene, who went on to an unlikely GNAC tournament championship that earned them a spot in the NCAA tournament.
The women went down in the second round in a hard-fought 58-53 loss to Western Washington, ending their season at 15-13, the first winning campaign for the program since 2017-2018.
Here is a wrap-up of both teams' 2022-2023 seasons.
Women's basketball
The women's team came into the season with house money, hoping to put up their first winning season since 2017-18. The women succeeded as they became a threat in the GNAC, while also taking top-ranked teams like Western Washington to the brink.
Ashley Alter starred for the team, collecting a season milestone when she won GNAC and NCAA player of the week to end the 2022 calendar year. She averaged 24 points per game during that week. Alter also collected a career milestone when she scored her 1,000th point on Feb.18 against Western Washington.
"This season was definitely the perfect one to end off on and I couldn't have been more proud of our fight," Alter said.
Alter and her fellow fifth-year teammate Natalie Hoff both made the all-GNAC team, with Alter being voted second team all-GNAC and Hoff being voted an honorable mention.
The team made it to the quarterfinals of the GNAC tournament, the furthest the program has gone since their last winning season in 2017-18. While the Falcons fell just short of their season-long goal of playing in the NCAA tournament, this squad turned the tide for the program, a program that appears to have a very bright future.
"I love this team so much and I'm so excited to see how far they will go. I left everything on the court and gave it all I had," Alter said. "I have no regrets whatsoever I'm just grateful that I was able to play a sport I loved for so long and was given this opportunity to play in college. It's taught me so many valuable skills that I know will serve me well in my next phase of life."
Men's basketball
The SPU men's basketball team finished off another season, posting a 17-11 record. Looking back, the team was able to improve from their posted 14-13 record from the 2021-22 season. Placing a focus on finishing out strong on their home court, this year's team did just that by only losing one home game as opposed to four the previous year.
Posting a 12-6 record within conference play, the team was third among the standings within the Great Northwest Athletic Conference, behind second-place Montana State Billings and first-place Saint Martins.
This year's team witnessed momentous feats including Grant Leep reaching his 100th win as the head coach and forward Shaw Anderson reaching the 1,000-point mark in points scored during his time at SPU. Anderson was one of six returners this year.
"I've been really proud of our guys, but especially our six returners: Zack Paulsen, Shaw Anderson, Syon Blackmon, Clayton Whitman, Kelton Samore and Kobe Elsner," said Leep. "They all, in their own way, did so much to help establish expectations and culture for this team with so many new players and so many new roles to fill with what we lost from the previous season. I was able to lean on those guys a lot this year, and I'm proud of each of them for what they've done to help this team."
The team finished their season with a loss to Northwest Nazarene in the GNAC tournament with a score of 74-82.
"We were feeling great heading into the tournament. We had just won three in a row, we had been playing hard and getting some tough, scrappy wins," Leep said. "We've had some great success with this team. Coming into the season with 10 new players, six returning players, we knew there would be some ups and downs as we learned and adjusted to so much new. I am proud of what we've learned, how we grew and what we accomplished."