Residents of Hill Hall compete in Decade Skate
While waiting for the night of fun to kickoff, SPU students from all residence halls eagerly gathered in the seats of Royal Brougham, singing and clapping along to the music. Hill Hall's annual Decade Skate was soon to begin.
Decade Skate is an event put on by the residents of Hill Hall as they create their own lip-synced and choreographed skits to then share with the campus and compete against fellow residents from their building.
This year's Decade Skate took place on Sunday, Feb. 25 at Royal Brougham. The doors opened at 6 p.m., and the event itself began at 7. Residents of Hill entered for free, while everyone else bought tickets for $1.
All proceeds were donated to Art With Heart, an organization that helps children facing trauma or adversity to recover through therapeutic activity books.
The event was hosted by two special guest emcees, Madeline Patten and Alex Leitch.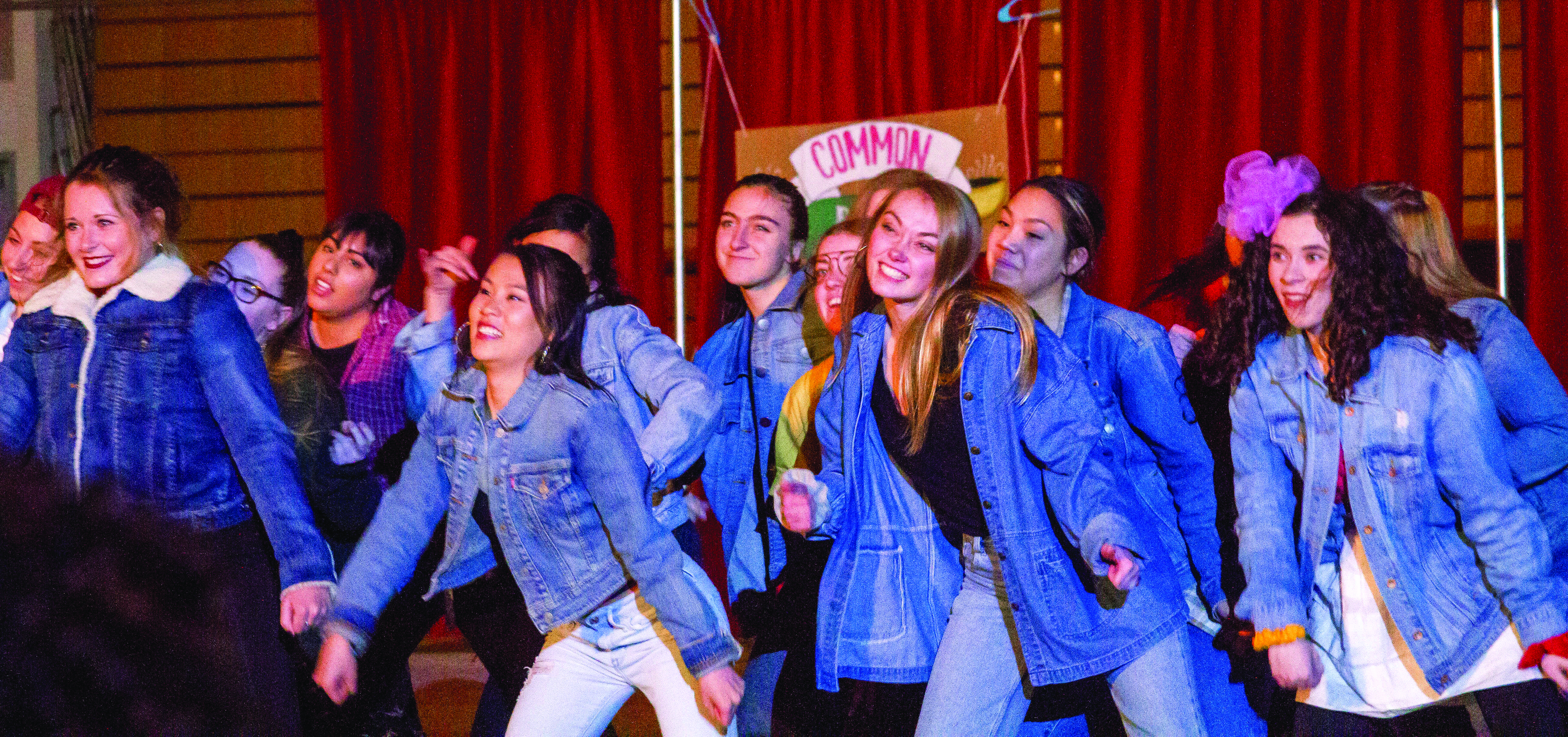 They filled all transitions between skits with jokes, fun facts and plenty of games where audience members could participate and win a prize.
Four judges sat in front of the audience as they looked for representation of the decades, good use of costumes and props, a creative soundtrack and impressive choreography.
It was clear that the floors put a lot of work into their skits. Many of the skits included different characters and themes from pop culture such as the TV show "How I Met Your Mother" or references to Disney works.
First-year Dylan Beadle from Fourth Hill South said, "Our act followed the heroes Bodo, Slamwise and Jendalf as they traveled to the canal of Royal Broughamdor to destroy the one Gwinn cookie."
The skit was clearly a parody of the hit series "Lord of the Rings," with many references to SPU sprinkled throughout.
Third Hill North took a different approach, but also created a parody of their own. First year Jennifer Kirchner said, "Our act was about Luna Lovegood accidentally transporting herself to the world of Disney Channel just before the Yule Ball."
Their skit included a look into the world of popular Disney shows including "Hannah Montana," "Kim Possible," "High School Musical" and "Camp Rock."
A different skit from Fourth Hill North included one character from "Parks and Recreation," but they creatively used their own characters for the rest of their story.
"In our skit, a series of natural disasters have decimated the earth, so Leslie Knope goes on a journey to the sea to find a new home for humanity," said sophomore and Hill Hall Council member Sarah Sellke.
"She meets a few creatures and learns something from each of them, and eventually decides that the humans will always be home as long as they have each other. Then everyone moves to the sea."
Each skit was full of fun, jokes and laughter, but what was truly impressive was the work that it took to make each skit come to life and the ways that the event brought community and teamwork among the floors.
Sellke said, "I love Decade Skate. I think it's a super important time whereby creatively making something, a floor can really bond.
"Everyone has different strengths that they can bring to the table and combining all these skills leads to something nobody could do on their own, and I love being a part of that."
Kirchner added, "It was wonderful to see how everyone was really dedicated and to experience some of the other girls from the floor take more of a leadership position."
"It was really fun for all of us just to spend time together and create something we all loved. It was also fantastic to see everyone's finished product during the show."
Although each skit was awarded with large amounts of laughter and applause, the judges ultimately had the final say on the winning teams. First place went to Fifth Hill North, second place to Fourth Hill North and third place to Sixth Hill South.
"Best Representation of Decades" was awarded to First Hill North and "Best Costume and Props" went to Fourth Hill North. The "Best Soundtrack" was awarded to Third Hill South and "Best Choreography" to Second Hill North.
As the night ended, audience members and friends swarmed the middle of the floor to dance and celebrate the success of the night. Many left already excited for next year's Decade Skate.