Black Panther exceeds expectations
REVIEW
Warning: this review contains spoilers.
In May 2016, "Black Panther" protagonist King T'Challa, played by Chadwick Boseman, made his first ever appearance in mainstream media during a fight scene in "Captain America: Civil War."
This foreshadowing led superhero film fanatics to ask: Will there be a Black Panther movie? Then, in June 2016, the movie trailer was released, prompting excited fans to wonder what the film would have in store.
Savannah LaFlamme, SPU junior and Marvel fan, walked into the theatre with high expectations. She laughed, she cried, and she found that the film absolutely exceeded her expectations.
"I honestly think that 'Black Panther' is the best thing that Marvel has ever done," LaFlamme said. Many would agree with this statement.
So, why is this film so set apart from other Marvel creations?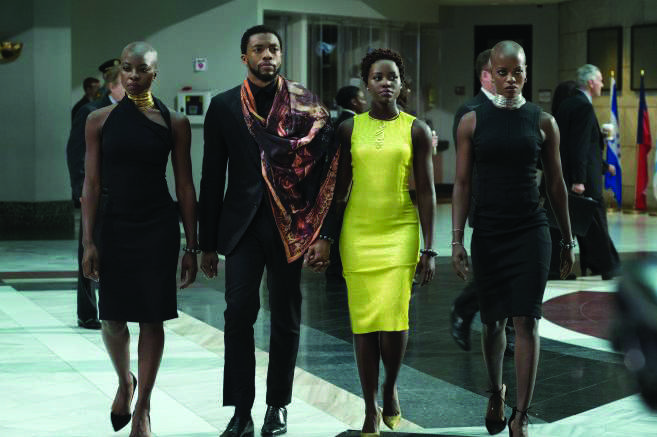 Not only is "Black Panther" cinematically impressive, but the movie also brilliantly dives into political and social issues surrounding immigration, Western colonization and institutionalized racism in the most creative ways possible.
To start out, the long-awaited film was directed by Ryan Coogler, who told CBS during an interview that his inspiration for Black Panther started when he was just nine years old.
Through his childhood love of superhero comics, Coogler began to wonder if there were any characters who looked like him, superheroes who were black.
"I walked over to a comic book shop in Oakland and asked a guy, who was behind the desk. And he walked me over and showed me T'Challa. He showed me Black Panther," Coogler explained in the interview.
Coogler's passion for this movie is being reflected in its success. According to Variety, the movie made $500 million in just its first week of debut.
Even as Coogler directed the film, tribute should also be paid to the nearly all-black cast, who played leading and supporting roles in this film. While Boseman proved to be the perfect choice as King T'Challa, Michael B. Jordan also wonderfully engages as T'Challa's counterpart, Killmonger.
Furthermore, "Black Panther" did not just focus on the black community, but it went above and beyond by placing strong black women, who are disturbingly underrepresented in the American film industry, in both leading and leadership roles.
Shuri, played by Letitia Wright, is a tech genius warrior woman, and T'Challa's hilarious sister. Danai Gurira's character, Okoye, is a powerful, no-nonsense general and protector who remains loyal to her country of Wakanda. Nakia, played by Lupita Nyong, is a highly intelligent Wakandan spy.
For LaFlamme, "It was beyond inspiring that all of the women were powerful, strong and independent. They held their own, stood on their values, and without them the movie would not have been the same. It was amazing to see the amount of respect between T'Challa and the women he was surrounded with."
"As a white person, it was amazing to see the way that this representation affected me and empowered my friends and family of color," LaFlamme continued.
While the film focuses on redefining gender roles in its characters and casting, the plot's premise rests on yet two other complex social and political topics: immigration and the exploitation of the American black community.
SPU junior Subrina Pollevan found the film striking, specifically " the fact that Killmonger actually changed T'Challa's mind about opening up to the world."
In the film, the world believes that Wakanda, Africa, home to Black Panther King T'Challa, is a third-world country. In actuality, it is a beautiful nation enriched with natural resources, because it is also the origin of "vibranium," a fictional metal substance that is of incredible value.
It is clear that Wakanda's neighbors are undergoing natural and political disasters, but King T'Challa keeps its borders closed in attempts to protect and preserve Wakanda's valuable resources.
Throughout the film, the audience is shown the inner moral dilemma that T'Challa faces: he wants to appease his late father's wish for Wakanda to maintain strictly closed borders, but he also witnesses the world struggling. He believes that Wakanda can do much more by letting foreigners in to the country and offering Wakanda's valuable resources and scientific findings to the rest of the world.
When T'Challa stands face-to-face with his long lost cousin and atypical villain, Erik Killmonger, T'Challa truly sees the negative impacts that institutionalized racism and western colonization has had on the rest of the world, especially in Africa and black America.
For Pollevan, the story of the villain was held significance because "it relates to present day things. Especially the quote [Killmonger] says before he kills himself. It's very powerful."
Oh, spoiler alert: Killmonger dies.
This quote that Pollevan referred to is a direct prod at America's history of slavery. In the film, Killmonger's character paints the hard reality of colonial slavery by saying, "Bury me in the ocean with my ancestors who jumped from ships, 'cause they knew death was better than bondage."
Erik Killmonger is the product of America's exploitation of black communities.Despite being from Wakanda, Killmonger grew up in a rundown neighborhood of metropolitan Oakland, CA.
Killmonger witnessed the death of his father, and made a decision to one day return home to Wakanda and avenge his father's death. His hatred for Wakanda stems from his knowledge that Wakanda is a thriving country who refuses to reach out to its neighbors in need.
LaFlamme also agreed that the film's humanization of Killmonger was important to the storyline. She notes that the story "had one of the most complex villain storylines ever, and handled such immense and complex issues in a truly unique way."
"[T'Challa] learned from the truth that Killmonger brought and saw what could happen from the hatred that comes from such a long history of oppression. And not only did he learn, but he strived to change, and that's what we see at the end of the movie," LaFalmme said.
Eventually, the film resolves with Wakanda choosing to open its borders.
To quote T'Challa, "In times of crisis, the wise build bridges, while the foolish build barriers. We must find a way to look after one another as if we were one single tribe."