Is this thing on?
Brave SPU students climb on stage at KSPU open mic night
A Seattle Pacific University student walks into a room full of people they do not know, the crowd is huddled around a warm fire in the center of the room, Christmas lights and a streamer hang on the wall and in front of it all is a lonely microphone stand. Two brave students volunteer to take the stage first and give an electric performance of  "Breaking Free," but this is not the New Year's Eve scene from "High School Musical." 
Instead, the student has found themselves within the comfortable company of their fellow SPU students, each aching for the chance to share their creativity as they sit on the main floor of SPU's own Weter Memorial Hall. 
On Thursday, Feb. 9, KSPU, SPU's student-run radio, invited students to join them in showcasing their many talents as they hosted an open mic night. The night proved to be filled with just that. The room quickly exploded with all the talent squeezed into the small space. In just two hours, the audience experienced stand-up comedy acts, guitar singalongs, poetry readings, plenty of karaoke paired with some interpretive dancing and even a few original songs.  
Open mic nights can often be intimidating to many, but KSPU created a space that allowed for the event to feel more like a casual hangout than a strict performance space. The community-building aspect of the experience was evident in the way many students took to the stage with ease.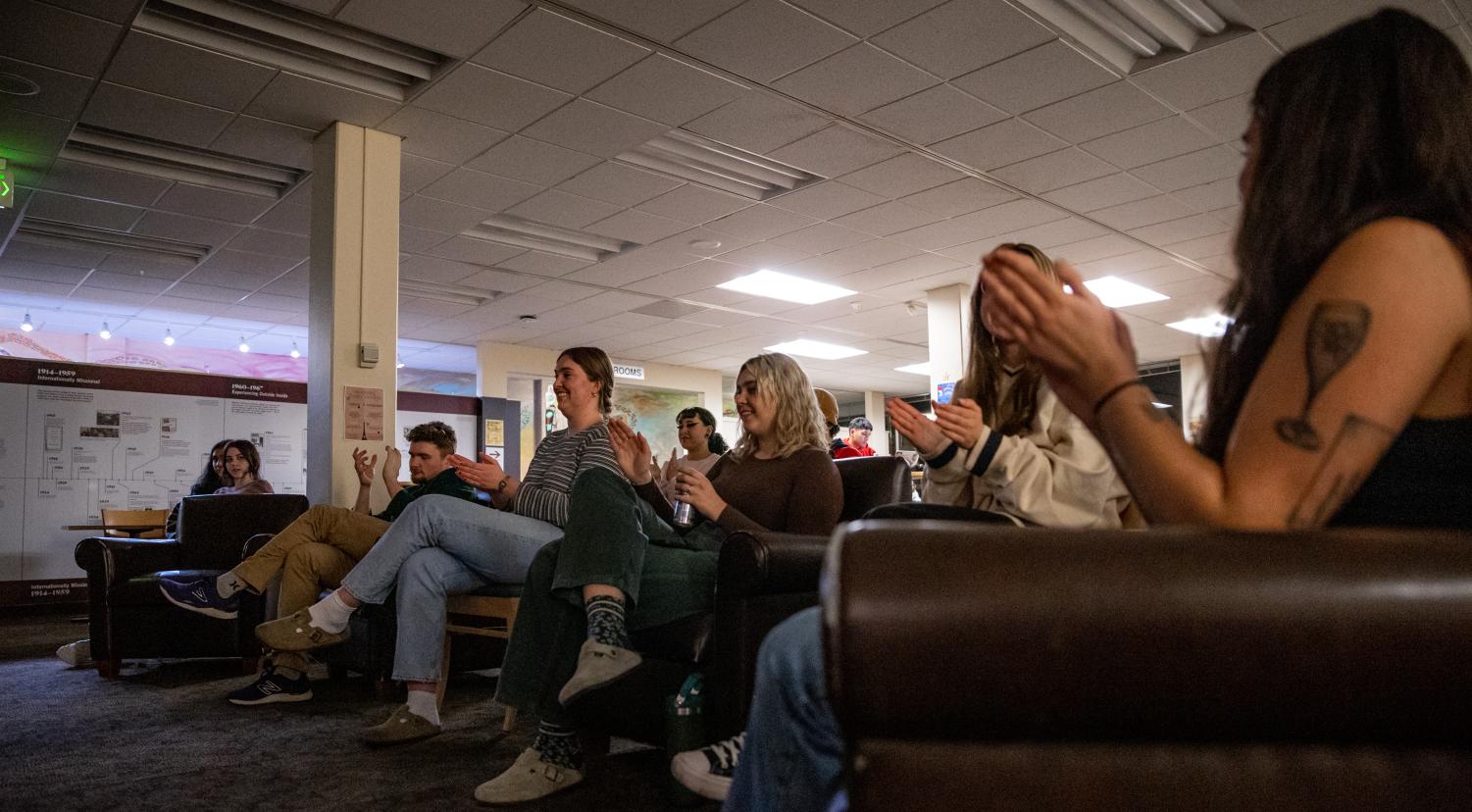 Even those who appeared more nervous found their groove in the audience participation and overwhelming encouragement. The mood was very light as many people giggled their way through their performances; KSPU left no room for fear. 
Grace Westhof, senior psychology major and KSPU event coordinator,  recalled the time it took to prepare for the event as not only a host but as a performer. 
"I was practicing my song, and I was like, 'Oh, I feel like this has to be perfect.' But when the room started filling up, I really liked the turnout," Westhof said. "I found myself more at ease once I realized that everyone around me was being really funny and silly. I think that all brought us together a bit, even if we didn't really know each other before the night had started." 
Third year nursing student Malica Richards was one student who performed that night, and she shared a similar experience. Richards sang an original song accompanied by the guitar playing of her friend Caleb Choi, a first year nursing major. For her, the night went beyond her expectations. 
"This was not what I expected because I was so nervous. I was like, 'You know what, I could have not come,' but I did, and I ended up having a really fun time. A lot of these people are friends with each other, so they had created a more comfortable environment," Richards said. 
KSPU strives to get SPU students of all talents involved in their community-building events, and the open mic night proved that they are accomplishing that goal. It allowed students and KSPU staff alike to unwind and connect with new people through many creative avenues. Everyone was able to express themselves in their unique ways as the night inspired them to let loose and embrace the unknown of the stage. 
 "I'd always wanted to try an open mic because I have a lot of friends who do that stuff. I just wanted to try performing, I haven't done it since like high school," Richards said. "This was a great way for me to get back into doing something that brings me a lot of happiness, especially when I am doing it with one of my good friends."