High society merges with high-quality theatre
Taproot Theatre's season opener immerses guests into comical 19th-century English societal politics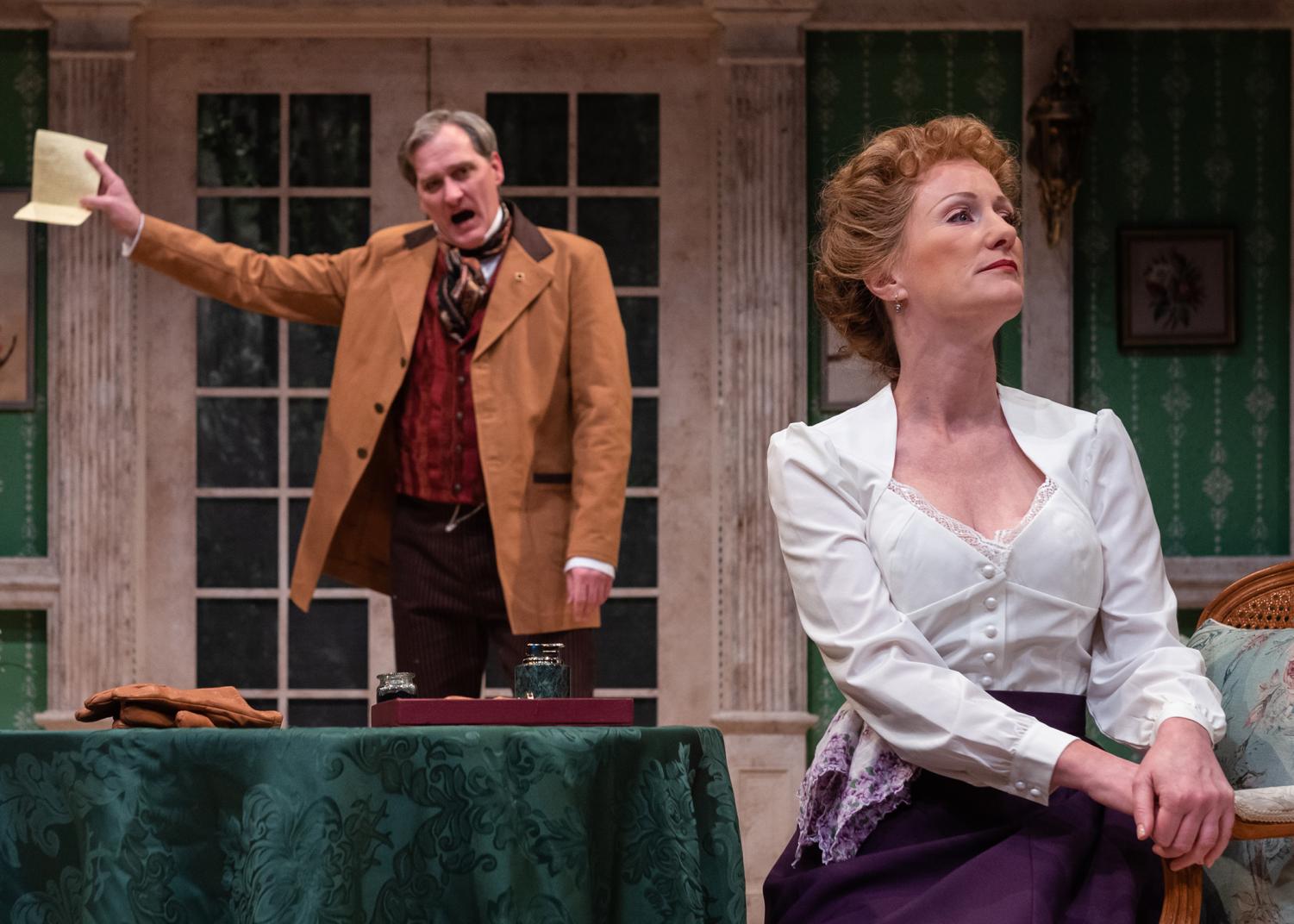 What's the difference between a man and a woman? Is there a natural inherent divide, or is it the mere discussion of gender that makes them what they are? Oscar Wilde's satirical play, "A Woman of No Importance," examines 19th-century English gender and class structure, the double standards they rely on and the truth about how fragile the system is. 
Opening up their 2023 season, the Taproot Theatre Company and director Karen Lund invite guests to become immersed in high-class English society.  Playing just outside of Greenwood through Feb. 25, 2023, Taproot's shows are perfect for Seattle residents, including Seattle Pacific University students, to attend. 
Following Lord Illingworths' (Aaron Lamb) exceptional job offer to Gerald Arbuthnot (Williams Eames), a celebratory party ensues at Lady Hunstanton's country home. Among the guest's witty and often outrageously hypocritical social commentary, dynamics quickly shift as the highly regarded Mrs. Arbuthnot (Candace Vance) forbids for her son to take Lord Illingworth's secretary position. As tensions continue to rise throughout the night, so do questions about Mrs. Arbuthnot's troubled past. 
The stage seeps into the audience and draws the audience into the story. Welcomed by orchestral music upon viewers' entrance, the production does an exquisite job of immediately setting the tone and utilizing the entire theater space, with the cast often exiting and entering through audience walkways. The set design makes the audience feel one with the ensemble in their 1893 aristocratic country life. 
As the overhead lights dim and spotlights fill the stage, before anyone can say a word, viewers are hit with incredible costuming. As the performance continues, the thoughtfulness put into each character's wardrobe is made clear as they prove to be an extension of their vibrant personalities. Used as a tool to drive the characterization and their vastly differing opinions on societal roles, the women cling to their individualistic color palettes throughout the show. 
Mrs. Arbuthnot being a rather simple woman compared to her counterparts is shown most often in blacks and whites, reflecting her more reserved nature. Hester Worsley (Juliette Jones), a young, innocent, American girl, who has more depth than one might initially believe, is seen in lighter-toned dresses with detailed patterns.
Lady Caroline (Bretteney Beverly) and Lady Hunstanton (Rebecca M. Davis), a pair who value the wealthy life they have acquired, wear dresses that appear to be richer in elegance. In contrast, the comedic pairing of Lady Stutfield (Melanie Hampton) and Mrs.Allonby (Nikki Visel) are suited in outfits as bold and out-there as their loud personalities. 
One great joy of up-close and personal stage productions is getting to witness the attention to detail the cast puts forth. From the longing eyes of Hester Worsely just missing those of Gerald Arbuthnot's and the judgmental glances shared between Mrs. Allonby and Lady Stutfeild to the near-permanent, frightfully on-edge expression displayed by Sir John Pontefract (Tyler Campbell) regarding his ever-so-involved wife, the cast does an incredible job at allowing viewers to further understand their characters in even the quietest moments. 
Perhaps even more striking were the powerful monologues performed by Candace Vance, Aaron Lamb, Williams Eames and Juliette Jones. Tackling the more serious storylines, the group allows their emotions to take center stage as they gift the audience with passionate and vulnerable performances. 
The audience's gasps, constant laughter and cheers filled the air during the opening night of the Taproot Theatre's production of  "A Woman of No Importance." The show will sweep viewers away and take them into an amusing night of Victorian wit and scandal in this Oscar Wilde story that remains just as relevant today as it was in the 19th century.