Desserts become new sensation among students
New Gwinn Commons pastry chef twists fresh creativity into dessert options, bringing excitement back to dining hall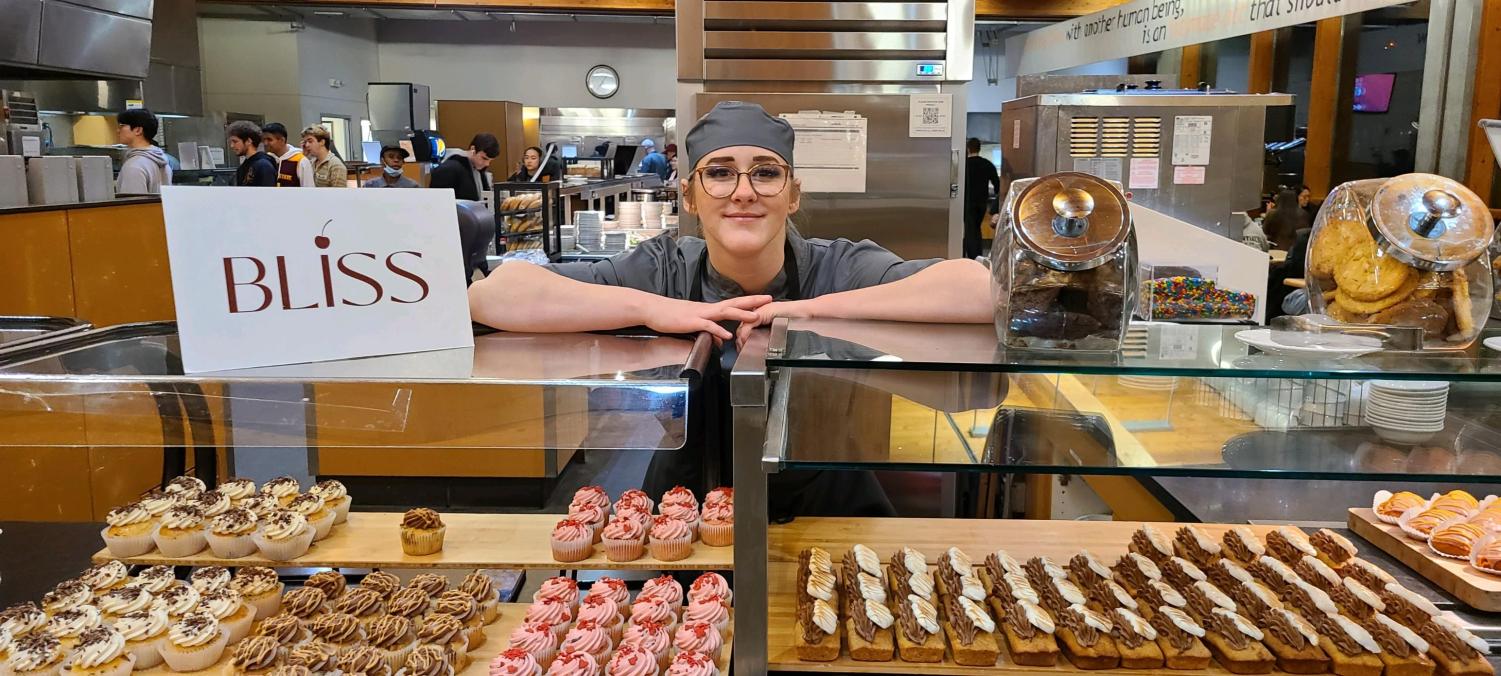 For members of the Seattle Pacific community, meal times largely translate into at least a few visits to the dining hall, Gwinn Commons. The dining hall provides students with anything from experimental pizza and grilled cheese to pastries and cupcakes. Gwinn Commons is a center of connection and company for many on campus.
Since the beginning of the winter quarter on Jan. 4, students have noticed an increase in quality and aesthetic in Gwinn's dessert department. Fresh fruit, frosted hearts and bright colors to match bright flavors have taken pastry menus and presentations by force. The woman behind this noticeably positive change is Gwinn's new pastry chef Ryely Eick. 
Eick can already feel the love and appreciation in the dining hall. Eick brings a joyful energy to the dining hall as she walks around in her classic chef's uniform and round glasses while adorning a ready smile. Before coming to SPU, Eick began her career in Denver, Colorado, where she focused on something entirely different from baking pasties. 
"I've run a few bakeries and before this; I was the pastry chef at Petit Pierre Bakery. I went to school for savory cooking, but in my course, they had a couple of baking classes. I ended up just going full into it," Eick said. 
In Denver, Eick was simultaneously the sous chef at a bakery and a line cook at a savory restaurant. From making croissants for the whole Rocky Mountain region while running a commissary kitchen to participating in an internship to make pasta by hand, Eick embraces variety in her talents and work.
"I'm always trying to find different things to stay up to date, keep all the skills honed and learn new things," Eick said.
Recently, however, Eick has felt the need to step back. Her current plan is to focus more on creativity and how she can maintain her mental health while in this new position. 
"Something people don't know about the culinary industry is that when you're running it, there are no days off. You're working 12-hour days, and I've been doing it for 12 years. I'm tired," Eick said. "I saw this listing and wanted to take a little bit of a step back, focus on a better approach and still be creative and fun."
Eick feels that taking this job also allows her to be creative with the small business she just started on the side providing quality, custom-baked goods to the Seattle area, called Ryes Baking Company. 
"My name is spelled like rye bread, so it was like rye and baking. It's cute," Eick said. 
Eick's name isn't the only cute thing about her career. She loves to make her desserts look as pretty as they taste, focusing specifically on the elevation of flavors. 
Third year physics major Esther Mutesi has noticed the extended variety. 
"We've had more options, more cupcakes," Mutesi said. "There was an Ube cupcake with coconut flakes on the top that was really good. It hit."
With plans for strawberry white chocolate cookies made with fresh fruit, s'mores cupcakes, key lime pastries and more delicious delights, Eick could not have come at a better time for the SPU community.
"As the desserts have gotten better, we've been running out quickly," Eick said. "I'm excited for the challenge." 
To keep up with Eick's creations and their small business, follow them on Instagram at @ryesbakingco