SPU men's basketball team gains over 100 wins under head coach Grant Leep
Men's basketball team currently sits at 13-5 for the 2022-23 season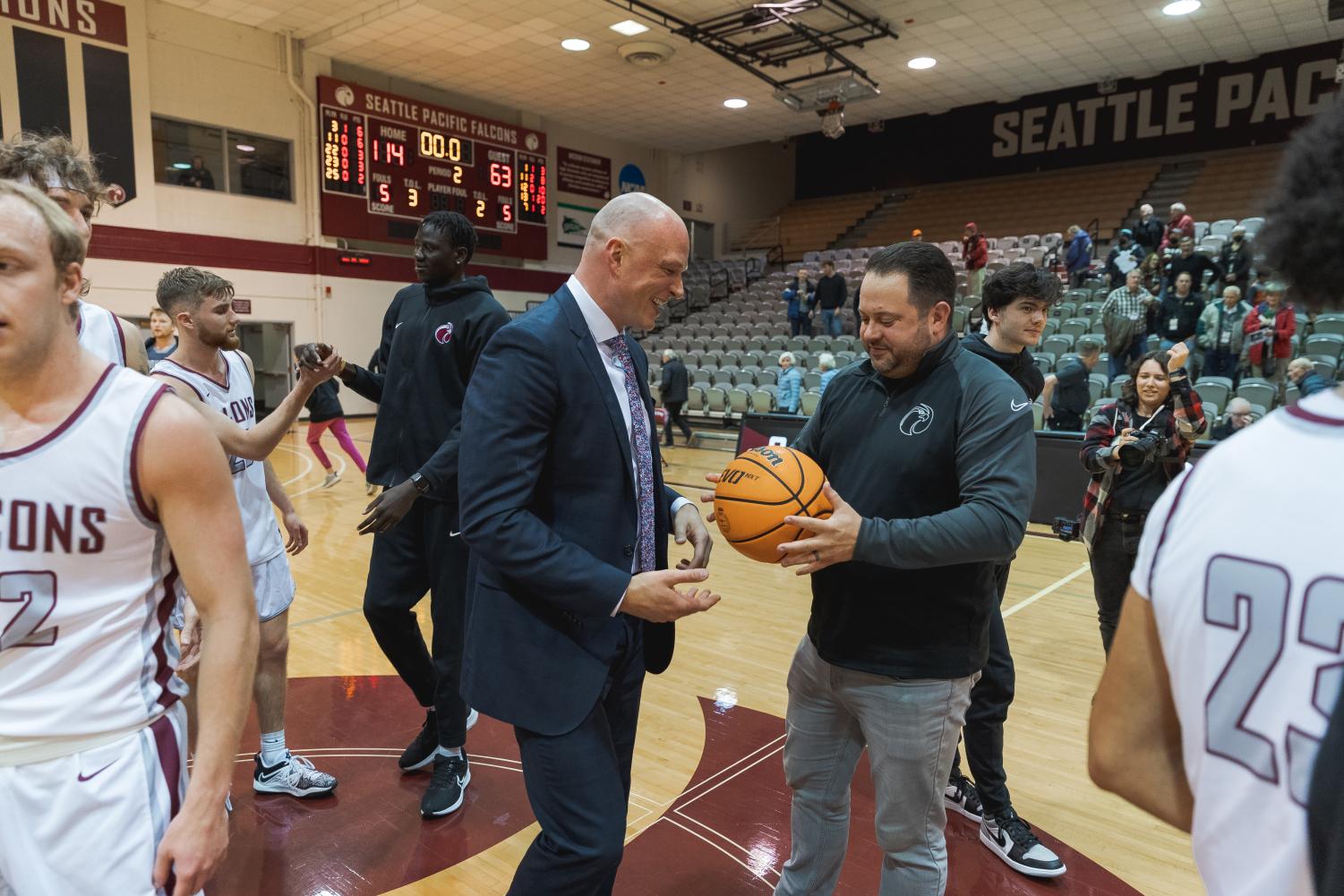 Grant Leep has been coaching at Seattle Pacific University since June 23, 2009. He first started off as an assistant coach before becoming the head coach on May 9, 2016. His coaching career began in 2002 right after he finished his senior year playing basketball for the University of Washington. He was with North Seattle Community College for the 2002-03 season. Leep then coached for two seasons at Spokane Community College followed by a two-year stint at Eastern Washington University before coming to SPU. 
The SPU men's basketball team under Coach Leep as head coach has grown stronger with every season. In Leep's first season as head coach, which was the 2016-17 season,  the team ended with a record of 12-16. In the 2017-18 season, Leep led the team to a record of 17-12 and a fourth-place finish in the Great Northwest Athletic Conference. 
In the 2018-19 season, Leep led the team to a strong 22-7 record and the GNAC title. In the 2019-20 season, the team also has a 22-7 record. In the pandemic-shortened season of 2020-21, the Falcons amassed a record of 10-3. They took a slight step back in the 2021-22 season, with a record of 14-13. So far, in the 2022-23 season, they have a record of 13-5 and currently lead in the GNAC standings with a conference record of 8-1. 
This season, on Nov. 26, Grant Leep gained his 100th win as head coach of the SPU's men's basketball team in a 97-71 win over Warner Pacific. 
Produced and edited by Ethan Erickson
"What 100 wins means to me is that I've been extremely blessed in my time as SPU's head coach to have great players and great coaches. That number of wins is special in the sense that it's a milestone number, but it doesn't happen without a lot of support and a lot of other people committed to accomplishing something together," Leep said. 
Leep is really excited about how his team is playing this year.
"We are a team that shares the ball well. We are a very good shooting team. We are currently 2nd in the country in team field goal percentage and 3rd in the country in team three-point percentage. Defensively we have been active and have gotten better as the season has gone on. We've been a solid rebounding team and have shown some good resiliency on that end of the floor," Leep said. 
While the Falcons currently lead the GNAC conference, Leep still thinks his team needs to improve in a few areas as they head into the end of their conference schedule.
"I'd like to see us continue to take some steps forward defensively primarily in transition and ball screens because those are things we have to guard in every game we play.  With the effort our team has been giving in practice every day, I am confident that we will continue to improve in those areas," Leep said.
The majority of Leep's 14-year coaching career has been with SPU; this is because Leep thinks the small Queen Anne campus is a special place. 
"SPU is distinct in large part because of the people that are here. There has always been a strong sense of community at SPU, and as the years have gone on, the support we have been getting from students has been great. We love when Royal Brougham is packed, and the support of the student body is behind us," Leep said. "I also love the support we get from faculty and staff. They have been as invested in the success of our student-athletes more than any other school I have coached at. They are willing to work with our players and help them be successful in the classroom. My hope is that the guys that have come through our program feel that love and support from their fellow students and faculty and staff."
Leep and the Falcons will look to continue their winning ways in 2023. Their next home game is on Feb. 2 at 7:30 p.m., in a matchup against the Western Washington Vikings.