Studio of learning
SPU's Research, Reading and Writing Studio fosters learning, academic growth for students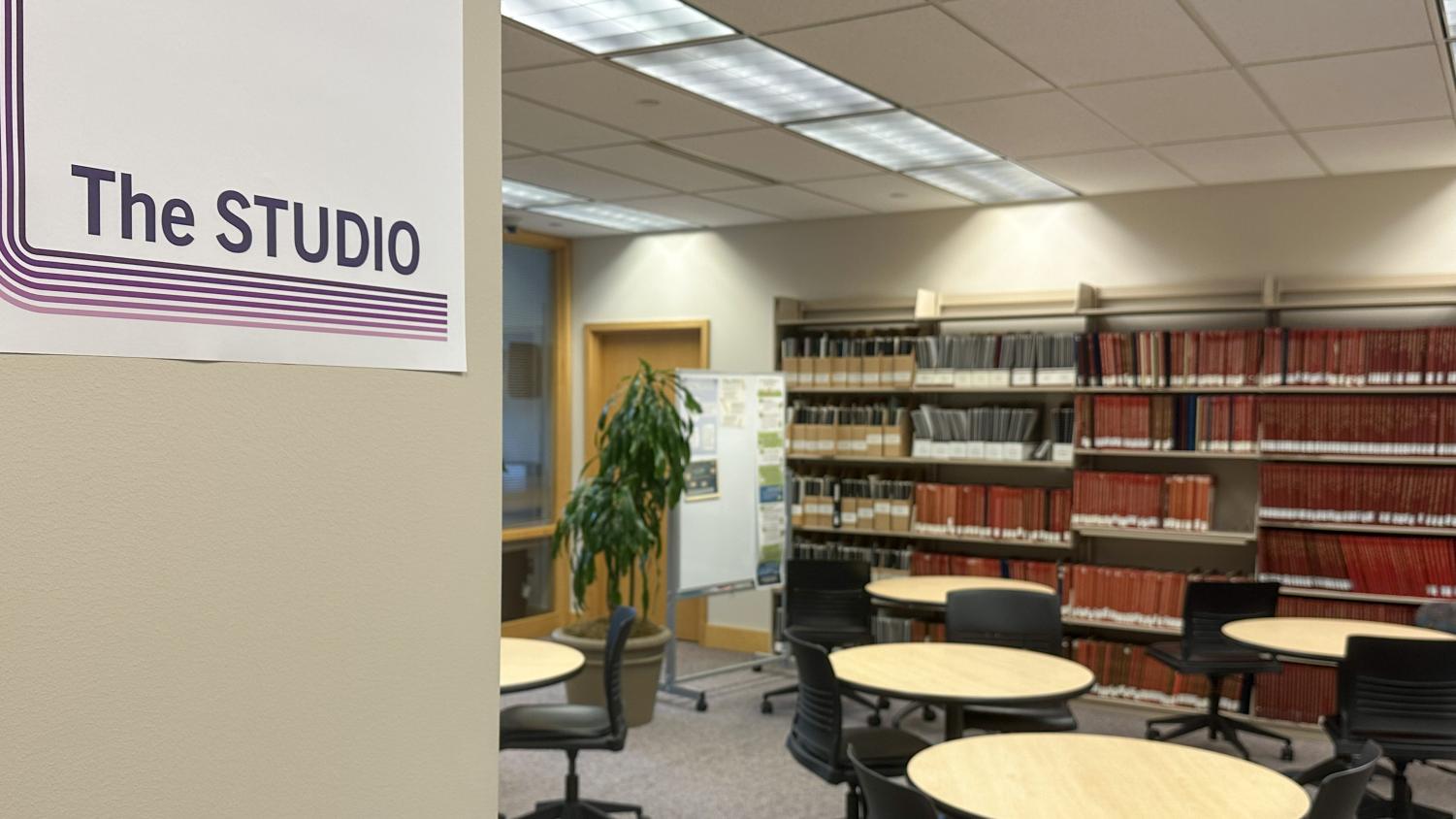 One of the greatest challenges that students may face at college is learning how to improve their writing. Just like many other academic skills, it is neither easy nor automatic for them to perfect their ability to write. Fortunately for students at Seattle Pacific University, there is a solution. 
The Research, Reading and Writing Studio is an on-campus resource located in the back of the main floor of the Ames Library. The studio is made up of librarians and tutors whose job is to offer tips, advice and solutions to students on their path to improve their abilities as writers as well as to improve their overall academic experience at SPU. 
In-person hours are from 11 a.m. to 3 p.m. each day of the school week, except Friday. The studio is only open on Fridays from 11 p.m. to 1 p.m. All student tutors and librarians also offer online tutoring hours on Zoom that are scheduled through the Penji app.

The studio and its employees are there for any type of project that may come up for students in their classes and can help them with all kinds of writing activities, including stories and other narratives
A fourth year criminal justice and biology student and tutor at the studio, Kellie Grover spoke about the studio's goals and the range of different projects that she sees students bring in. 
"I've helped students with anything from business papers to creative writing projects. People even come in for help with applications for scholarships, majors and grad school," Grover said. "A lot of students come in here with trouble starting their papers or having trouble citing sources. If you have trouble understanding what you are reading, we are also here to help with that. College reading can also be a skill you need help gaining." 
As as tutor, Grover has many different duties and has been given varying tasks from students to help them on their way to improving themselves academically. 
"I found a listing for this job on Handshake, thinking, 'I can do that.' I feel really blessed to have it because it is a job I really love doing and want to do more," Grover said. "I love the people I work with, and it is great to work with other students who come from other places that I might not come from. Bottom-line, the typical way to join is how I got involved. Students should apply to work here or come to learn because it is great." 
Liz Gruchala-Gilbert, a librarian who serves as one of the vital members of the studio also spoke to us about her work. She along with other members of the studio's board help run most of the essential aspects such as staffing, planning, improvement and taking care of the needs of the studio and students. 
Gruchala-Gilbert expressed that there are aspects of the studio that make it special and unique compared to an average tutoring program. 
"You don't just hand someone your paper and get it 'fixed.' You take ownership of your writing and work with an expert to shape your paper or project into what best meets your goals. You learn strategies and build agency around your writing as our staff members come alongside you, guiding you instead of just telling you what changes to make," Gruchala-Gilbert said. "We also give space for you to just hang out and work in a supportive environment. I love working one on one with students, hearing their stories and helping them reach their academic goals." 
Though the job is not always perfect, Grover told us that the high points of her position in the studio completely outweigh any negatives that come with the position. 
"Honestly, every time I get to interact with a student in person I think, 'Why do I enjoy that so much?' But it's true. I love the process of taking the same tool kit that I was given and helping other people develop," Grover said. "Learning about how to tutor and about what others are studying and about myself. I've learned about what I want to do, and I want to teach. I want to learn, write and teach."
The Research, Reading and Writing Studio serves as an important part of the learning experience for many students, including many of those who work there themselves. It is a place where students can identify what works in their writing, what can be improved and who they are both academically and on a deeper level. 
"We're social creatures by nature, and the studio helps students bounce ideas off of one another when they need a fresh pair of eyes. College is hard, and everyone comes in with different skill sets," Grover said. "It is normal to come in and think that you are way more confused than you thought you would be. There is no need to be alone. There are people who will and want to give you help."