Contenders in the making
SPU women's team sits in second place in GNAC conference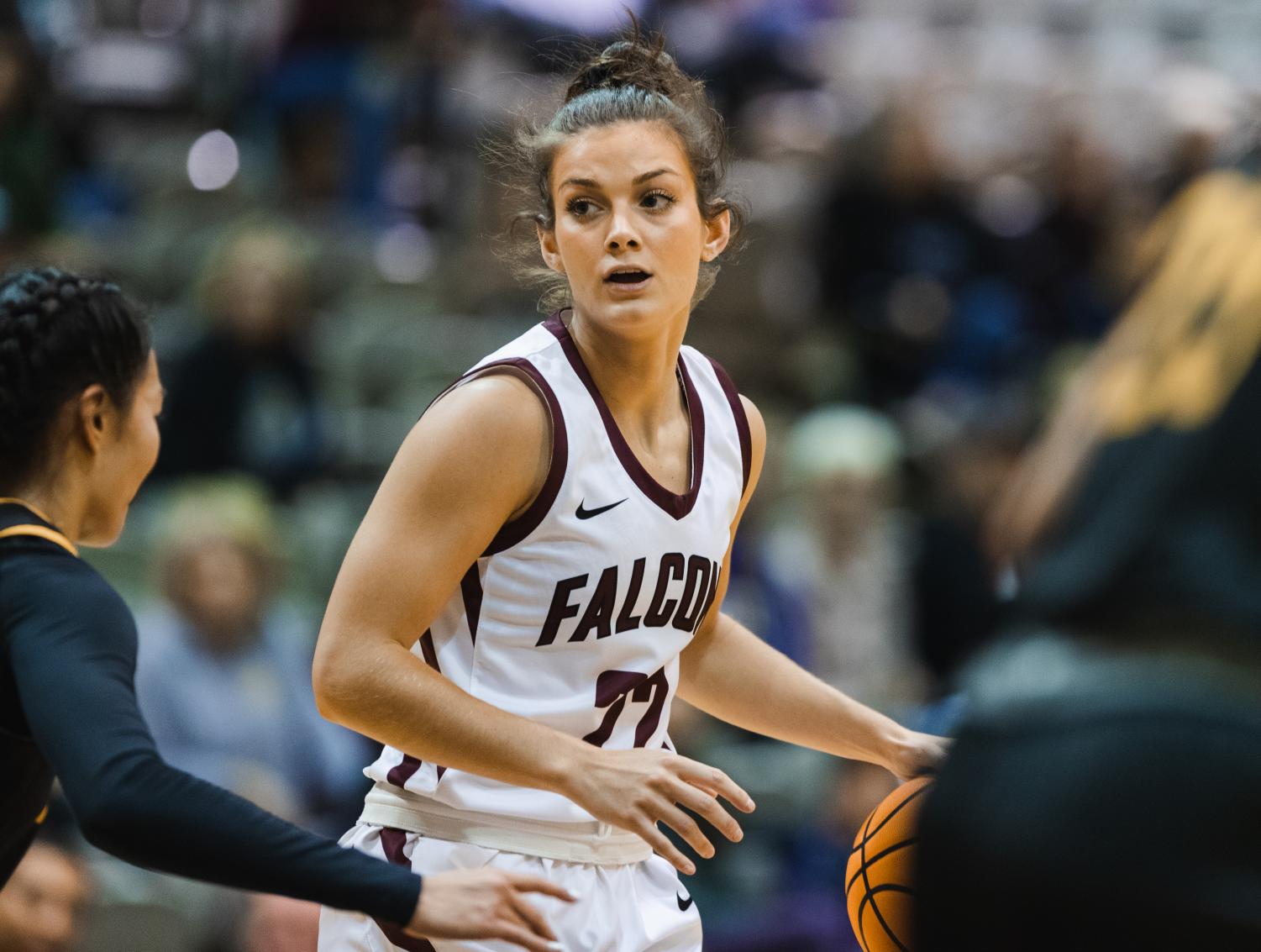 The 2022-23 season for the Seattle Pacific University's women's basketball team has been highly successful so far. The team's record stands at 10 wins and only four losses and 5-1 in the conference. All four of those losses have been close, with the largest margin of defeat being nine points.
Winter break is a crucial time for both basketball programs. It is a chance for the two teams to build comradery and chemistry. The women's team went 9-3 over the break, making a statement as a contender in the Great Northwest Athletic Conference, where they currently sit in second place behind Western Washington who sits at 11-1 overall and 5-0 in conference play.
The team opened the break by splitting a pair of contests at the Regis Thanksgiving Classic. SPU beat Regis University 66-63 on Nov. 25 before losing to Colorado School of Mines on Nov. 26, 65-54. Fifth-year guard Ashley Alter paced the scoring in both games, dropping 29 and 16 respectively.
The Falcons then embarked on their yearly Alaskan sojourn. They split a pair of contests in the northland, beating Fairbanks 65-60 on Dec. 1 before losing in Anchorage 62-54 on Dec. 3. Fifth-year forward Natalie Hoff led the way in Fairbanks with 16 points and 6 rebounds.
As the break continued, the Falcons began to put in work. They have won seven of their last eight games. The winning stretch began with a 65-44 win over Lincoln University on Dec. 8, senior center Schuyler Berry leading the way with 13 points and 5 rebounds.
The Falcons then went down to sunny California where they won 63-35 on Dec.12 in Marin County against Dominican University and 68-48 on Dec. 14 against Holy Names in Oakland. Alter once again led the way with 12 points and 11 points respectively, while redshirt sophomore guard Hunter Beirne helped her teammate, scoring 12 points on Dec.14.
After a tough one-point loss against Stanislaus State on Dec. 17; the Falcons got back to their winning ways just in time for the conference schedule to commence.
The Falcons finished their winter break schedule and the 2023 calendar year with a pair of home wins over conference rivals Northwest Nazarene (58-45) and Central Washington (70-63) on Dec. 29 and Dec. 31. Natalie Hoff and Ashley Alter both posted double-doubles against Northwest Nazarene with Hoff collecting 20 points and 12 rebounds and Alter collecting 17 points and 14 rebounds. Alter backed up her Dec. 29 performance by posting 31 points and nine rebounds on new years eve.
Alter's heroics led her to be honored with GNAC player of the week honors for the final week of the 2023 calendar year. Alter averaged a double-double with 24 points and 11.5 rebounds over the week.
As students returned to SPU's campus, the Falcons embarked on a successful two-game road trip as they played Western Oregon and Saint Martins on Jan. 5 and Jan. 7. The Falcons beat Western Oregon 70-61 and Saint Martins 52-50. Sophomore guard Anna Eddy paced the scoring in the first game of the road trip with 19, while Alter dropped 14 to pace the Falcons in game two.
The Falcons have been dominant, scoring a total of 879 points and allowing only 793 to opponents. The top three scorers for the women's basketball team are Ashley Alter, averaging 15.7 points per game; Natalie Hoff averaging 10.4; and Anna Eddy with 10.1.
Team player Chiara de Virgilio gives her honest thoughts on the basketball team, along with her place in it.
"I believe the team has been having a good season so far, and even though we still have aspects to work on, I know that day by day and game by game, we are improving as a team with the [vision] of [achieving] something important for the program this season. Individually, I am really comfortable in this new team, [but] with a lot of things to improve. But in general, I feel good about what I am giving to the team."
With the team's record sitting at 10-4, the Falcons are already two wins away from tying the number of wins they had last season when they went 12-18.
The Falcons will travel to Billings, MT for their next game on Jan. 14 before coming home for a crucial matchup against the first-place Western Washington Vikings on Jan. 19.