Declaration of sanity
SPU Theatre's production of "Mrs. Packard" tells story of inspirational woman fighting against unjust treatment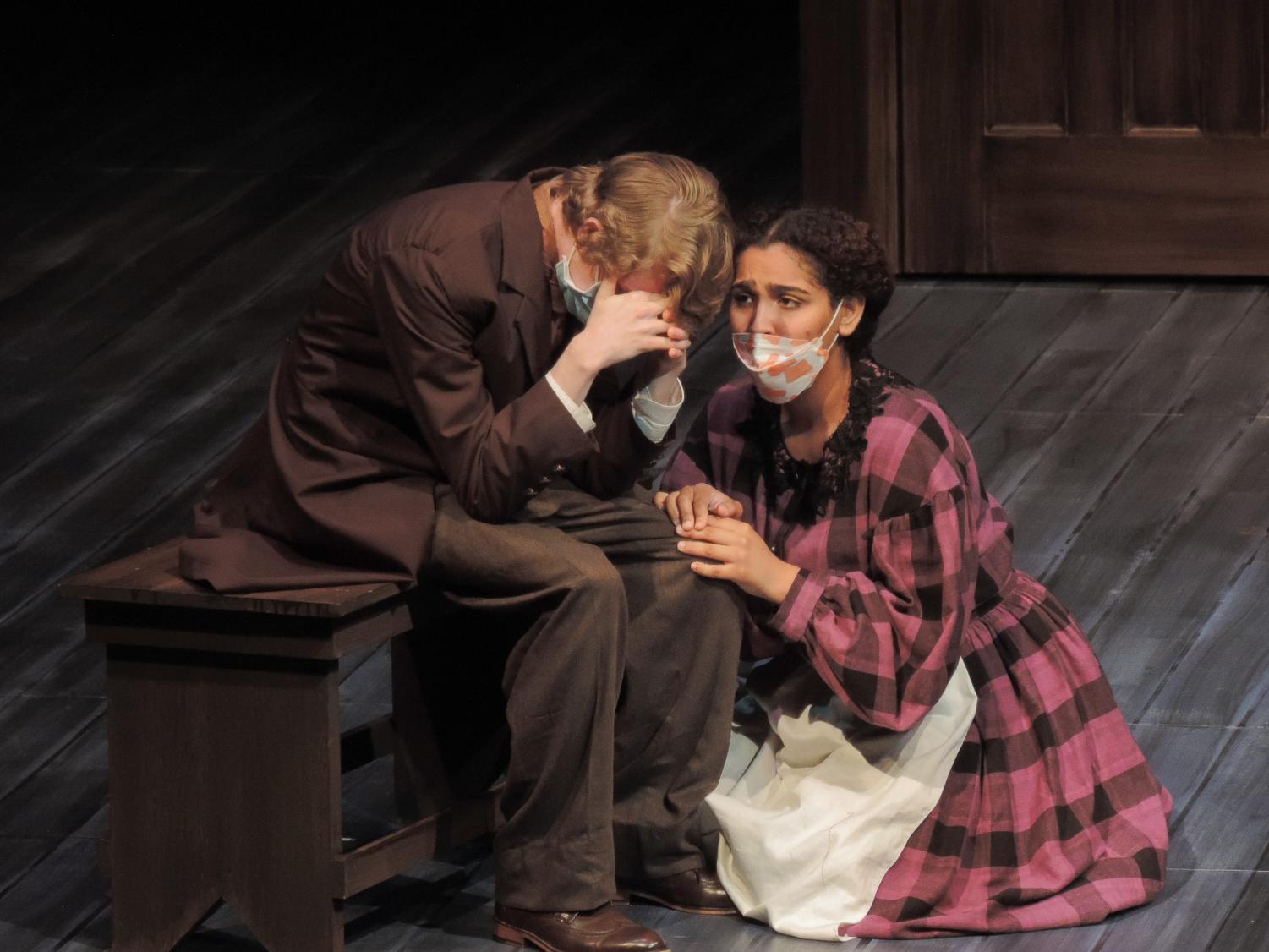 Insanity. That is the issue that the jury must consider. Is the woman before them insane for sharing a different religious opinion than her husband, or is she sane and rational? That decision will only come after analyzing and dissecting the witnesses' statements, evidence and a personal statement from the very woman on trial, Mrs. Elizabeth Packard. 
On Thursday, Nov. 3, the Seattle Pacific University Theatre Department opened its season with a play by Emily Mann, "Mrs. Packard," directed by SPU professor Dr. Andrew Ryder. The play depicts the heartbreaking story of Mrs. Packard, a historical woman from Illinois who fought to prove her sanity. She gained her freedom from the Jacksonville Asylum in the 1860s after being accused of insanity by her minister husband. 
Throughout her life, she fought for herself and for the release of other women, whose husbands wrongly accused them of being insane. 
The play produced emotional responses from viewers as they observed the torturous conditions women had to endure at the hands of the warden Mrs. Bonner (Emily Haan) and Dr. McFarland (Carson Wong) at Jacksonville Asylum. Much of the abuse happened offstage, but the screams of torture created the perfect mental image of what occurred. However, there were a few exceptions to this. 
One of the most difficult scenes to witness was Mrs. Bonner disciplining Mrs. Packard (Lia Harper) for her continued defiance against Dr. McFarland. The audience had to watch her forcefully dunk Mrs. Packard's head into the water for several seconds at a time. Each time Mrs. Bonner yanked her out of the water, Mrs. Packard cried desperately for air, it made those watching develop deep empathy for the mistreated main character. 
Despite the intense topics and themes of the shows, these scenes allowed the actors and actresses to showcase their acting abilities. Harper captured the fear, distress, anger and passion of Mrs. Packard's journey elegantly. From the very first scene of the show, where Mrs. Packard is admitted unwillingly into the asylum, the effort Harper put into understanding Mrs. Packard was evident. 
Harper, a third year theatre education major, also appeared as Lydia in SPU's performance of "Big Love" in the spring of 2022. For the role of Mrs. Packard, Harper took much time to prepare herself mentally to take on the character. 
"It has been fun but challenging to prepare for this performance because Mrs. Packard goes through a lot throughout the show. She's thrown into an asylum by her husband when she's not crazy, so the show's about her fight to get out," Harper said. "I have to portray this struggle which can be quite challenging emotionally for me, but it has been fun because it is so challenging. It's helping me grow as an actor and as a future educator of actors."
Harper also feels that the show holds relevance to modern societal issues and that Mrs. Packard is a symbol of strength for herself and others. 
"I think many women can relate to the idea of not having control over their autonomy, especially with the overturning of Roe v. Wade not so long ago. Not having autonomy over your body, your mental health and having someone else decide those things for you, I can relate to her with that," Harper said. "She's also a woman of faith, which empowers her throughout this whole time. I like to think that my spirituality guides me a lot when I'm struggling and helps me." 
Besides preparing for the show as an actor or actress, others are involved in ensuring the production's success, such as the costume department. Third year costume design major Hayley Philpot not only participated by playing Libby Packard and being in the ensemble, but she also worked in the costume shop. 
"I started working in the costume shop my first year, but, in my second year at SPU, I was in "Big Love" as Olympia with Lia. This was when I started getting into acting here. I started acting my second year because there weren't a lot of theatre capabilities because of COVID-19 during my first year," Philpot said. 
Although balancing the two responsibilities can be difficult, Philpot is dedicated to doing both during her time in SPU theatre. 
"I love both fashion and theatre too, so I wanted to find a way to mold both of my passions together, especially when I was applying to college and trying to find what I wanted my major to be. I couldn't give up on either," Philpot said. "Costume design was the perfect mixture of getting to tell a story about the characters and using clothes to inform the audience. It's been good being a stitcher and an actor, but it's a balancing act that can keep me very busy." 
In such an intense and emotional play, the performers must put their all into their scenes. However, all involved must learn to take care of themselves and remember to come back to reality after the show's closing. 
"All of us see each other almost every day, and most of us are theatre majors, so we see each other even more. But as characters, each of us has ways of checking in and out of a role. We have to keep relationships with the characters and the actors separate," Harper said. "If I didn't check out of the amount of emotional turmoil Elizabeth goes through, it'd be hard for me in my real life. I have to leave Mrs. Packard's character on the stage where it belongs."