OL Reign closes a successful season
Students get involved in Seattle soccer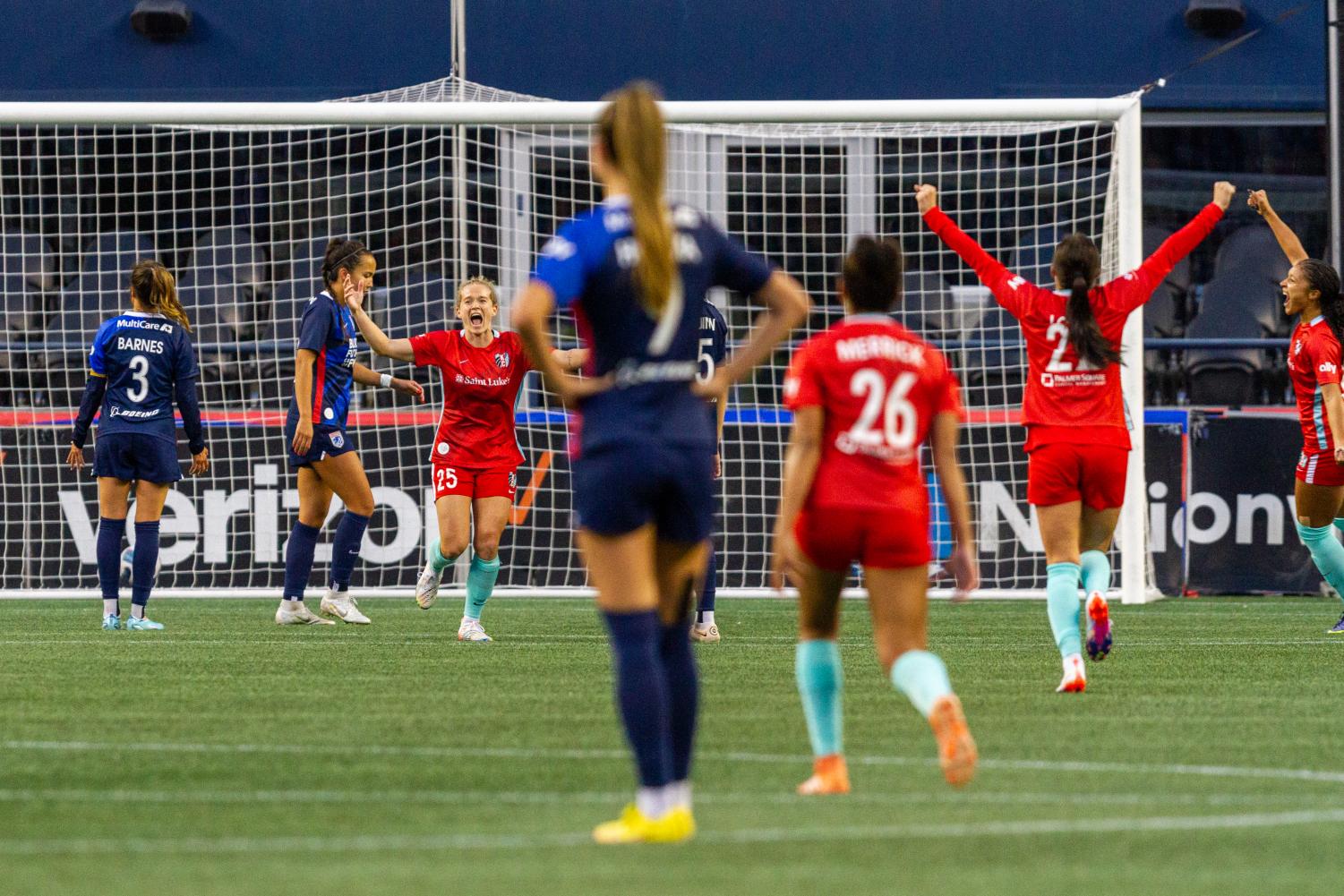 It's a brisk evening in late October, and a game record of 21,491 fans pack Lumen Field for OL Reign's National Women's Soccer League semifinals match. The OL Reign is an American women's professional soccer team based out of Seattle whose season thus far has been quite an accomplishment. Winning or drawing 27 out of 33 games this season, the team has had great success thus far. At the most recent match, an electric crowd was outfitted in an assortment of red, blues and whites, cheering while waving team flags and scarves in the air.
The high caliber of professional soccer is astonishing. The players predict the ball's motion and maneuver to secure possession before even most of the crowd can recognize what is happening. The team makes excellent and effective use of ball handling on their end, clearly displaying the skill and fitness they have.
The team has many talented players such as Alana Cook, Rose Lavelle, Sofia Huerta and Megan Rapinoe, all of whom have also played for the United States Women's National Team. Following a frustrating semi-finals loss this past week, the OL Reign head coach, Laura Harvey, reflected positively on the overall character of the group.
"We never give up, we have shown all season that we don't give up," Harvey said. "That is probably the biggest thing I am proud of and just the journey. The journey has been a really exciting one this year, it's just unfortunate that we couldn't get to the top promised land."
Even with a discouraging end to the season, the game attendance included several SPU students. Freshman political science major Nathaniel Gale is no novice to attending sports games. Originally from Florence, Montana, he has become a Pacific Northwest sports fanatic.
"It was really cool to see Megan Rapinoe because she's obviously very well-known and is a Seattle legend. Her and Sue Bird are like Seattle's power couple, and that was cool to see," Gale said. "Montana is not a place where you can even really watch soccer outside of high school or college if you're lucky, so it's definitely a whole new culture."
Freshman and criminology major Jose Ramirez also attended his first OL Reign game on Saturday.
"It was something I didn't know what to expect but was pretty fun, and the atmosphere was amazing. Seattle always has a great atmosphere at the soccer games and supporting their teams. The game was quite rough, especially in the first 13 minutes because we got scored on right away. Besides that, everyone kept a positive attitude until the second goal."
Both Gale and Ramirez agree that the teams in Seattle could use more support from their fans and community. While they do receive some, many of the classic mainstream sports such as football take much of the attention.
"I have been recently watching more of their games. and I feel like more people go watch men's teams like the Seahawks or Sounders, and the women's team never really gets that much support," Ramirez said.
With crowd attendance at an all-time high, players like OL Reign forward Megan Rapinoe have strong opinions about the spectators.
"It should be a crowd like that every single time we play, that's how I feel about it. I am disappointed it wasn't bigger, to be honest. The way that we play, the style that we play, how entertaining we are, to play the game the right way, to have entertaining players on and off the field, we really have it all," Rapinoe said. "It's really why this team, this club and this sport deserves to play."
Following the disappointing game, players like Rapinoe showed their appreciation for the fans and their support throughout the season.
"The atmosphere was great tonight, obviously we kept it a little quiet not getting on the board, but I feel like hopefully, this is a good stepping stone for the fans in Seattle," Rapinoe said. "That they realize what the team is all about, how successful we have been, how fun it has been to watch us play, to support us and help us try and win the championship next year."
The fans of OL Reign appeared to be deeply engaged throughout the game, encouraging the players and in conjunction cheering in response to plays. Fans like Gale recognize the welcoming and positive game experience at Lumen field.
"The OL Reign was the most family-friendly game, it was very inclusive in everything and that's pretty important," Gale said. "They represented good sportsmanship, that's something sports should be more focused on rather than creating divides."