Tragedy abroad sparks discussions at home
Students and faculty share thoughts post-panel about Iran
On Wednesday, Oct. 5, three Seattle Pacific University faculty members held a panel discussing Iran's morality police and the death of Masha Amini, a young Iranian woman. Panelists included Dr. Alissa Walter, Dr. Sara Shaban, and Dr. Miriam Adeney. They discussed current protests, women's rights and the current Iranian government. 
Dr. Alissa Walter, assistant professor of history and one of the panelists, shared how the panel came together.
"Dr. Shaban is an expert on feminism and Iran, and she wrote a really helpful resource guide for faculty and circulated it by email for those of us who wanted to get involved. And then it was actually Dean Bryan Lugioyo in the School of Theology who contacted both of us and said, 'This sounds like something we should all be talking about, and we have expertise on our campus. Let's get together a panel,'" Walter said.
First year linguistics and social justice major Erin Hallquist attended the panel and has previously interacted with many people of different faith backgrounds.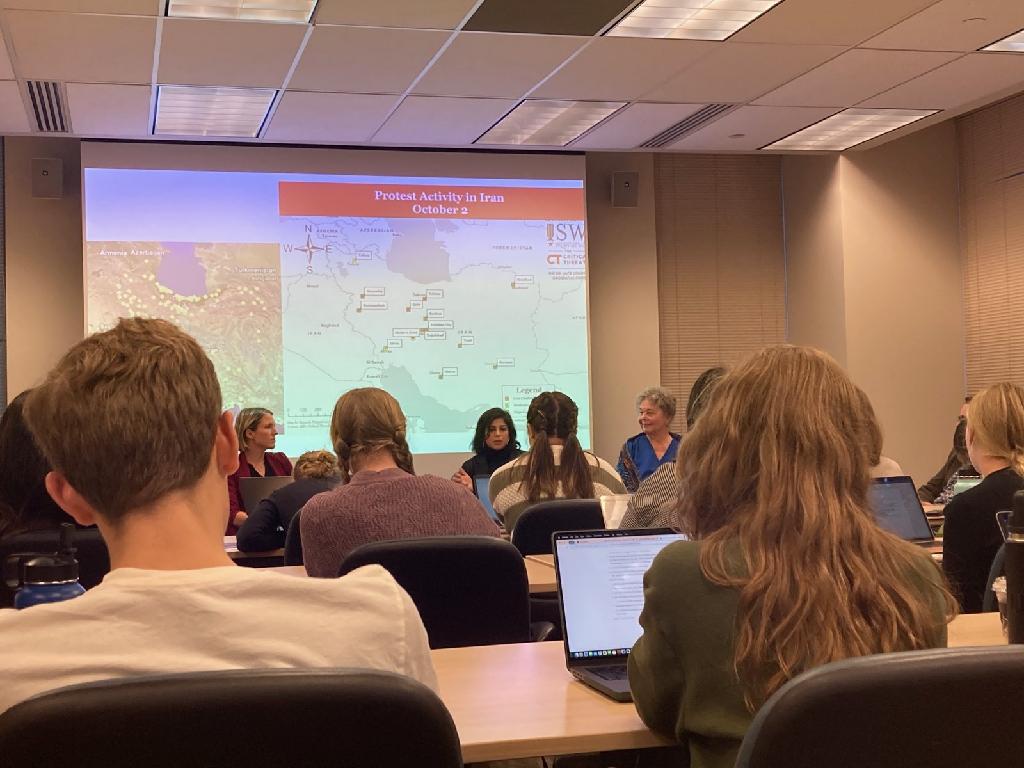 "I have many friends back home who are Muslim, I worked and I helped taught immigrants and refugees English on the east side of the state," Hallquist said. "I worked really closely with a lot of people who have a lot of different ethnicities and religions. And I also in doing that met a lot of really strong women who identify as Muslim and take great pride in their job."
For Hallquist, personal questions sparked a lot of the motivation to come.
"Coming to this was really important to me," Hallquist said. "I had been struggling with the question of how do we respect one's culture while also still realizing and reconciling that this was a tragedy and that something needs to change."
Some students on campus including Firdaus Yassen, second year psychology major, were not aware of the protests happening in Iran.
"I don't know anything about it," Yassen said. "[But] I don't think killing someone over that is the right way to go about things."
The panel's topics and structure were well received by students, including Hallquist, and was well attended.
"I really appreciated how they mentioned two main things: how you don't have to agree with every single motion made in protests. Also that the regime really polarized what the hijab means now and kind of took it away from its original meaning," Hallquist said.
Walter is excited and hopeful for increasing discussions around campus about current events.
"We haven't had the chance to have as many kinds of panels like this since COVID," Walter said. "We were blown away by student interest and also how knowledgeable students already were on the topic. I was just really impressed with how many students have been following these protests and came with really good questions. It was a packed room. So it was great, and I think it got us really excited to think about, 'what other current events should we be talking about?'"
For some Muslim students on campus such as Yassen, disagreement was found surrounding consequences regarding religion.
"Well, it's wrong to kill in my religion, and you're never supposed to kill anyone over anything," Yassen said. "As a Muslim girl you're supposed to wear a headscarf after hitting puberty, and if you follow that religion, just like any other religion, you follow the religion, you do what's asked of you in the religion. But it doesn't say to kill anybody or anything over not doing what you're supposed to do."
Hallquist hopes for increased conversations around campus about political protests.
"I want to talk about it more now. Especially with governments and people in power, taking something with a meaning and then shifting it so it means something completely different, like the hijab or Black Lives Matter or anything, so we want to do something with that," Hallquist said.
Throughout the panel, student involvement in current events were shared. Additionally, some faculty such as Walter see increased student interest in the ongoing protests.
"I think some of the best advice has to do with following Iranian journalists and Iranian activists to hear from them, their analysis of what's going on and the information that they're providing about what's going on," Walter said. "I think students are interested in following these protests and in supporting Iranian women in these protests for a lot of reasons. I think it's the protesters' fight for women's right to bodily autonomy that resonates with a lot of people, in addition to the way that the protesters in more general terms are fighting against an oppressive political system."