A giant chip on the shoulder
SPU men's XC looks to rebuild with new young core
Last place in the Great Northwest Athletic Conference. That is where the Seattle Pacific University men's cross-country team finished in 2021. There are no further superlatives needed. Last year was tough, and head distance coach Chris Reed understands his men's program needs to show improvement in the 2022 season.
"First and foremost, we got to beat some teams, so if we are able to do that, it will elevate our program to the next level because there will be a lot more self-belief going forward," Reed said.
The team faced its fair share of adversity during the season. The Falcons only had six healthy competitors at the conference meet, and many of the key members of that team were young and inexperienced.
"We had some pretty top-notch guys transfer away, and that really hurt us, and we had some guys who did the best they could, but they were called into action earlier in their career than they maybe would of initially scripted out," Reed said. "So it was a learning year for them, and the best thing about the men's side is that we have a lot of returners, and we have seen a lot of improvement out of them."
The men's team has competed in three meets so far. They took second out of four teams at the Puget Sound Invitational on Sept. 3, took fourth out of five teams at the Central Washington XC Invite on Sept. 10 and finished 10th out of 17 teams at the Charles Bowles Invitational on Oct.1.  Early season invitationals are important for building confidence and team chemistry, but in cross-country, championships are decided at championship meets, with no favorability given to early-season results. The SPU men are focused on one goal and one meet in particular.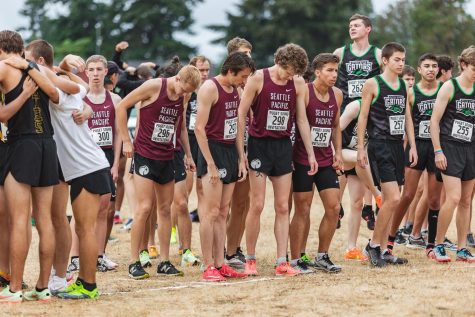 "When we went to our preseason camp, we had a round table, and we put on the table that we want to get top five or better at conference," second-year Ben Sheirbon said. "We are pretty committed to it."
Sheirbon is one of five returners from the 2021 squad on a team of 12 in 2022. The team has been overhauled and rebuilt, and Sheirbon is excited about the program's direction.
"I see two big differences. The first one is merely a numbers game. Last year we raced six guys at conference; we got twelve on the roster this year. That is more guys to train with; that's more guys to race," Sheirbon said. "The other difference I see is more hunger. This year I see a lot more fire, a lot more dedicated goals. We just want it more this year, I think."
This is exactly what a coach wants to hear. Despite coming off a last-place performance last year, Reed is extremely excited about the talent he has on this team. He sees potential in many team members and believes these men can change the narrative around this program.
"The men are an exciting group. I have been really quite optimistic about the men this year, especially upon working with them. I think earlier in the year there is some uncertainty, coming off the last-place finish, you are not certain what is going to happen," Reed said. "These first couple weeks, I have been really impressed with their work rate."
One of the athletes Reed is most excited about is Drew Thompson. A transfer to SPU, Thompson has been training well all summer. He started his season off strong at the Puget Sound Invitational with a 15-minute, 47-second 5,000-meter race, placing him third best at the meet and first on the team. He followed that up by finishing 27th at the Central Washington Invite a week later.
Thompson has ambitious goals for his team and himself individually.
"We are really just trying to grind it out this season and finish well. Even the freshmen coming in, we explained it to them, and they understand the situation and want to see the program in a different spot as well," Thompson said. "I would love to go out there and be one of our top guys at conference and regionals and maybe give ourselves a shot of getting a couple individuals at nationals."
SPU will host Pre-nationals on Oct. 22 at Chambers Bay in University Place, Washington. They will host the Division II National Championships at the same location on Dec. 2.