Break a leg, get on stage
SPU theatre performer explains who can join productions, how to get involved
Curtains up! Nothing beats the excitement and nerves of opening night, but before the curtains rise, more work needs to be done. Many of the actors and actresses involved in Seattle Pacific University theatre have additional classes to take, sets to make and auditions to prepare for. After all other obligations are complete, the countdown to opening night can begin!
Besides needing actors, shows need props, costumes and plenty of direction, completing these tasks requires lots of people and hours of dedication.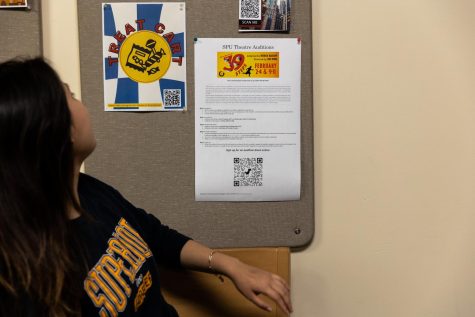 Sophomore business administration major Myka Mateeff shared what it is like to do theatre at SPU and what it takes to put on a big show in time for opening night.
"Last year I was an actor in a show called 'Big Love.' This year I'm in the class Production Practicum, which is where you learn stagecraft and get everything ready for the show," Mateeff said. "I'm also in the props department where I work alongside my prop master Maddie Lang Bell. We choose props from our storage and either utilize them just for rehearsals or the actual shows." 
During rehearsals, at least three hours are spent practicing scenes each night during the week, which is a lot of work on top of the hours spent during the day going to classes. Due to the long-time commitment of acting, Mateef is trying to focus solely on prop work. 
"Earlier this week, we went to the prop storage by Otto-Miller Hall, and I pulled out props that they needed for rehearsals. I was also looking for a period-specific chair off of sites like Facebook Marketplace because it was a very specific chair our scenic director wanted. Since we have a small budget, we have to look very hard for the specific chair that the scenic director likes as well as one that works with our budget," Mateeff said. 
In any theatre department, there is going to be a budget, so it is up to the people in charge to decide what items are more crucial to the depiction of the scene and what items they can reuse, especially within the costume department. 
"I'm not in the costume department, but my friend is the lead stitcher who works alongside Erica Manzano. She is the lead designer for the show 'Mrs. Packard,' and she comes up with costume concepts, and the costume department brings her pieces that fit her vision of the period in which the play takes place," Mateeff said. "It usually takes a while to get everything together. For 'Big Love,' I don't think I had a costume until a few weeks before we opened, but it all came together in the end."
Every aspect of a large theatre production like this requires time, teamwork and lots of communication. It also requires extreme patience, especially during the audition process. Besides the audition requirements, the two types of productions, musicals or plays, are produced in relatively similar fashions, including the exciting yet nerve-wracking aspect of callbacks.
"The audition process depends on the show and the director. You usually audition with two monologues, one main and one backup, although some directors want two contrasting monologues within two minutes, which they will need to memorize. We only do musicals every other year. The next musical will be the 2023-2024 season. Usually, you'll audition with a song, and then it'll be the same process as the play," Mateeff said. 
During the 2022-2023 school year,  SPU Theatre will be putting on a wide range of shows that include plotlines from significant moments in history and introduce heavy and emotional topics. 
"We usually do four productions a year. This year the lineup is 'Mrs. Packard,' '39 Steps' and a play centered around student-directed one-acts called 'Queer Stories.' This particular performance involves student directors and alumni from last year who have come back to write queer stories for all queer actors in our department to perform. To end the year, we will have a show called 'Everybody,'" Mateeff said. 
If one is interested in joining theatre, they do not have to be a theatre major or minor. They just have to audition–all are welcome! There are many ways to get involved in the theatre department at SPU. Actors are not the only ones needed. If you are interested in costume creation or helping with sets or props, there is a place for you!
"When I auditioned for my show, I wasn't a theatre major or minor yet. You're more likely to get cast if you're yourself throughout the entire audition process and if you're genuine and very passionate about what you do," Mateeff said.  It doesn't matter if you're nervous because the directors expect that. Try to be yourself and don't put on a persona because your professors will see through that."