"BLENDER" of emotions
Five Seconds of Summer's new album illustrates everchanging emotional stages of intimate relationships, allowing feelings to be present
From humble beginnings in New South Wales, Australia, posting musical covers of songs like "Teenage Dirtbag" by Wheatus on YouTube, to opening for bands such as One Direction on their Take Me Home Tour in 2013, the pop rock band 5 Seconds of Summer has grown tremendously in fame and recognition around the globe. 
As of Sept. 23, 2022, the four men in the band, Luke Hemmings, Michael Clifford, Ashton Irwin and Calum Hood, have released five official albums and headlined three world tours. Their most recent album is "5SOS5," with 19 songs on the tracklist, and focuses on the highs and lows of being in a relationship and experiencing overwhelming emotions. 
Sometimes, songs about loving another person can feel overused or ingenuine. Still, the tracks on this album do not shy away from pointing out the imperfections that can occur in a relationship, especially one that appears to be perfect on the outside.
In the premier song of the album, "COMPLETE MESS," a toxic relationship appears to be forming where one of the people involved is aware that their partner makes them "a complete mess," but they are too "caught up in heaven" and cannot see the unhealthy tendencies of the relationship. 
The second song, "Easy For You to Say," is a direct continuation of the story from the first track. While engaging in this relationship, they are afraid of trying to find "a piece of peace of mind" because they may lose what they have together but are tired of being the only one to blame for fights and arguments.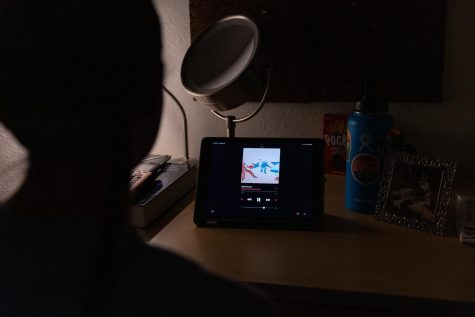 This storyline continues throughout the next two songs, "Bad Omens" and "Me Myself & I." The first song highlights the partner as someone who has cheated and desires to leave the story's main character despite hearing pleas from them to stay and love them. "Me Myself & I" serves as the final act of the unfortunate story as it articulates the person breaking away from this romantic partner, even though it is hard for them and they blame themselves for the downfall of the relationship. 
These four songs offer an avenue of expression for fans who have experienced this kind of "love" in their lives and are still trying to heal from the experience. It also shows those who have not been in an unhealthy relationship how difficult and mentally taxing it can be to leave someone who treats them badly but with whom they have an emotional tie or bond. 
However, unlike most albums that either focus solely on heartbreak or the wrongdoings of another person, 5 Seconds of Summer also creates a beautiful, ideal image of what true love should look like. 
The seventh track, "Older," is one of the highlights of the album because it features Hemmings' fiance, Sierra Deaton. The song is a back-and-forth ballad between Sierra and Luke as they sing about wanting to freeze time and stop themselves from getting older to enjoy the time they have together. 
The song deviates from the upbeat tones that most 5 Seconds of Summer fans may be used to and instead introduces a calming lullaby of piano keys and soft, breathy singing from both artists. Using Sierra's history of singing from her days in the duo Alex and Sierra and her real relationship with Hemmings to their advantage was key to making the song impactful and memorable. 
One thing many of 5 Seconds of Summer's previous albums such as "Youngblood" and "Calm" lacked was a diversity of voices on the tracklist. Since the creation of these albums and the band's new era that began in 2018 with the release of "Youngblood," Hemmings has been the main voice of the band with the others singing backup and playing guitar, bass and drums. 
Despite Hemmings' promotion to lead singer in the band's most recent albums, "5SOS5" allowed fans to hear a new lead vocal focus. This was the first time a voice other than Hemmings has been heard since Hood's vocals in the song "Wildflower" in 2020. In the song "Emotions," Clifford had his first opportunity to step into the spotlight since "Jet Black Heart" from their album "Sounds Good, Feels Good" in 2015. 
This song features Clifford as the primary singer throughout the entirety of the song and gives off a very similar feeling of being "broken" to that of "Jet Black Heart." For those who are diehard fans of that song, "Emotions" can act almost as a sequel. It shows the emotionally closed-off person coming to terms with their emotions and letting them out instead of keeping them deep inside their heart. 
Another song that pertains to one's emotional state is "BLENDER,"  but rather than relating it to just personal feelings, this song brings the tracklist back full circle to relationships. The theme of toxicity reappears and "it never ends." The only thing left for them to do is to keep "going around in an emotional blender." 
The album as a whole is an extremely impactful allegory of how powerful and intense emotions can affect an intimate relationship and connections with one's self either negatively or positively. "5SOS5" can show listeners just how crucial it is for someone to recognize when things have gone too far in the wrong direction and when one needs to step back to focus on themselves, even if love is lost.