Making the goal
Falcons' soccer finds its start
The Seattle Pacific University Falcons' Men's Soccer team began their in-conference play on
Sept. 22. Their current record is 2-3-4, after a slow start in their early season, nonconference schedule. The GNAC schedule began on Sept. 22 and SPU has started strong with a record of 1-0-1 through two contests so far.
"A lot of people are definitely doubting our ability," said junior defender Aiden Thrall. "But
our belief in our ability to play does not waiver."
It may not have been an ideal start to their season, but the Falcons are confident that
they can hold onto and keep the momentum from their strong start to conference play.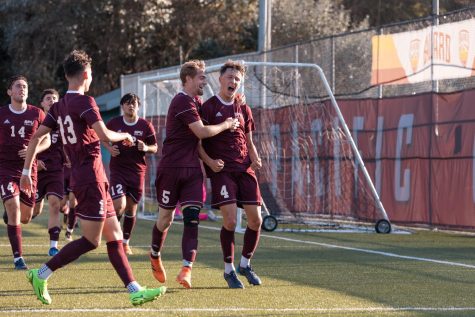 "It's been a slow and sort of rough start for us. We're trying to do a better job, [but] the spirit of the guys is fantastic," said SPU head coach Kevin Sakuda.
Although no team is without its flaws, coach Sakuda and his players are confident they can
overcome any challenges in their upcoming in-conference games. Sakuda says the team's greatest issue thus far is scoring goals.
"In the beginning, we kind of gave some goals away, and then we were kind of chasing the game a little bit, so we want to obviously clean some things up … create some chances [and] control the PK."
Redshirt freshman striker Luis Zazueta was adamant about the team's goal to reach a national championship.
"I always say to dream big or don't dream at all because the ultimate goal is gonna be here at Interbay on December 3 to win a national championship," Zazueta said.
While confident in his team's ability, Zazueta knows the team needs to sharpen up and take the games one moment at a time.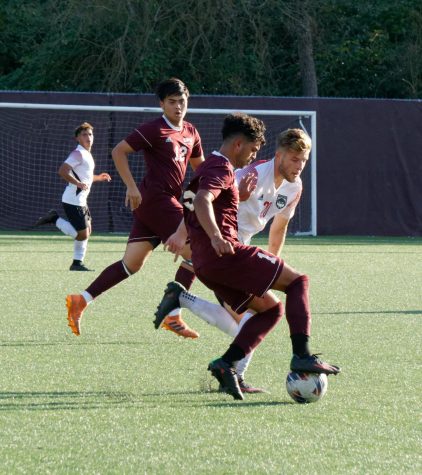 "You're only as good as your last game. Next game, we just gotta do it again … bring the
energy and momentum into the GNAC games," Zazueta said after SPU's 5-1 victory over Concordia University Irvine.
Senior Lars Helleren, the team's goalkeeper, believes in his teammates' talent, despite the slow start to the season.
"It wasn't just one guy doing everything, we have a lot of depth everywhere … That's our strength," Helleren said.
Beyond support and belief, what makes a team great is the talent they have on hand. Helleren, Zazueta and Thrall believe as strongly as their coach in the natural and raw talent of their new roster.
"The record we're at, I don't think it's reflective of how we're playing. The guys work hard and invest in what we're doing. I believe in these guys, and I know we have the talent," Sakuda said.
The team has thus far made good on their promise of holding onto the momentum from their first win as they defeated Western Oregon University 2-1 in their first in-conference game on Sept. 22nd. Their second in-conference game against Montana State University Billings on Sept. 24th did, however, end in a tie.
The Falcons' next game is on Sept. 29th against Simon Fraser University, in Burnaby, British Columbia.