Reloaded and ready to run
SPU women's cross country ready to rebound from tough 2021
The Seattle Pacific University women's cross country team is one of the most unheralded yet most accomplished squads the Falcon athletic department has to offer. The team has made the NCAA Division II National Meet six times since 2007. From 2007-2019, the team qualified for the NCAA Western Regional Meet every year. Then COVID came along, and, with it came a whole host of challenges for the SPU program.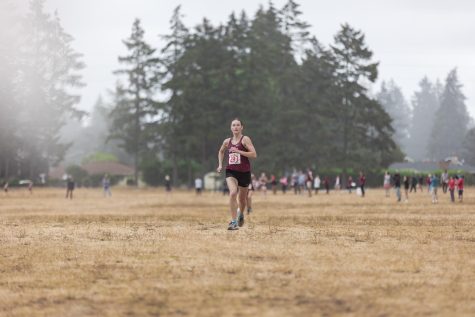 The mix of pandemic setbacks and injuries contributed to a disappointing 2021. The Falcons missed the western regionals for the first time in over a decade and finished fifth in the GNAC, their worst finish since 2015. Despite the tough result, SPU head distance coach Chris Reed was still really proud of his team.
"For the women last year, the biggest issue we had was our lack of depth, and we knew that would be a challenge if anyone had any setbacks, and, unfortunately, we had a couple key members of the team have injury setbacks," Reed said. "We had people with no cross country experience running at championship meets. For us to have gotten fifth with only four distance runners at conference meet was actually kind of an accomplishment."
It is not an exaggeration to say that the Falcons were utterly decimated by injuries last year. The team started with eight women on the roster. By the end of the year, they needed to call on a natural sprinter in Johanna Brown, with no high school cross country experience, to run at league championships just so they would have five runners, the bare minimum to score as a team.
The 2021 season was not without its bright spots, though. Those bright spots should give Falcons fans hope of a return to success in 2022. Sophomore Annika Esvelt finished 22nd at NCAA Western Regionals in only her first year of college cross country. She said she used the offseason to get even better and build more endurance. She is also excited about how the team has started this year.
"I listened to my coach, ran a lot of miles, and just tried to do longer workouts, a lot of tempo stuff to try and increase my durability over long distances," Esvelt said. "We are starting out with less injuries and more people, so that is already off to a better foot, and that is just going to continue on through the rest of the season."
Magical seasons in sports usually start with magical moments. The Falcons got their magical start to the 2022 season when redshirt sophomore Libby Michael won the Puget Sound Invitational in Lakewood, Washington, on Sept. 3. Winning any race individually is special, but especially for Michael, who, despite being in the program since 2019, had not run an official cross country race in college until lining up at Lakewood this season after a slew of injuries almost derailed her college running career.
"I was really excited just to be able to race again, regardless of the place, so that [win] was just an added bonus, to be honest," Michael said. "Our team was a perfect score, so that's good confidence. I think just having the early season meets go well builds confidence as well."
Coach Reed is excited about finally seeing Michael healthy and running to her potential, and he believes she will be a big part of the team's success in 2022.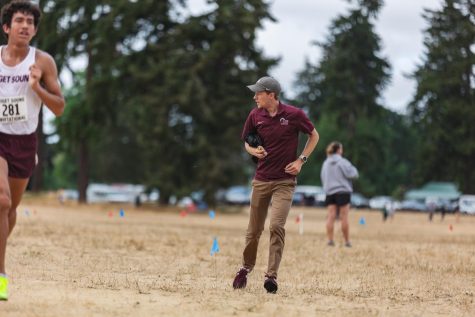 "Libby for sure has been a big lift for us, and there is a lot of moments in her career where I think she was questioning if she should continue just with injury after injury. For her to stick with it is really pretty tremendous," Reed said. "We've always known about her talent, and so it was just a matter of getting her talent on the starting line with healthy legs. She's been a great leader for us so far."
With renewed health and almost a full relaxation of COVID protocols, there is a new sense of team for the SPU women's squad. Cross country, after all, is a team sport played out in the arena of individual performances. The Falcons will need more than two elite runners to return to where they want to be.
"I think with COVID, running became so much more individualized during those years because you weren't competing or living with a team or interacting with a team," sophomore Nicki Yorges said. "This group we are focusing a lot more on the working together, the becoming a family, being communicative, being supportive and all of those things first and then letting the run and the results follow that example."
Reed is hoping that this renewed sense of team mixed with added talent and depth will help the Falcons pursue their ultimate goal of running at the 2022 NCAA Division II National Meet, which is being hosted by SPU and the city of Seattle this season.
"The expectation is that we can go out there and put ourselves into being one of the relevant teams in the conference and then hopefully go to the regional meet, and, whether it's a national bid or flirting with a national bid, that would be a great goal for us," Reed said. "Hosting the NCCA Championship this year, we want to be in the mix at the regional championship for a shot; we just want a shot."
The women on the team running the meets have one slogan they believe embodies the renewed sense of optimism in the women's cross country program: "Fun, flirty, fresh."