Love, diligence and joy
SPU women's volleyball transitioning under new head coach
The 2021 season was the best season on the volleyball court for SPU since 2011, the last time the Falcons made the NCAA tournament. It took head coach Abbie Wright five years to build the program into a true national threat, and in 2021 the team became just that. The Falcons went 15-10, finished fourth in the GNAC, and beat four NCAA tournament teams.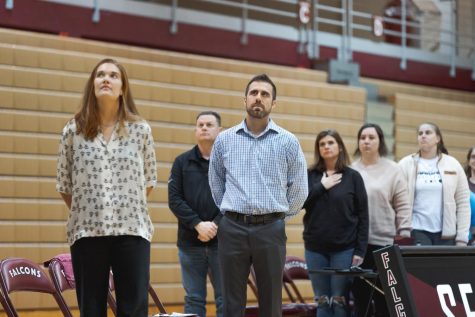 Then, coach Wright resigned. She decided to move back to her native state of California and become the associate head coach for Fresno Pacific University.
"Last year, we had a lot of grit, we really did want to be successful, and I think we really do this year," junior outside hitter Allison Wilks said. "I think last year we had some really experienced players who had been playing a long time and were able to help us be successful, and I think this year we do too; we just have to find our groove a little bit."
The experienced players Wilks is referencing are Maddie Batiste and Erin Gould, both of whom graduated after playing huge roles in the program.
Enter Jason Rhine, the new head coach of SPU women's volleyball. Coach Rhine comes to SPU after six years as an associate head coach at Colorado Christian University. Rhine has some big shoes to fill, but he has an ambitious and holistic long-term vision for the program.
"Our vision is to create a culture that is characterized by love, diligence, and joy … within that, seeing the athletes grow in character and on the court. Those are things that are most important to me," Rhine said. "Obviously, we have volleyball goals as well, and we hope to continue to be successful and work our way into the national tournament; it's been a while since SPU volleyball has been there."
Rhine's time at SPU has gotten off to a bit of a rocky start. The team is 3-9, has been shut out five times, and lost three of their first four GNAC contests. While Rhine is aware that there are things the team needs to improve, he is also hopeful that as the schedule gets easier, more wins will follow. SPU has played five teams ranked in the top 25 of the AVCA Division II Coaches Poll as of Sept. 12, including four teams in the top 10.
"We learned a lot; we ended up playing teams, four of them right now ended up in the top 10 of the current rankings this week," Rhine said. "We got to see a lot of good teams play a lot of different styles of volleyball and see some things that are similar to what we are trying to do and see some examples of how they are doing that well and how we are also doing it well against high-level competition."
SPU has yet to play a home game this year, and Rhine believes that as the GNAC schedule begins to ramp up and his players start to get back into a routine schedule, things will start to go their way.
"We are hopeful that playing some games at home, playing some different opponents and maybe getting on a more normal schedule of practicing each week, playing Thursday, Saturday will help us to prepare well for each game," Rhine said. "I think that is a strength we have seen; when we prepare well for an opponent, we tend to do a little bit better, and those first couple weekends, we were playing four opponents in two days, there is not a lot of time prep for each opponent."
After playing their first 10 games on the road, the team finally got some home cooking on Sept. 15 and 17. They split an Alaskan twin bill, beating Fairbanks 3-1 and losing to Anchorage 2-3.
Allison Wilks is extremely excited to be playing at home finally. In fact, her favorite SPU volleyball memory came from one of the team's first home games of the 2021 season.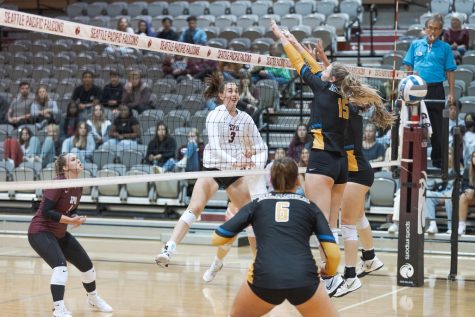 "One of my favorite memories was our preseason St. Cloud match last year," Wilks said. "That was the game that freshmen orientation came, and the whole stands were full; it was a sweep, and everyone was just so excited to be there and beat such a great team at the beginning of our season. That game was just super fun and super energetic."
The SPU women now head on a challenging road trip out to Nampa, ID, and Ellensburg, WA to face two GNAC rivals on Sep. 22 and Sep 24. When the Falcons get back home, they will be looking for energy and Wilks hopes the SPU community will show excitement for women's volleyball this season.
"Volleyball is just such a fun sport to watch. Even as a player, I so much enjoy watching volleyball; there are so many fun things that happen," Wilks said. "We like to get really excited, and that's always easier to do when there are other people getting excited for us as well. If you want to help us win, that's one way to do it."