Soccer-crazed neighborhood in a soccer-crazed city
Ballard FC becomes Seattle summer staple
The American soccer revolution has conquered Seattle, a city that has fully embraced a game not traditionally thought of as an American pastime. Since 2007, crazy and colorful fans have swarmed to Seattle Sounders matches and shown their love for "the beautiful game." In the summer of 2022, a smaller show came to town in the form of Ballard FC and was met with excitement and passion.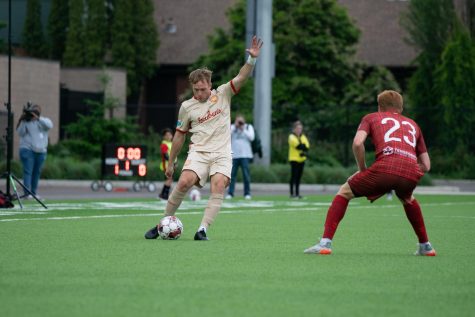 "Ballard is a soccer-loving community within a soccer-crazed city," Ballard FC General Manager and co-founder Sam Zisette said. "In particular, the Sounders have really created a soccer culture in this city, and people have responded. Ballard, if you really look at it, has this amazing soccer history and culture, where you got multiple soccer-specific bars in the neighborhood; it's just a soccer-loving neighborhood in a soccer-loving city."
Ballard FC plays in the United Soccer League's second division. It's a semi-pro organization that recruits mainly college-age players to build its roster. Players are not paid, allowing them to maintain NCAA eligibility. There are 113 teams in USL 2 all over the United States and Canada, but Ballard FC plays in the northwest division against teams from Washington and Oregon.
Having a semi-pro club in Seattle allows the community to showcase its rich depth of soccer talent. For Seattle Pacific University, this means larger exposure for an already storied program. Not only did Ballard FC play at the Falcon's home field in Interbay, but they had five current or former Falcons on their team: Evan Aune, Nik Reierson, Joey Van Horn, Alex Mejia, and Lars Helleren, and their head coach Jason Farrell played soccer at SPU in 1990 and 1991.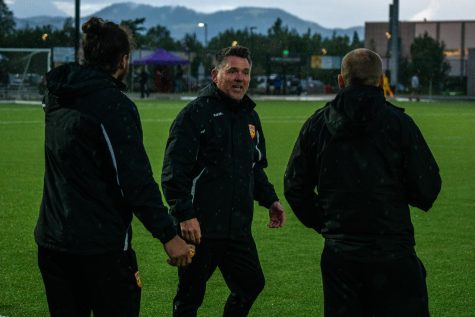 "It was an honor to represent the club and represent the community of Ballard," Farrell explained. "I went to school at SPU, lived in Ballard for 15 years, I'm a local guy, and even before I talked to Ballard FC about coaching, we had a huge community of friends and acquaintances here in Ballard; my son goes to school here and all his friends and buddies and families they were all season ticket holders."
Farrell is not just another soccer head that lives in Seattle. He played in Major League Soccer from 1994-2004, including two stints with the Sounders from 1994-96 and 2001-04. He knows what good soccer looks like, and he said one of his first calls when he started filling out Ballard's roster was to Kevin Sakuda, the head coach at SPU.
"Maybe I'm a little bit biased being a Falcon, but we wanted to get as many of those guys in as possible," Farrell said. "One of the things that SPU has always done, and I know Kevin is on the same track with, is not only going after good players but good kids. That was on perfect display with the group of SPU players that we had this season; they were all not only good players but awesome young men."
One player Farrell singled out as extra exceptional was Nik Reierson. Reierson graduated from SPU in 2022 and was one of the stars of Ballard FC this summer, playing the most minutes of any player on the team with 835.
"It was great just being with Joey, Ev (Evan), Lars, and Alex. I played in the fall with them, and it was just picking up where we left off," Reierson explained. "Head coach Jason Farrell, it was fun to banter with him and hear about his time at SPU and how things have changed. It was great. I could not have asked for a better experience."
Reierson said that although he was not getting paid, his experience with the team was as close to a professional experience as he has ever had.
"We don't really get that crowd at SPU games, so it was awesome. I would go around Ballard eating, and I would get free meals if people would recognize the badge if I was wearing gear," Reierson said. "It really felt like a small pro experience; obviously, we didn't get paid, but all of the perks that came with it and the notoriety and the talent it was fantastic."
The player experience is something that head coach Jason Farrell prided himself on this year. He wanted to set a tone of player treatment that would set the club up nicely for the future.
"From the very beginning, before I even accepted the position as coach, one of the things I wanted to make sure the ownership was committed to was treating these players like professionals," Farrell said. "Obviously, we can't pay them, but beyond that to do whatever we could to make the experience for the players better than anything they'd ever had."
Farrell did his part in creating a good player experience by insisting on proper facilities, meals after training, and high-level training plans. Management excelled in their branding and ability to rally the community around the team.
"Our goal was to transform the facility (Interbay) in the summer to the home of Ballard FC," Zisette explained. "We worked really hard on stadium transformation, between all the signage and weird buoys we were putting up. There was this huge oversized Ballard Bridge that you would walk under. We wanted this feeling that when you walked into the gates and into the stadium of like 'whoa, this is not the Interbay I've walked into before.'"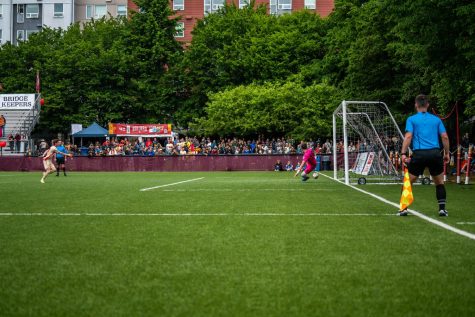 It is safe to say Zisette succeeded. The team drew crowds of up to 1300 people throughout the season, with the people packing the stands bringing the rowdiness and passion that Seattle sports fanatics are known for all over the country, energy that Ballard FC hopes will return to Interbay next summer as well.
"I don't want to over-dramatize what a soccer club can do to a community," Farrell said. "But I do know it was a big asset, and a lot of people in the community really enjoyed having a couple times a week to go out, watch a game in the sun, have a beer, and watch a good level of soccer."