Powerful memories fueled by music
SPU students explain significance behind their songs of summer
Music is everywhere. Regardless of whatever plans students at Seattle Pacific University may have had over the summer, it is likely that most if not all of them discovered and enjoyed songs from every genre imaginable for different reasons. Some students spent the summer listening to a specific song simply because of its catchiness, the performance by the artist or the overall high quality of the tune. Others, however, have more personal and unique reasons for why they chose their summer days to take in a particular song and why it meant so much to them. 
Freshman Aylia Fortune's chosen summer song was "Under the Sun " by Dreamville featuring J. Cole, Lute and DaBaby, which connects to her time roller-skating during the summer. 
"I first heard the song on the way to Pattison West Skating Rink, where I usually go for most of my time on the weekend. "Under the Sun" is an interesting song with its hint of southern beats; the artists each have their own representation with each verse/lyric describing their lifestyle," Fortune said. 
Though Fortune does not have a sentimental tie to the song, she recommends it for anyone trying to motivate themselves or simply have a good time.
"It's a good song to listen to with your friends. I'd recommend it if you're trying to get hyped whether in the car or at a party," Fortune said. "I'd have to say listening to it while roller skating is my most fond memory of this song from the summer. It's such a wonderful song to dance to and learn new tricks."
Senior international business administration major Annelise Hoover picked the song "Who I Am Hates Who I've Been" by Relient K, which she first heard on her copy of the 2006 album "Now That's What I Call Music! 21," even though it originally released on the album "Mmhmm." 
"I chose this song because it was on a CD in the car that I would constantly have on replay during my 40-minute drive to work during the summer. It was the only song on the album that didn't annoy me as I listened to it, so I could just listen to it for the entire time I drove if I had to," Hoover said. 
She also has some emotional attachment to the song's genre as it brings her nostalgic feelings from her childhood and the time she would spend listening to music with her family. 
"The genre of the song is sort of alternative and also like pop punk in a way, so it reminds me a lot of the bands that I used to listen to when I was younger with my family. We would listen to things such as The All-American Rejects and bands with that sort of garage band sound. This song has that sound, so I think this is what drew me towards it," Hoover said. 
Veronica Urbina Acosta, a senior visual communications major, decided that Bad Bunny's album "Un Verano Sin Ti," released on May 6, 2022, defined her summer and deserved recognition beyond just one song.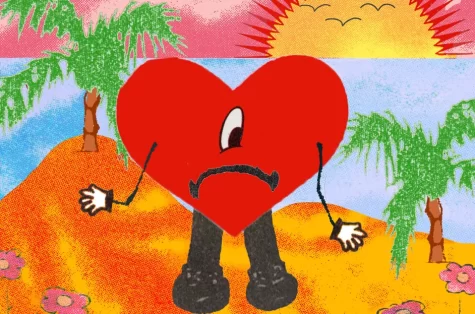 "I truly believe it was the album of the summer. There was a song for every occasion, from singing in the shower to crying in the car with friends," Urbina Acosta said. "One of my favorite memories of the album was when my childhood best friend chose to sing 'Tití Me Preguntó' instead of a traditional birthday song when she turned 21 during the summer. There was not a day that I didn't hear the album." 
A song that stays in one's brain or is currently on repeat in all of their playlists does not have to have a sentimental memory attached to the tune for a person to value it. Any connection to their life can produce a positive connotation with the song. Any simple melody can define a time in someone's life and help them transition through the world's seasons and those of their own life. 
"Music is how I connect with my friends. One of my favorite things to do with them are karaoke nights, which are reminiscent of the nights we would all spend with our families back home," Urbina Acosta said. "I'm Mexican, so I would consider karaoke a big part of my culture and how we would celebrate birthdays. It was how we shared our love for each other." 
To listen to more songs chosen by SPU students in an Instagram story on The Falcon, click this link: https://open.spotify.com/playlist/2nf5nSJ6BqlJaRKeFTBn85?si=a6faa9b216814ad5