My hometown bagel
Saying farewell to the hometown routines and saying hello to new beginnings
The day is August 14th, a Sunday. Sundays are always made better by my weekly Blue Sky Bagel visit. I strolled into the doors and immediately was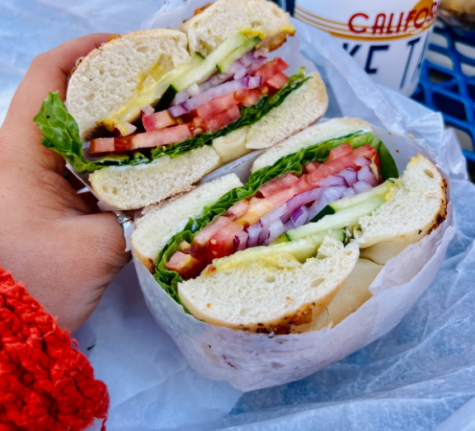 greeted with whiffs of cinnamon sugar and freshly baked bagels. I take a moment to glare at the menu board as if today will be the day I change my order. How could I? How could I cheat on my one true love, the asiago veggie bagel sandwich? She makes my Sundays sweet. 
At first bite, my tastebuds are greeted with a glorious epiphany of flavors. The onion, sundried tomato, asiago, sprouts and light cream cheese work together to make heaven earthbound. I have never had anyone come into my life and add as much as she does, and I've splurged on the boujee $16 Manhattan bagel. I zone back in as it reaches my turn in line, place my order, chat with my friends who happen to be on shift and go. A typical Sunday involves either going to Blue Sky after church, before skiing at Bogus Basin, or on the way to my sister's soccer games. But this Sunday had nothing on the agenda and was a rare occurrence where I went by myself, so I opted to sit on their patio. 
I read my morning email from The New York Times and Hustle, check for college updates and plan out the goodbye hangouts with whichever friends are leaving in the upcoming week. It was then it clicked, three more Blue Sky Sundays. Three more Sundays till I scout out a new favorite bagel in a new town with new routines and new people and all the newness. 
Three more weeks for goodbye hangouts and packing. Three more weeks till I don't go to Bronco Catholic and Bogus Basin, or at least not on the regular. Three more weeks till my sister's soccer games are something I see photos of in our group chat and not an event where I can get in trouble for yelling at the refs. Three more weeks of backyard family dinners. Three more weeks of mindlessly doom scrolling through TikTok next to my sister just to laugh out loud together every five minutes. Three more weeks of spontaneous sunsets up Eighth Street or late-night Dutch Bros runs that turn into parking lot dance parties. Three more weeks in Boise before I start my new chapter in Seattle. 
You might be reading this and thinking to yourself "Who does this girl think she is? A bagel? You're in the coffee capital of the USA, a good bagel shouldn't be too hard to find." And you're probably right; Seattle does have bagel places to offer, around twenty-four including one right on campus. And I'm sure I will pay them all a fair visit. 
However, I'm sure you have that one place in your hometown, even if you've been born and raised in King County, that you miss more than anything. At the end of the day, it's what it represents: the routine of my life before SPU, before uprooting. I truly am also excited for not only new bagel but new sunset spots, new late-night places to scout out caffeine, new friends and sure, maybe a new bagel spot. But I can almost guarantee that no matter how phenomenal one can make the glorious blend of carbs, nothing compares to my Blue Sky asiago veggie bagel.