Lots to be learned during your last summer at home
Reflecting on my graduation speech and learning lessons from myself
"Good evening everyone, my name is Makayla Bogle and I am one of the senior class valedictorians."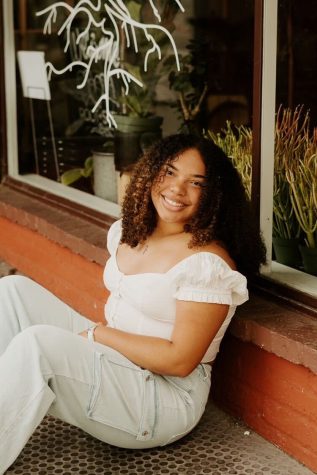 The typical opener of a high school valedictorian speech burned my tongue as I recited it aloud to my reflection in the mirror. I had goals of becoming valedictorian far before I even entered high school, although I did not yearn for the title as much as a chance to perform a speech at graduation.
My school had many valedictorians, and although that's something to celebrate, it unfortunately meant that not all of us could speak. When my speech was respectfully declined I was absolutely gutted. The incentive I was promised was now gone, and with that, my excitement for graduation was gone as well.
"Today we pass an integral moment in our lives, and I am so proud of all of us. We've all been through our own hardships, each of those moments providing more wisdom to live with."
It took me a while to get over the loss, honestly, and looking back I can admit I may have been slightly melodramatic over the dilemma. As the summer went on, and as it came to an end, I realized that my high school graduation was not the only special moment in my life. 
As I packed my bags to move three hours away from home, decided between a plastic shower caddy or mesh and planned my final Wednesday sleepover with my best friend, I had been accepting and inviting the fact that life is so short.
I've had a large revelation between now and the time I wrote my graduation speech: the appreciation of every moment is integral. 
The way that I respond to change is integral and shapes me to get through whatever may be thrown my way.​​ The way that I will navigate a new city, balance school with work and an ever-so-necessary social life is integral. Putting in an effort to maintain connections with my loved ones despite the 150 plus mile distance is going to be integral.
"A big piece of resilience that is not easily recognized by the definition, is failure. It's easy to push failure into a category in which it can only hurt you. It's almost instinctual to fear failure, as it's also instinctual to try your very best."
I have discovered that just because something is important and vital at the time doesn't mean that everything is ruined when those things don't go as planned. When I struggle to muster up an essay and feel as though my brain has been juiced of all the knowledge within, life will still go on. If Seattle traffic makes me late for work, time will still keep ticking. The summer before I leave for college has taught me that the moments I put on a pedestal don't always need to be up there. The situations that mean the most at the time won't always hold so much significance, and the same thing goes for failures.
"As you all grow, I hope that you learn from your failures and shed apprehension to fail. Remember that your capabilities are not static but dynamic, as you will always be capable of change and improvement. The growth that stems from your experiences, whether you fail or not, is nothing less than sweet."
This part of my speech is ironic, as I wanted to share this message with my class so greatly, and I wanted them to take from it what they could, but I was one person who really needed to hear those words at the time. Although I didn't get the speech, I grew so much from that. Reflecting on my writing two months later, I realized that the message is true. Whether you make it or break it, what you learned in the process is what will always hold significance.
"Today is a cap to four years of growth, life and hard work. I couldn't be more proud to be a part of the RESILIENT class of 2022. Congratulations to you all."
At one moment I was finishing this piece, closing the laptop and heading to go enjoy the presence of those I love. I took one last trip to the farmers market, where it is so small you absolutely have to gander at every booth. I broke a sweat trying to squeeze boxes of dorm necessities into my tiny Honda. Now I'm getting settled on campus and feeling an exciting independence for the first time. Graduation day may have been a cap to four years of growth, life and hard work, but I've just twisted open a brand new cap to four years of change, prosperity and life once again.