SPU fills Seattle basketball void
The Crawsover puts Seattle Pacific in the middle of basketball world
In 2008 there were long, sad echoes throughout the city of Seattle. One of the most disappointing and heartbreaking divorces any city has ever had to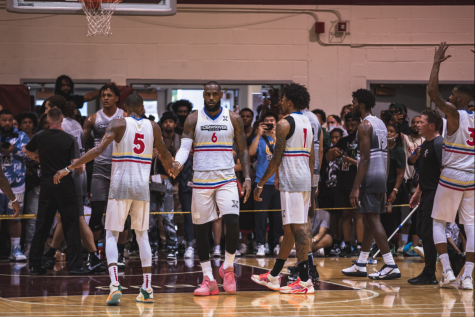 endure left the Emerald City without one of its beloved centerpieces. When the Seattle SuperSonics departed for Oklahoma City, a city with rich basketball culture was left without much of an identity. Fourteen years later, this has started to change, and Seattle Pacific University has been at the forefront of the Seattle basketball rebirth. 
"After the Sonics left Seattle, it was kind of hard for Seattle basketball fans to have an identity, and I found that identity in Lebron," Seattle basketball fanatic Robert Brown explained. "Through his journey in Cleveland to Miami, back to Cleveland and to LA, I have been a stone hard fan for a long time, so seeing something like this is a once-in-a-lifetime opportunity, and, hopefully, it can help bring the Sonics back."
Brown was one of seven men who camped outside of Royal Brougham Pavilion within the hour Lebron James announced he would be playing at The Crawsover, a Seattle basketball pro-am put on every year by former NBA star and Seattle native Jamal Crawford. 
On a campus that has seen a lot of crazy events over the last two years, Saturday, Aug. 20, may have been one of the craziest days the small Queen Anne campus has ever seen. Thousands upon thousands of fans crowded SPU's small 2,650 person capacity gymnasium, camping out in line for 24-plus hours in hopes of seeing James and other NBA stars such as Jayson Tatum, Aaron Gordon, Chet Holmgren and others. 
While the star power in this particular iteration of the Crawsover was impressive, the event is much more than random NBA appearances. The event allows some of Seattle's best college players, high school players and street ballers to come together on summer weekends and show out for the community.
"To have that opportunity to play in my home gym in front of all those fans that we might not typically get at a normal SPU game is really cool," said junior guard for the Falcon basketball team Zack Paulsen. "Especially with the talent that's on the court. Like you're playing against some of the best players not only in Seattle but in the world."
Paulsen was chosen to play in The Crawsover for a second straight year ahead of this summer's event; unfortunately, he got hurt and could not compete in 2022. Paulsen is one of many SPU players who have been allowed to play side by side with basketball royalty.
"The first moment where I was like 'alright, I'm with it,' was my first Crawsover game this year," said incoming freshman on the Falcons basketball team Jonas La Tour. "There was like 2800 people at the game, and I was just coming in, a little nervous obviously, but just coming in comfortable and just ready to play, and I scored 14 points with seven boards on 50 percent shooting. That kind of instilled some confidence into me."
For members of the SPU basketball team, the Crawsover is like a learning lab. Its not every day Division II basketball players get a chance to get such an up-close look at the true savants of the art of hooping.
"Just paying extra detail to particular players and their moves and how they operate and how they carry themselves," La Tour explained. "Just kind of observing with a watchful eye these guys that have made it to these high levels and just trying to replicate that in my game."
Watching the elite and playing with the elite are two entirely different animals. Paulsen understands this not only from his time at the Crawsover but also from getting invited to multiple open gyms by Jamal Crawford and Isaiah Thomas during the lockdowns of 2020.
"You definitely have to earn their respect," Paulsen said. "I learned it a lot two summers ago during COVID; Isaiah and Jamal were having a lot of open gyms … I got the opportunity to play in those every once in a while with my brother. They [Isaiah and Jamal] are super nice guys off the court, but when it comes time to play they are dialed in, and if you are not going to do the right thing, they are not going to want you there."
The Crawsover is a fantastic opportunity for SPU players to show out and improve. Still, it has also presented the university's athletic department with an excellent opportunity to become a true community partner. 
"It really allows us as SPU to be part of the sports community here in Seattle," SPU Athletic Director Jackson Stava explained. "We fill a different void, different niche than say UW or Seattle U. One of the things I am really committed to, and has really made a partnership with Jamal and then with Ballard FC work, is that we want to be part of this fabric where kids, families, others can be part of sport in the city and we are able to provide some venues to do that."
It is clear that Jamal Crawford values giving families and children the opportunity to participate in the Seattle basketball community. Crawford makes all Crawsover games free of charge and offers children VIP treatment, allowing them first entrance into games so they can get courtside seats to see their heroes. 
Not all Seattle basketball fanatics are children. Most of the crowd that camped out for Lebron were grown men, hoping to live out a childhood fantasy of seeing one of the greatest basketball players of all time for free. One of those men, Collin Barrett, was the first person to camp outside Royal Brougham Pavillion when Lebron made the announcement that he was coming to Seattle. A picture of Barrett and his tent went viral on Twitter and was re-tweeted by the Crawsover's Twitter account. Unfortunately for him, the Office of Safety and Security told him to get rid of his tent, but that did not stop him from waiting through the night, hoping to be one of the first people in the building. 
"I decided to come out here because it will probably be one of the only times I will get to see Lebron play here in Seattle," Barrett said. "They need to bring the Sonics back … just having the support of other people and especially the other NBA players who want basketball back in Seattle; it needs to be here."