Unfinished business
SPU women's soccer team aims higher after historic 2021 season
Great teams and great champions have certain things in common: an unrelenting will for greatness, quiet yet unmoveable confidence and a yearning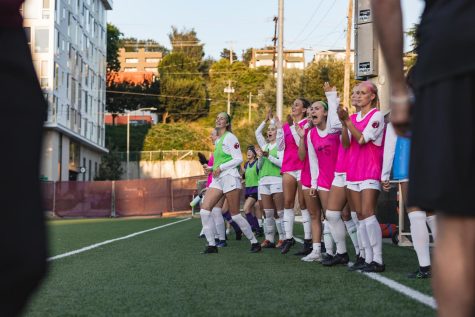 to prove to themselves and the naysayers that they can outshine the projections and expectations placed upon them. Seattle Pacific University women's soccer is all of these things.
The 2021 team was more than just a good team, they were box office. There are 265 Division II programs with Women's soccer teams in the United States. SPU was one of the last eight standing at the NCAA National Championship Tournament. They went 19-2-1, won the GNAC regular season and tournament championships, and came just three wins short of becoming the second SPU women's soccer team to take home a National Championship.
"We had a really amazing group that I think forged some really good relationships through the pandemic," Head coach Arby Busey said. "There were a lot of challenges for us as human beings going through that, and I think the resilience that our women showed coming out of that situation was a testament to the strength of their character."
The COVID-19 pandemic was a crisis that shook every corner and fabric of American life. For some individuals, the pandemic broke them, but, for SPU women's soccer, it allowed them to get stronger.
"We had a great spring season our COVID year, and I think we ended on a really good note beating Western Washington …everyone was really excited when we got back," senior defender Ally Veenhuizen explained. "I think everyone was just happy to play during that COVID time, it gave us something to do, and I think it made people appreciate the sport more."
Just as the COVID season led into the historic 2021 campaign, the team's veterans expect last year to lead to even more success in 2022. Despite losing 10 members of the 2021 team, including eight starters, the current squad has set lofty expectations for themselves once again, and they are not shy about letting other teams know how good they think they will be.
"The reason why we are so great is because we all push each other at practice," senior midfielder Antonia Miranda said. "In our heads, the reason why our team is so good is because we're the best team we'll play against. Practice will be harder than the games."
In fact, they do not think anyone in the country is better than them.
"Our main goal, which would be awesome, would be to win a national championship on our field because we are hosting it this year," Veenhuizen said. "We talked about how having a shut-out season would be awesome. We did talk about that in our meeting, that's a hard goal, but we want to go all the way and win everything." 
Statistical measurements can be used to project how good a team will be, but members of the SPU Women's Soccer team believe they have certain intangibles that other teams do not.
"There is just an incredible group of people on this team—so much love. So much great character," junior midfielder Emmy Moore said. "I think that's something some teams lack; the chemistry we have and the way we want to play for each other and not just ourselves is the huge difference that can help us carry out potentially a shut-out season."
Moore acknowledged that although going undefeated is a goal, the team understands they can still make mistakes and get to where they want to be.
"That is the goal [going undefeated], but we are okay with having a bad day," Moore explained. "Obviously, we want to strive for that undefeated season, but if something does happen then, it's not going to set us back because even with our 19-2-1 season last year, coming out of GNAC, we were 17-1-1, and even after losing one game we did not let that put us off course, and we still were #1 in the West." 
Not all of SPU's award-winning players have graduated. Despite losing the GNAC player of the year in Makena Rietz and the GNAC defender of the year in Madison Ibale, as well as other All-American and All-GNAC performers, they are returning Sophie Beadle and Chloe Gellhaus, who also received All-GNAC honors last year. 
Also returning is last year's GNAC Freshman of the year Lauren Forster. Despite receiving that honor last season, she is completely focused on the team's success coming into 2022.
"Obviously, it's never a bad thing to go and win those [individual awards], and I'd like to be back in that position again," Forster explained. "But I genuinely do feel like that's where my individual success came from, the success of the team."
SPU began the season on Sep. 1 with a 1-0 win over San Francisco State. They followed that with a 1-0 win over Chico State on Sep. 3 and a 2-2 draw with Westminster on Sep. 5. The season has begun and the clock has started ticking on redemption. 
"If anything, the goals are higher," Miranda said. "I think we set lots of expectations for last year, and I think just having that one unfinished goal probably set them higher, and I think we now know what we are capable of."